When I think of football, I think of pigs in a blanket and Rihanna's 2009 performance at the halftime show (with no relation between the two). But I'm sure many of you actually appreciate the game, which is why I'm happy to direct you to our list of places to watch the NFL Playoffs this weekend.
There you go. Now, who wants to guess which corporation will have the dopest Superbowl commercial?
If you're looking for new digs to watch the Superbowl (and just about every other sport under the sun) then Charlie, formerly from The Stumble Inn in Sanlitun, will have you covered at Take 5 at the World City Shopping Mall (next to The Place). He's giving the restaurant and bar an uplift, with new TV systems, a new food and cocktail menu in addition to new daily promotions. He promises to have it all ready by Chinese New Year, so head southeast around then if you're into the kinds of deals that involve free tequila with any Mexican dish you order. Monday Mexican madness!
Just when I was thinking we haven't heard much lately about Tango, the KTV-performance club next to the Lama Temple, we get wind of news that techno legend Sven Väth will come back there to devote a bit of his 32-year stint to the place. See him on February 22 for RMB 300, or RMB 200 if you get on it sooner rather than later. The Lumineers will be there as well on Tuesday, February 11.
It seems like every weekend someone is either leaving or having a birthday, doesn't it? Well, we dare say that this weekend might be the birthday of all birthdays, and we're just judging strictly by the poster: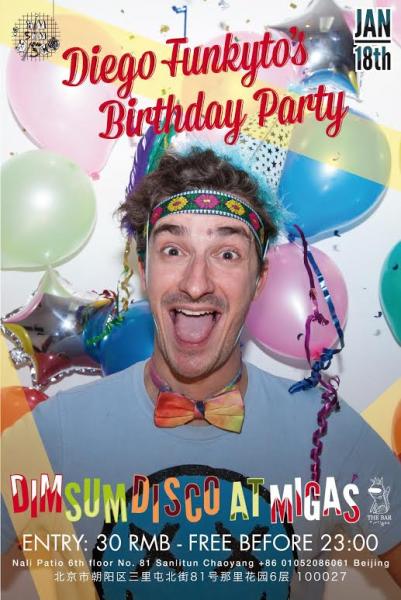 Migas is devoting their Dim Sum Disco on Saturday to that fellow up there. You've probably seen him as DJ Diego Funkyto or Crystal Bones around town, so if you've dug his grooves, stop by The Bar at Migas and pay him a birthday wish. That is, if you're not too worn out from Funk Fever tonight.
Don't miss these either:
For more Nightlife events, go here.
Photo: inglesgourmet.com