Congratulations! You've started a new chapter in your life! The fact that it's thousands of miles away in a country you've never so much as visited before is a minor factor right now; you're riding the crest of adventure and embracing change.

Of course, moving and adapting to a different way of life in a new country presents all kinds of challenges and there are bound to be unforeseen difficulties. Some of the challenges will relate to relocating to a different country, including unfamiliar surroundings, customs, and a language barrier.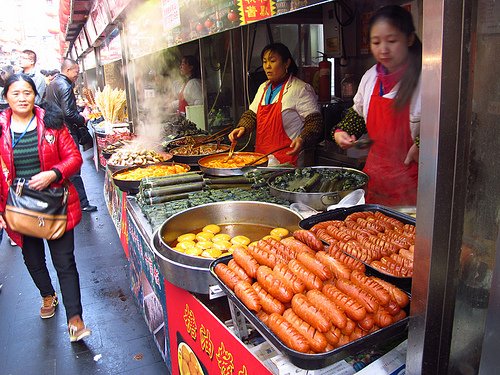 However, some things are the same no matter where you live. We are responsible for our personal health and must ensure the money we earn covers our cost of living. So how do you save money in Beijing? Read on for our top tips on getting more from your yuan.
Go Public: Opt for public transport rather than taxis. Beijing has 20 million people, so traffic is often horrendous; traveling by car or taxi is not only expensive compared to the subway, it can also take longer.
Get on Your Bike: If the subway leaves you feeling claustrophobic, the other option is to get on your bike. According to the Katie Melua song, there are "nine million bicycles" in Beijing – and with good reason. Beijing is flat, getting around is easy, and there are repairmen who can fix your bike for a few kuai on every street corner. However, bike theft is fairly common so if you have an expensive bike it's worth investing in a couple of foreign-made locks and always chaining it to something immovable.
Buy Local: Many expats arrive in Beijing expecting everything to be cheap. Actually, the cost of living in Beijing is on a par with many of Europe's capitals. As the political and cultural center of China, it is also the most expensive city in the country. Food, however, is relatively cheap – providing you buy local. Eating out can be less expensive than cooking at home, but do your research first.
Eat Carefully: Street food doesn't have to be a health hazard. Ask your friends and colleagues to recommend restaurants. If you're eating street food, always ask them to cook your order fresh in front of you rather than serve you something that could have been sitting in the sun for some time. Choose a busy cart and stay away from salads and fruits, as these could have been washed in unclean water – a main cause of food poisoning.
Ditch the Brand Names: If you aren't brave enough to eat out or if you just prefer to cook your own food, you will almost certainly have a wealth of fresh ingredients on your doorstep with a fresh food market on virtually every corner. If, however, you continue to food shop as if you were still in Surbiton, your bill is going to be considerably higher. Western food is significantly more expensive; many items considered staples to the western diet simply do not exist in Chinese cooking, such as cheese and bread. Embrace the Chinese diet and your food bills will shrink.
Can the Cappuccino: Like the brand-name foods in international supermarkets, global chains like Starbucks can also push the cost of living up in Beijing. Adopt more eastern drinking habits such as green tea, which is far better for you and much less expensive.
Discounts Rock! Beijing has discounts if you know where to look. Many bars and restaurants have vouchers, discounts, and money-off coupons, so get canny and start coupon clipping. Watch out for schemes like the recently-launched and snappily-titled "Recycling Used Clothes by China's Garment Manufacturers" campaign. Starting from June 14 for around a month, citizens can donate clothes made by designated companies in about 30 clothing shops in Beijing and will receive discount coupons in return.
Kill the Chill: Though summer temperatures can reach up to 40°C in Beijing, you'll save a lot of money if you can endure not having the air conditioning on all the time. When you can, open a window or run a simple rotating fan instead; only turn the AC on when you can bear the heat no longer.
Drive a Hard Bargain: This is China, so bartering for goods is a way of life. If you're not used to it, it's worth taking some tips from the experts before you embark on a trip to the silk market. Try a bit of psychology when you're interested in buying something. Don't get too over-enthusiastic about any particular item; feign disinterest, and adapt your other communication skills to the job in hand. It's certainly more complex than nipping into the co-op for a pint of milk, but haggling can end up saving you a lot of money.
There are lots of other great tips around on expat blogs, and the new friends and acquaintances you make will want to share their experiences with you. Take time to listen and digest; make notes if you have to, as you'll have a lot to remember. But whatever you do, don't forget to have fun. Beijing is a fascinating, vibrant city, and you're fortunate enough to be experiencing it first-hand.
 
Mark Matlaszek has lived in China for over ten years and is the director of BlueStar AMG in Beijing. For more information on the company, visit www.bluestar-amg.com.
This article first appeared on beijingkids.

Photos: Marco Antonio Torres, Nate Gray (Flickr)

Visit the original source and full text: the Beijinger Blog