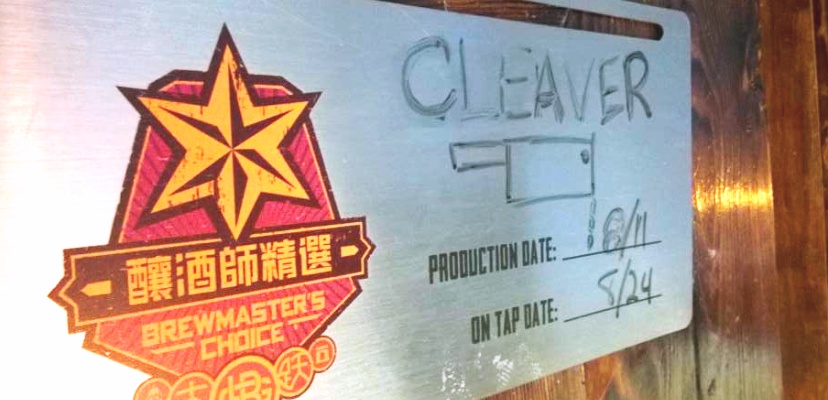 We've been wondering what The Cleaver Quarterly has been up to the last three months since their Ice Cream Shakeup event, which got local F&B stalwarts like Dave Bob Gaspar, Dustin Merrett and Andreas Block whipping up one-of-a-kind China-inspired ice cream flavors (five spice, chocolate, cherry and bacon, anyone?).
We were gently reminded they were busy making the second issue of the magazine, which is due to launch in a few weeks. But a hot-off-the-press publication about Chinese food isn't the only thing they've been brewing – The Cleaver Quarterly has collaborated with Great Leap Brewing on a new beer, and they need you to help them give it a name.
Here's what they say:
"As we've already used up most of our naming powers on snappy, pun-laden, reader-delighting headlines for the new issue, we're asking our community to help us come up with a name for the brew.
How can people get involved?
We're asking our friends, readers and followers to come up with a name for the beer and share it with us via any of the following methods:
How will the name be chosen?
Simple. We'll choose the best name suggested.
 
Is there a prize?
The winner will receive a copy of The Cleaver Quarterly and a glass of the beer they named. They may receive a bonus prize, but these two fine prizes are all we can guarantee.
Need some food for thought?
If you want some pointers, all we can say about the beer right now is that it will be a fennel and Sichuan-style molasses porter, and that it will be on tap to coincide with the launch of the new issue.
Is there a deadline?
Entries must be in by 6pm on Monday, August 25."
So that's just one more week to brainstorm. If you want to get a feel for their style (or just catch up on some magazine reading before the next issue), you can find The Cleaver Quarterly at The Bookworm, The Orchid or Book Design Shop in Dashilar. And hey, Carl Setzer of Great Leap would more than likely encourage a little help from the likes of Iron Buddha for inspiration.
Photos: Courtesy of The Cleaver Quarterly

Visit the original source and full text: the Beijinger Blog