Put on your loosest pants, the Beijinger Burger Cup is back! In the lead up to the Burger Cook-Off Launch Party on August 23 and the start of voting on August 25, we are kicking off with Burger Wars: a series of face-offs pitting Beijing's beef patties against each other. These will not necessarily reflect the ultimate match-ups in our Burger Cup bracket, but give burger fans and burger chefs an idea as to how the product may fare in the final competition.

Come back often for more Burger Wars, information about the upcoming Burger Festival and news on how to vote.
Round Eight of our Burger Wars sees open-when-they-please-one-man-shop Was Park go up against New York-deli-cum-way-of-China-vibin' Katchup. Both restaurants land a little further west in the capital than the majority of our Sanlitun-centric roster and couldn't be further apart in overall operation and output but they do have one thing in common: veneration of the cow.
So, let's get this fleshy powder keg lit.
Contestant One: Was Park
2013 Rank: 54
Catching Was Park open always seemed like it was going to be the trickiest part of this whole contest but lo and behold the good man was going at it as I rode up, '90s Americana hits blaring from his shack.
Eating at Was Park is a modest affair: one man, one hut, one table, two (!) chairs on the street, with the choice of either a pork or beef patty. Going for the beef (RMB 30) I rode home and attempted to make the burger look like something that hadn't been thrown out of a moving car directly onto my plate: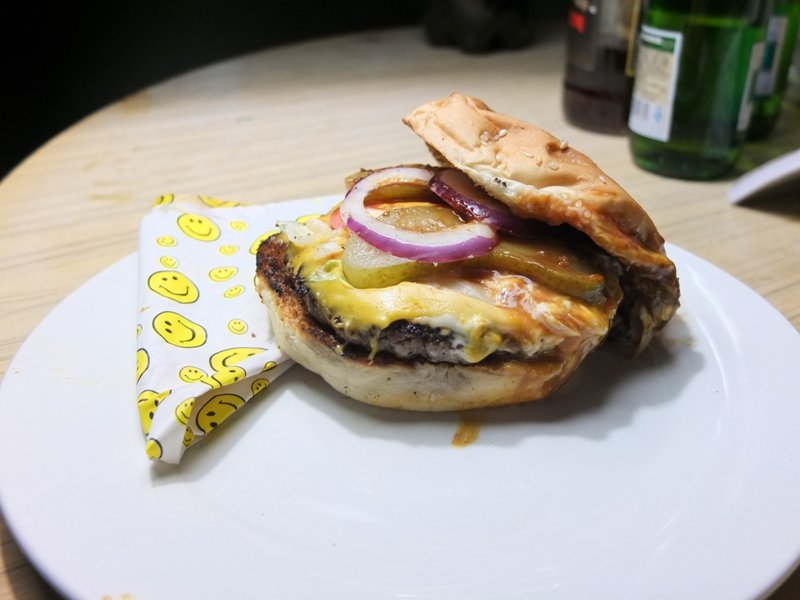 But failed.
Overall: Was Park has something really good going: it's cheap, quick, and damn tasty if not a little heavy on the sauce. The bun is buttered and slightly chargrilled, which helps since the meat isn't going to win any awards but the whole package is satisfying and hits the spot. It may have helped that it comes wrapped in an acid house handerchief, prodding lost dopamine from heavier days of yore.
On a side note, I bought the pork burger too and it was pretty terrible in comparison. Super tough. Don't bother.
Contestant Two: Katchup
2013 Rank: N/A
Up next, Katchup. If Was Park is the no-fuss home of burgers then Katchup is the palace of protein, offering closer to eight burgers to Was Park's two, with varying levels of spice and eccentricity the further down the menu you plod. The "Big Ben" Burger (RMB 48 + 3 for bacon) claims the standard slot and it's quite the beast, coming with seasoned, super thick-cut chips, chiseled from a potato the size of toddler's head.
Overall: The patty is well cooked – dark and peppered on the outside, red and tender in the middle – and the airy bun comes completely untouched, letting the meat do the talking, and leaving you to gently pat your belly with a contemplative post-meat glaze in your eye.
Katchup loses points for the 'meal deal' whereby an extra RMB 30 gets you a soda and nub of lettuce and half a tomato (uncut) with some dressing and two square-inch pieces of bacon. Definitely not worth the extra and it looks quite sad next to the generous main course (squint and spot it in the back, up in that there photo).
Verdict: Seeing that both burgers came with identical ingredients: bun, patty, sauce, cheese, tomato, lettuce, onions, and gherkins, the contest ultimately came down to the taste of the meat, and in flavor alone, Katchup trumps Was Park. However, there's something to be said for Was Park's no-frills approach and as long as it's open I'd quite happily stop by any time Fangjia Hutong has had its dirty way with me.
See our previous Burger Wars entries here:
Burger Wars Round One: The Local vs. Flamme
Burger Wars Round Two: Plan B vs. Grinders Burger Wars 
Burger Wars Round Three: Blue Frog vs. Lily's 
Burger Wars Round Four: Great Leap vs. Slow Boat
Burger Wars Round Five: Frost vs. Home Plate
Burger Wars Round Six: Q Mex vs. Tim's Texas Bar-B-Q
Burger Wars Round Seven: First Floor vs. Alibi
Photos: Tom Arnstein

Visit the original source and full text: the Beijinger Blog