Summer might be too hot to party without a pool within arm's reach, but not to worry – a gargantuan crew of local DJs is teaming up for one special event that happens so regularly, we can almost call it a tradition: the YEN party.
YEN is back on September 19 with 25 DJs, and a bar crew from Lush and Migas to celebrate a decade of pumping out some darn memorable parties. That's ten years of fifty or more bashes (just look at those posters below for proof), and of course, what better way to acknowledge all of that than with a great, big party.
Even if you've been in Beijing long enough to have participated in all ten years of YEN, don't worry, there is still room for firsts. This time, YEN is taking place at CFDC, the ex-Panasonic Factory at 798 Art District, turning its three rooms into tech, bass and disco hubs.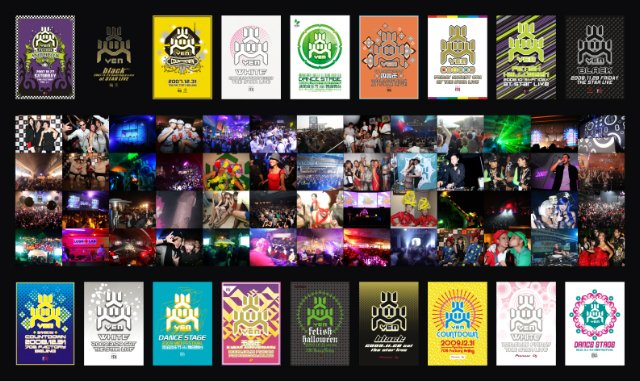 Earlybird tickets are on sale for RMB 120, and you can get them at select cafes and bars around town (see our event listing for more details). Check below for the line up in case you still need help deciding whether to circle September 19 on your calendar and rule out doing anything mentally taxing the next day.
ROOM 1 (Tech room)
Mickey Zhang + Dio
Yangbing + Zhiqi
Usami + Patrick Yu
Eddie Lv + Ouyang
QQ + BB Deng
Wengweng + Elvis T
XLF + Huangweiwei
VJ: Hibanana
ROOM 2 (Bass Room)
Blackie
Clir
Kay C
Donkey Tonk
Chole
Oshi
ROOM 3 (Disco Room)
Demone
Bite-Size Buddha
Nassdak
Ludo V.
Boflex
Cad 73
Photos: Courtesy of the organizers, Will Clayton

Visit the original source and full text: the Beijinger Blog