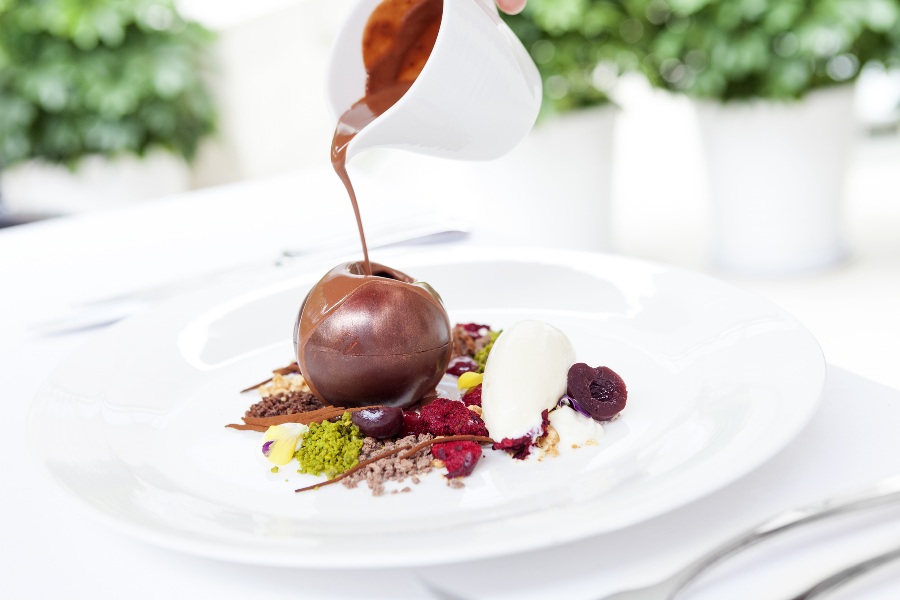 Some people prefer their food to be functional. They are satisfied with nothing more than a snatched sandwich – a nutritionally balanced, if uninspiring, meal. For someone who spends all day thinking about food in all its myriad forms, it probably won't come as a surprise that I tend to glory in the whimsical, the superfluous, the excessive. If his desserts are anything to go by, it seems Aria's Chef de Cuisine Phillip Taylor has been reading from the same book of culinary fairy tales as me.
His latest creation, simply dubbed Black Forest (RMB 70, available at lunch and dinner), is inspired by both the flavors of the traditional gateau and the sylvan region from which it takes its name. Delicate petals, chocolate twigs and small mounds of multicolored "soil" – ground pistachios, friable freeze-dried cherries, dark chocolate crumb and grilled white chocolate, the last an unexpected delight – simulate the forest floor. Above the earthy floor, things take a turn for the celestial. A burnished chocolate orb yields beneath a cascade of Kirsch-spiked warm chocolate sauce to reveal a filling of Chantilly cream, chocolate mousse, and tart cherry purée. The flavors and smells remain, but the experience is worlds away from the 1970s dessert trolley throwback that is the original gateau.
Customers who sign up for the Aria email newsletter can receive a free Black Forest dessert when they dine at Aria. Contact the restaurant for more details.
Photo: Sui

Visit the original source and full text: the Beijinger Blog