If the post-holiday period has you feeling a little wack – emotionally, mentally, physically – kale is probably the way to go. That green is ridiculously nutritious, albeit hard to source in Beijing. Happily, Moka Bros has done the dirty work and will be offering a kale smoothie starting on Friday. Drink down your beta carotene, calcium and viatmins C, K ad A for same price as all the other smoothies – medium RMB 38, large RMB 45.
Barolo started a new seafood Sunday brunch (11.30am-2pm) this month. The menu is available a la carte or as a set, including selections like a scallop carpaccio with Campari orange dressing, roasted cod fish wrapped in Spanish ham and a sea urchin omelet with salmon caviar. Two courses run for RMB 248, three for RMB 308 and four for RMB 338 (includes limitless coffee or tea within set menus). Free-flow Champagne Perrier Jouet Brut available for an additional RMB 298 per person.
Deli de Luxe has a new website with menus available for the cafe, delivery and catering. Beginning after the Chinese New Year holiday, delivery will be available through Sherpa's.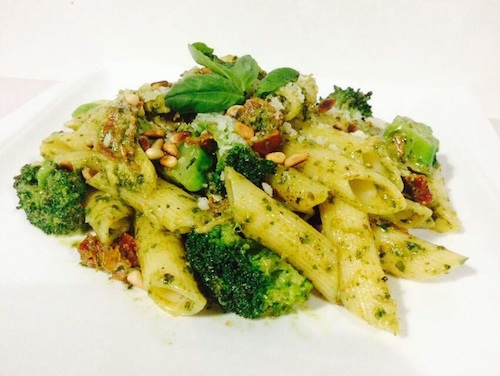 Sweet Tooth Cafe is now stocking goods from Two Guys and a Pie. Their current specials are:
– buy any dessert, get the second half-price
– half of any panini plus a soup is RMB 50
– all pasta dishes come with a free regular soft drink
– and lastly, on weekends, a Tavalin bagel, filling and a coffee or tea is RMB 60.
Photos: courtesy of Moka Bros and Sweet Tooth Bakery
Email: [email protected]
Twitter: @haimei_baole
Instagram: @haimei_baole
Weibo: @cat_nelson
More stories by this author here