We begin this week on a very sad note. Your Talking Travel correspondent is a big fan of the Zhejiang province city of Ningbo. One of the city's most recognizable landmarks is the Sacred Heart Cathedral, which stands at the confluence of three rivers, on what is known locally as the Old Bund, all of which was featured in a March edition of Talking Travel. Early Monday morning, a fire burned every part of the cathedral that was not stone. I am very sad for the people of Ningbo today.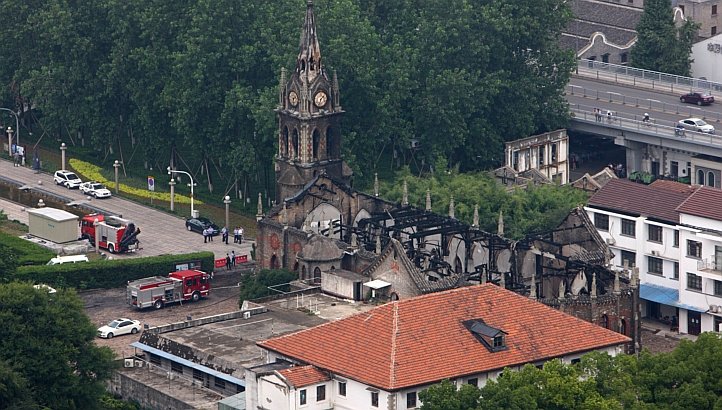 If you thought the young traveler kicking your seat was bad, take solace next time and think, "well, at least he/she is not defecating on newspaper on the seat." If I were Delta Airlines, I'd be handing out some hefty frequent flier bonuses to passengers in surrounding rows. I'll keep saying it until it comes true: family-friendly cabins are where it's going to be at for future air travel.
Here's one shift we're seeing in domestic air travel: the reduction of first class seating, in favor of business class and just plain old economy. The current drive against corruption and in favor of public frugality is reducing spending on the best that airlines have to offer, and just as some hotels are trying to downgrade to four stars from five in order to retain official banquet business, airlines are similarly getting rid of first class to add more seats elsewhere. Those that haven't gotten rid of their best seats entirely are discounting heavily. Now might be a nice time to try first class if you've never flown it.
However, if you're looking to catch a bus to the promised land, then look at business travel in China. In 2013, business travel spending reached USD 225 billion. That's billion with a b, almost a quarter of the global total. For those of you writing business plans: China is likely to become the world's largest business travel market by 2016.
Tourism to Beijing dropped another ten percent in the first half of the year. This now seems to be a standard statistic, so we are not going to report on it anymore until there's some significant change up or down. Pollution, that's why.
China has begun construction on the world's largest amphibious aircraft. No, we don't know why either, although when it comes to the China market and transport, there never seems to be enough capacity.
If being the subject of a racist epithet is your idea of a great travel experience, definitely check out Ctrip's upcoming #100Laowai trip to Xiamen, September 12-14. Xiamen is a very pretty place, and the trip is only RMB 1,380 (excluding transport to Xiamen), which is a good deal. Check out all the details here. Laowai is a racist term, by the way. I'll blog about that separately. And so is "mainlander."
On Thursday Talking Travel will be taking you on a visit to Guangzhou, so 'til next Tuesday, one road flat safe.
Photo: 慧玮孙 (Flickr), Straitstimes

Visit the original source and full text: the Beijinger Blog