See those paper bags down there? Those were full of juicy organic peaches and nectarines from Haidian farmer, Mumu, and yesterday (June 27), you could take home a sack for just RMB 10. That was the deal at the new Farm To Neighbors market at Modernista and we were ecstatic. They promise similar steals every Sunday, alongside a special cocktail and brunch menu, a selection of vegetables, and a few special guests.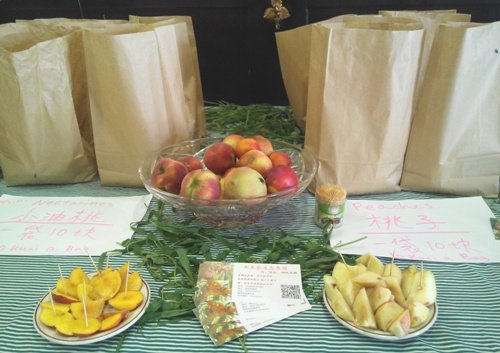 The weekly event was launched by three-year expat, Erica Huang, who also has a full-time job with Vice's The Creator's Project. After two years of battling issues with food in China, Huang decided it was time to take matters into her own hands and find healthier sources for her produce and eggs. She began befriending local farmers, including the eco-friendly farm, Choonisang Vegetables, who normally have a booth set up at the Sanyuanli Market.
You'll find them here, along with a variety of Huang's other contacts, including a duo who make yogurt with yak's milk from Tibet in a little shop on Jiaodaokou. They have their own delivery cart and will personally take you bowls of the stuff which you can use to make cheesecake or simply topped with fruit and honey. Yak's yogurt is hard to find in Beijing, but according to the International Yak Association, Himalayan herders drink up to forty cups of the fatty dairy a day. Now you can see what you're missing out on.
Huang says she plans to change up the participants depending on what's available, but she's still looking for feedback depending on what customers in the area are looking for. She also hesitates to group all produce at her market "organic" because the requirements to be a certified "organic" farm in China are high and many farmers can't realistically meet them (i.e., if a farm is located next to a non-organic farm, it cannot be certified organic). However, she assures that the products you'll find at Farm to Neighbors are from trusted sources who are using mostly "organic" or eco-friendly practices.
Meanwhile, the chefs at Modernista use what's available at the market to whip up tasty brunch items. Yesterday, they offered dishes like a Swiss chard omelette, peach crepes, and peach sangria. Mouth watering yet?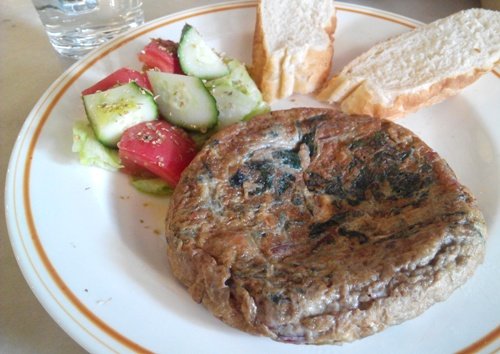 Farm to Neighbors Organic Market
Sundays Noon-6pm. Modernista. 44 Baochao Hutong, Gulou Dongdajie, Dongcheng District (136 9142 5744)
东城区鼓楼东大街宝钞胡同44号
Wechat: farm2neighbors
Find out where I'm eating and drinking on Instagram: @jrapppp
Photos: Jessica Rapp

Visit the original source and full text: the Beijinger Blog