Put on your loosest pants, the Beijinger Burger Cup is back! In the lead up to the Burger Cook-Off Launch Party on August 23 and the start of voting on August 25, we are kicking off with Burger Wars: a series of face-offs pitting Beijing's beef patties against each other. These will not necessarily reflect the ultimate match-ups in our Burger Cup bracket, but give burger fans and burger chefs an idea as to how the product may fare in the final competition.
Come back often for more Burger Wars, information about the upcoming Burger Festival and news on how to vote.
Round three heads to Sanlitun again, where consistent top ten placers Blue Frog and Lily's American Diner fight it out for the top spot.
Contestant one: Blue Frog
2013 ranking: 5
It's fair to say that Blue Frog knows burgers. The Shanghai transplant's buy-one-get-one-free "Burger Burger Mondays" have long been a favorite with bargain hunting burger buffs (or a cash strapped student such as myself in my early days). I sampled the Blue Frog Burger (RMB 78), the simplest offering on their extensive menu, with an added slice of cheddar (RMB 10 – steep). The patty was satisfyingly hefty, and cooked medium as requested, seemingly a rarity in the Jing. I'd come back to try the jaw-testing Montana (RMB 88), piled high with onion rings and barbecue sauce.
A hat tip to the lovely staff at the U-Town branch, who speak excellent English and were markedly unflustered despite a busy night.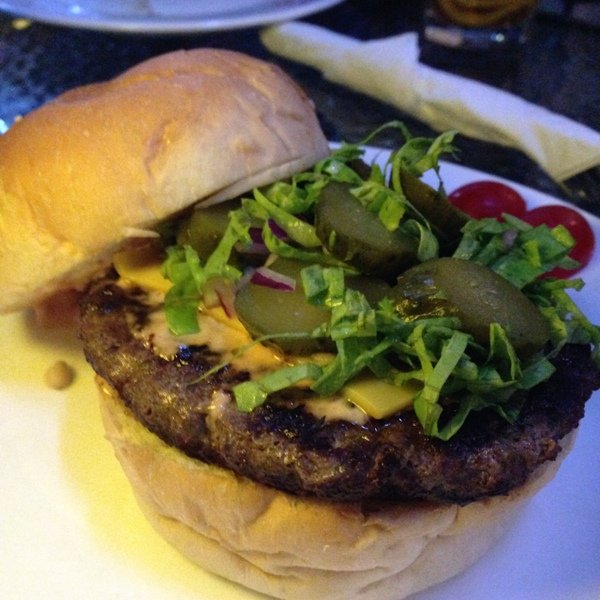 Contestant two: Lily's American Diner
2013 ranking: 9
Having never lived in Shuangjing or Sihui (nor spent much time there), I've never had much recourse to visit Lily's. Now they have a store conveniently located in north Sanlitun, I have no excuse. After browsing their handy, tablet-based menu I choose the All American Burger (RMB 45), a patty topped with lettuce, cheese, pickles, onions and special sauce (is it just me or does "special sauce" never fail to produce a snigger?).  This is definitely your classic stars-and-stripes-loving burger – simple, well-seasoned, with little hits of vinegar from the pickles. Bonus points for the excellent lemony iced tea (RMB 15).
Verdict
A close call, but Lily's just takes it for its keen pricing and delicious secret sauce. Both burgers came with pickles (as absolutely all burgers should), but Lily's edged out Blue Frog for piquancy. Although the burgers themselves were quite different, it's worth adding that both stores add value with smiley service and a wide range of burger variations.
Check back on Thursday for another round of Burger Wars.
Photos: Robynne Tindall

Visit the original source and full text: the Beijinger Blog