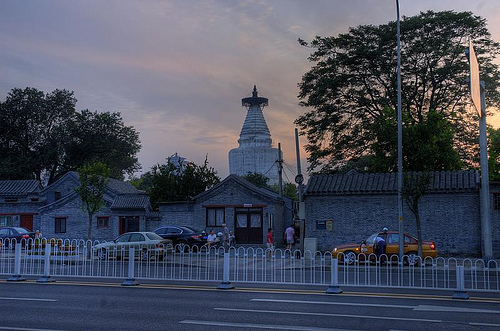 "Going Underground" is a regular column in the Beijinger magazine in which we explore the neighborhoods surrounding subway stations.
Selling Point
Set squarely around an old-school, Line 2 subway station, the area around Fuchengmen mixes some of the best of old Beijing (museums, temples) with some of the best of the contemporary capital (Financial Street, brunch). See the past and the future all in one easy walk.
See
Northeast of the Fuchengmen station is the former Beijing residence of China's most famous writer of the first half of the 20th century, Lu Xun (nee Zhou Shuren) (19 Gongmen Ertiao). Lu wasn't a Beijinger – he was born in Shaoxing in Zhejiang province – and was more closely associated with Shanghai. However, he did spend a number of years in Beijing beginning from 1911, and wrote his best known story, The True Story of Ah Q, while resident here. The museum is a slightly sterile presentation of Lu's life, but worth visiting for anyone with an interest in his work or China's recent literary history.
Deeper in the reaches of history is Baita Si (White Tower Temple, 171 Fuchengmennei Dajie), the oldest presence of Tibetan Buddhism in Beijing, dating back 800 years to the Mongol-controlled Yuan dynasty. The iconic structure was designed by a Nepalese architect, and legend has it that Kublai Khan had arrows shot in the four cardinal directions to determine its bounds. Today, it houses a collection of Tibetan Buddhist sculptures and other artwork.
Nearby, a place of imperial sacrifices that was built on the site of a former Buddhist temple, Lidai Diwang Temple (131 Fuchengmennei Dajie) was an imperial temple during the Ming and Qing dynasties. Here you can find memorial tablets left by 188 emperors and rulers from different nationalities as well as 80 memorial tablets dedicated by ministers and generals.
Yuetan Park (6 Yuetan Beijie), the Temple of the Moon, was built in 1530, for burning celestial offerings, the western complement to the other three celestial temples: Earth, Heaven, and Sun.
For people who watch Wall Street and Boiler Room on endless repeat, the area is also home to the northern half of Financial Street. While there isn't so much to see aside from corporate office buildings, it does make for some delightful dining options in the area, both traditional and more contemporary.
Eat
Make a Sunday out of it with a bit of sightseeing and then a Sunday brunch at Senses at the Westin Beijing Financial Street (G/F, 9B Jinrong Jie). Take an after-brunch stroll to help the seafood and champagne go down.
Similarly satisfying but perhaps somewhat lighter is Zen at the InterContinental Hotel Beijing Financial Street  (11 Jinrong Jie). Signature Cantonese dishes paired with an impressive selection of fine wines and natural Chinese teas. Dishes are created using the freshest ingredients available, a nice choice either during the week or on a weekend.
The Russian-themed Little Birch Restaurant (1/F, Jingbin Hotel, 24 Fuchengmenwai Dajie) offers good central Asian cuisine without the Yabao Lu glitz. This place has a clean, diner feel and is ideal for a quiet dinner with your comrades, or dining alone with your own Anna Karenina (or Dr. Zhivago). Be forewarned, the food is mostly Asian, with a few Russian items (such as pickles) and beers thrown in.
Shop
Along with sightseeing and eating, there is ample shopping available in Fuchengmen. There's Tianyi Market (259 Fuchengmenwai Dajie). Considered the biggest flea market in Beijing, the place is a bit confusing for first timers. The buildings are painted in brash colors, Christmas decorations are sold year-round. Tianyi Market is huge; there's a party supplies area, art supplies area, shoe area, watch area, scarf area, and so on. It's one of the must-go places for shopping during the holiday season.
When you're finished with Tianyi, cross Fuchengmenwai Dajie and backtrack towards Fuchengmen subway. Do some last-minute shopping in at Wangtong Market (2 Fuchengmenwai Dajie), which is less overwhelming, much smaller in size, and better-organized than Tianyi Market. The first four floors sell similar products that you have to bargain for. If you are tired of haggling, the fifth floor sells sports brands at deep discounts. One highlight is the Nike factory store, which has sales of up to 70 percent off.
This article originally appeared on page 9 in the January 2014 issue of the Beijinger:
Photo: Gabriel Weyer on Flickr