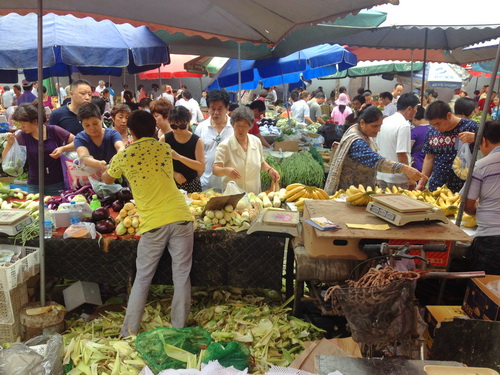 Although this is by far my favorite market in Beijing, I didn't even know that it was called the Chaowai Convenience Morning Market (朝外地区便民早市) until today when I looked it up on Baidu Maps. To me, it had always been "that morning market across from Workers' Stadium."

Located, as my nickname suggests, diagonally across the street from the southwestern corner of Workers' Stadium, the morning market is open from around 7am to 1pm. The vendors start pouring in at around 6am or 6.30am in their matching silver vans to set up their red and blue umbrellas, and the chaos is non-stop until they pack up and leave by 1.30pm.
The first indication that the market is still open is the large number of old Chinese ladies in the area. Each one holds plastic bags stuffed with Chinese vegetables and fruits I don't know the English words for. Or, if they are really serious, they pull along a tote bag with various greens peeking out at the top.

By the time you reach the intersection in front of the market, it is impossible to miss. There is always someone selling something interesting on the street (today was skinned frogs), dozens of bicycles, and enough silver vans on the sidewalk to fill a real parking lot.

I have gotten to know this market particularly well, as today is my third trip here in just one week. Crazy? Maybe. Worth it? Yes. I have been eating mangoes as fast as I can buy them; I just can't find good mangoes back in the US. The mango vendor recognizes my face now and just smiles, probably as she thinks "those waiguoren" and hands me a bag.
I also like to buy peaches, apples and carrots here, and then I challenge myself to buy a fruit that I have never prepared (or eaten) before. Last time was a dragon fruit, today was mangosteens.

The morning market sells both local and imported fruits, and chances are pretty high that you can find a vendor selling the fruit you want no matter the season. Usually, the closer to the front of the market a stall is, the more expensive or foreign the fruit they sell; the very first stall has a permanent kiwi box, and the stall next door always sells pears.

Although some of the fruit is foreign and you do see the occasional waiguoren here, I haven't encountered a vendor who speaks more English than "hello" or the first ten numbers. Nonetheless, all the vendors are very friendly and I love talking to them in my limited Chinese. This morning as I stopped to stare at a wide, flat, and hairy bean I had never seen before, the vendor took time to explain to me how to prepare and eat it.

Stalls pushed to the back walls of the market sell items ranging from clothing and shoes to toilet plungers, as well as a wide variety of spices and rice displayed in white sacks. 

Snaking around the walls of the market is a sad, short row of practically empty meat and fish vendor stalls, a couple more clothing stalls, and a flower stall. Further behind the market is a jianbing stand, noodle stand, and a mom-and-pop bakery with an impressively wide selection, all with open kitchens. 

The final stall is an outside restaurant with cheap plastic stools where a man is twisting a long piece of dough in the air with his hands, no doubt to make some fresh noodles. I smile, make a mental note to come back for breakfast sometime, then head to the colorful fruit market around the wall to buy some more mangoes.
Chaowai Convenience Morning Market 朝外地区便民早市
Daily 7am-1pm. Intersection of Xiasantui and Gongti Nan Lu 下三条附近
See it on the map here.
Photos: Leah Sprague

Visit the original source and full text: the Beijinger Blog