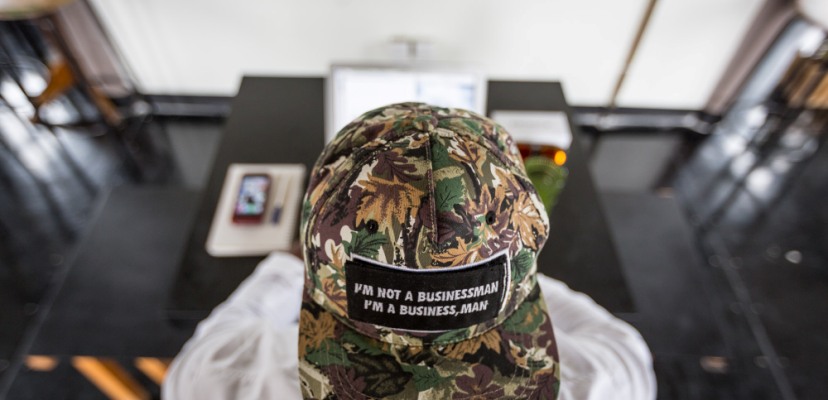 Hot and sticky weather doesn't exactly make us want to throw on our Sunday best, which is why we like that Shagi Defoe manages to keep his style simple and relaxed and still look good. Give him a pair of colorful sneakers and shades and the managing partner of Dienastie eyewear is satisfied.
It's also why we were inspired to talk to Defoe about his fashion choices for Get the Look in the Beijinger's August issue, but before that, we asked him to tell us more about Dienastie, the Swedish eyewear brand that keeps popping up at summer events (Pop Up Disko at Secret Garden, The Bar at Migas rooftop pool parties). Their motto is "Play Hard, Die Nastie," and as it turns out, Defoe and the Dienastie team expect nothing less of themselves. 
I hear there is going to be new products on the horizon for Dienastie. Can you tell us about them?
There are going to be some really interesting designs and collaborations coming out, but we'll also have extensions to the brand. We're planning to have headphones and audio equipment, and we're working on doing Dienastie-branded events in different areas of the world. Next spring and summer, we're going to do apparel capsule collections with T-shirts, tank tops, and swimwear.  
Will we see many changes in the sunglasses themselves?
There won't be a lot of evolution to the brand in terms of design, but the core of the brand is about a lifestyle, a feeling of rebellion and a feeling of personality. It's not about buying somebody else's brand and changing yourself to fit the brand. We want you to buy our glasses and have a sense of who you are already. So from the frame design, to the mirror lenses, to the size of the frame to the patterns we use, it's all about you.
We hear you'll be expanding from China and Southeast Asia to Europe soon. What can we expect from that?
Currently, our sizes are mainly focused on Asian faces (they can accommodate other face shapes as well), but next year, when we start our European selection, they'll be catered to the European structure of the face. As soon as the European line is done and up on the website, there will be a sizing chart. We're working on developing technology for the site where you can upload a picture and can see which glasses look best on you.
What's your advice on how to pair sunglasses with your outfit?
We don't do that. It's really based on your personal preference. For me, I'm kind of more conservative with my lenses and frames, so I usually do a darker brown or black, unless I'm going to an event like a pool party. I go crazy on shoes, but I don't go crazy on anything else. Every drink I order is a gin and tonic, so that says a lot.
I'll make sure to mention that the shoes and lenses matching in your photos was an accident!
It was an accident, really. At Dienastie, we consider ourselves anti fashion, and anti establishment of the fashion industry. We've gotten invited to sponsor or partner with brands at numerous high-profile fashion and we turned down a lot of them because we don't want people to think of us along the lines of GQ or Karen Walker or anything like that. I mean we look up to her and we like GQ, but we don't want to be considered in the same box. We don't follow the structure of fashion, we don't follow their seasons, and we don't follow their business structure. We're a lifestyle brand, so it doesn't really fit.
How do you incorporate Dienastie into your daily life? Do you wear them often?
I wear them every day because I love the feel of them. Our frames are very strong and light. We take a lot of pride in developing them. Each frame takes at least two months to design first and get samples made and tested in numerous situations, from walking in a street on a sunny day, to walking in the street on a gloomy day, to jumping off of a boat in Thailand.
What, really? Jumping off a boat?
The Horizon frame was actually tested out that way. We jumped out of a yacht from 12 feet into the water to see what kind of impact it had on the frame, so we really live the "Play Hard, Die Nastie" lifestyle. It's not just a gimmick. We try to push the boundaries as much as we can.
Photos: Mitchell Pe Masilun, Dienastie

Visit the original source and full text: the Beijinger Blog