Close your ears to the sounds of the Chinese bus announcements drifting in from Gulou Dongdajie outside and look around newcomer Murasakitama's tiny, six-seat interior, and you could be sitting in an unknown sushi bar in a Tokyo backstreet. 
The food, while fresh, doesn't quite live up to the authentic feel of its surroundings. Murasakitama's lone chef learnt his trade in Japan and his skills did shine through in the "jade sushi platter" (RMB 300), which brings ten pieces of nigiri topped with paper-thin slices of fish, lightly brushed with soy. A small sashimi platter of tuna, yellowtail and Japanese halibut (RMB 180) is less successful, the slices of fish too indelicate, too cold to fully enjoy. Those possessed of smaller appetites might choose to order the sushi piece by piece (RMB 20-150).
Should all that soy sauce leave you with a thirst, ask the hip youngster behind the bar to whip you up an off-menu cocktail from their limited selection of spirits. However, be warned, you will pay a not-so-pretty penny for the privilege; a well-executed Old Fashioned appeared on the bill at RMB 120.
Also try: Shota Muni, Yotsuba
Murasakitama
Daily 5pm-11pm. 71 Gulou Dongdajie, Dongcheng District (5947 6788)
紫玉高级手作居酒屋: 东城区鼓楼东大街71号
1km west of Beixinqiao station (Line 5)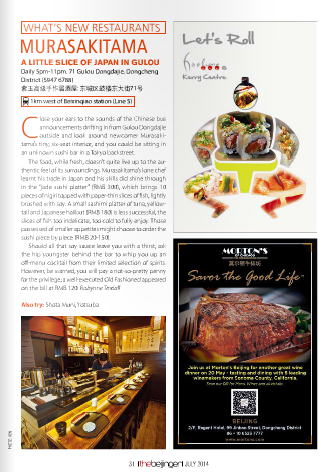 Photo: Ken

Visit the original source and full text: the Beijinger Blog