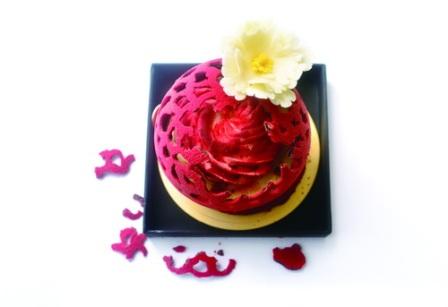 With its sleek black exterior and large windows of multi-story cakes, Black Swan Luxury Cake Shop sits above the fray of pulled noodle and dumpling neighbors. Luxury truly is the word here – the cake constructions on display provide a good 20 minutes of gawking and gasping. Rolexes and Prada bags might be the peacock plumes of the wealthy, but so too, it seems, are Black Swan cakes. The star cake, festooned with white swans across its five tiers, costs one yuan short of RMB 2 million.
Although we were curious as to what kind of pleasure a two-million-yuan dessert might offer, we settled for two more everyday options – the Ningxia (柠夏, RMB 99), a lemon and mango treat, and the pretty-in-pink Guimi (闺蜜, RMB99), which roughly translates as "lady's chamber secret."
Both are intricate combinations of textures and flavors. The Guimi sits on a biscuit base and inside the pink-covered chocolate shell are layers of raspberry sauce, cream, ice cream, fruit and sponge cake. Less imperial looking, and more like a summer treat, the Ningxia is a combination of lemon and mango, organized around layers of mint, cream, hazelnut praline, white chocolate and shortbread.
The downside to Black Swan's ice-cream-based desserts is that they seem to be kept in some form of Antarctic blast chiller and are frozen solid. The staff won't even serve them to you for about 15 minutes to give them time to thaw, and even then, we waited another 15 to avoid an icy ball flying across the room when we cut into it.
Finally, a last tip: While you're in there, ask for a taste of the rose gelato (RMB 35) – it's bloomin' delicious, and the free samples aren't much smaller than the single scoops you pay for.
Black Swan Luxury 黑天鹅蛋糕
Daily 8am-10pm. F1 Huapu Dasha, 19 Chaoyangmenwai Dajie, Chaoyang District (6580 1105)
朝阳区朝阳门外大街19号华普大厦1层
350m east of Chaoyangmen station (Line 2)
A version of this article appears in the January 2014 issue of the Beijinger
Photo: Joey Guo