After moving to Seattle from Beijing, I found that the Chinese food I craved the most were the regional cuisines that are impossible to find in the US. Something I missed in particular was roujiamo (肉夹馍), soft pork sandwiched in a flatbread. So it's no surprise that the first place I headed to when I arrived in Beijing last week was Huang He Shui (黄河水), a Shaanxi restaurant just outside Worker's Stadium.
Roujiamo (RMB 9) is just considered a side here, held in one hand while the other hand works the chopsticks in a bowl of noodles. Nonetheless, I think it takes the spotlight at Huang He Shui, which has the best roujiamo I have ever tasted. It isn't very oily, unlike the other roujiamo I have tried in Beijing; the meat is always juicy and the bread is soft with a slightly crispy exterior.
Another great dish to try is the one that Huang He Shui proudly advertises on a faded poster on the wall: biangbiang mian (RMB 22). At 57 strokes, this noodle dish that has such a complicated character that most dictionaries don't have it.
It used to be considered beggar's food, but is now a classic in many Shaanxi restaurants and has even found its way to the USA. Thick, wide homemade noodles are surrounded by a special sauce of soy sauce and vinegar, and topped with tomatoes, sliced carrots, various green leafy vegetables, and bean sprouts.
Be careful though: If you are not into spicy food, ask for bu la (不辣) – not spicy – or expect a sizable heap of chili pepper flakes on top of your noodles.
Although there is no English menu, the waitress will stand by your side to answer questions as you decide what to order. She checks off your choices on the laminated menu with a black whiteboard marker, and then you pay at the table upfront.
This is one of the rare restaurants in Beijing that has clear glass windows in front of the kitchen, so customers can watch the chefs stretch handmade noodles or prepare some meat if they're lucky.
As a bonus, the bathroom at Huang He Shui is very impressive for a Chinese restaurant: clean floors, new sinks, no smells. There is a western toilet, although it is much dirtier than the rest of the bathroom – but c'mon, you take what you can get in Beijing!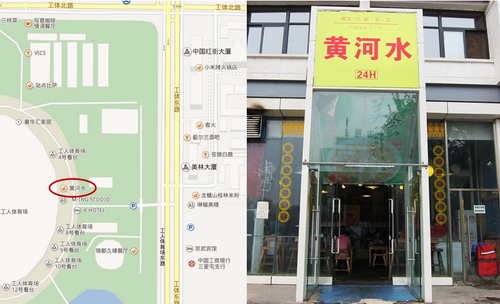 Tucked into the Worker's Stadium, Huang He Shui is very easy to find. Go into the Worker Stadium parking lot (just west of Sanlitun) from the east entrance and its yellow sign will be almost straight out in front of you. See the map above or click here for more details.
In a Nutshell
•    Name: Huang He Shui (黄河水)
•    Type of food: Shaanxi province (roujiamo, biangbiang noodles)
•    Location: East Worker's Stadium (west of Sanlitun)
•    Price range: Around RMB 30 per person
•    Bathrooms: Western toilets, decent
•    Opening hours: Daily 24 hours
•    Menu: Chinese only
 
Information on biangbiang mian found on Wikipedia.

Visit the original source and full text: the Beijinger Blog