Whether you want to maintain your Chinese during the summer months while away from Beijing's sweltering heat or want to continue learning Chinese after you've moved away, online language learning platforms are effective and convenient. Keep scrolling for a quick review of tried-and-tested ones.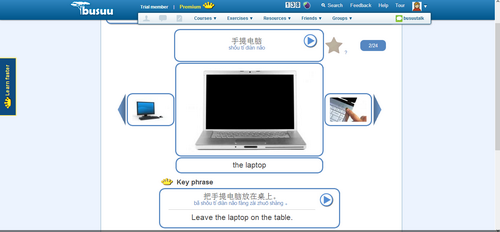 Busuu
Cost: Free for basic membership, USD 20/month (approximately RMB 124) for premium membership
Best for: Reading, writing, speaking, listening
One of Busuu's strongest features is their vocabulary learning platform. Users must review the 24 new words taught in each unit with an end-of-unit quiz, then practice the words with reading, writing, speaking, and listening exercises. If they do well, users can earn "busuu-berries" that allow them to buy virtual items and grow a "language garden" as their Chinese level develops.
Busuu also helps users develop their speaking and listening skills with a chat platform where they can practice their Chinese with native speakers. Users can either IM or use video chat. 
With the basic membership, users must pay ten busuu-berries, or the equivalent of answering two questions correctly on the first try, to use this social feature. Users with the premium membership do not need to pay. 
This speaking and listening feature relies entirely on a concept of giving and receiving. For example, Chinese learners must rely on native Chinese speakers on the site to volunteer their time to talk to them. This is rarely a problem, but does givea sense of obligation to all Busuu users.
The bottom line: Busuu offers a wide range of activities for users to improve all aspects of their Chinese.
LingQ
Cost: Free for basic membership, USD 10/month (approximately RMB 62) for unlimited use, USD 39/month (approximately RMB 242) for unlimited use + private tutoring sessions
Best for: Reading
LingQ is a database of interactive and personalized essays. Upon creating an account, users are given access to essays of varying difficulty in Chinese, with each word highlighted in blue.
Each time the user comes across a blue word they don't recognize, they can click on the word to save it to the list of words they already know so it will not be highlighted again. Words that the user doesn't know, or "LingQs" can be added to a list of flashcards. 
With the free LingQ account, users have access to all essays in the database, but they can only import five essays from other sources, and can only save 20 LingQs. While inconvenient, the user can get around this limit by deleting the LingQs once they have mastered it, or the essays they have already read.
LingQ users can also post messages, videos, or audio recordings to the public community or specific friends, but this aspect of LingQ is not what draws users to the site.
The bottom line: Although saving all the words the user already knows is tedious at first (especially for users who can already read a lot of Chinese), LingQ is a great resource for reading comprehension and learning new words.
Lang-8
Cost: Free for basic membership, USD 7/month (RMB 43.5) for premium membership
Best for: Writing
To put it simply, Lang-8 is a language-learner's Facebook. Users can post videos, audio recordings, or writing ranging from one sentence to a formal essay for other users to make corrections in the comments. These posts can be seen by either the public or just specific friends. 
Quite a few users use Lang-8 for school assignments before turning them in, but the majority of posts are simple notes for practice only. Because Lang-8 has many Chinese-speaking users, Chinese posts are usually edited within hours.
Premium members are given priority in the line of posts to edit, can study more than two languages on the site and can save more than 500 of their statuses to their Lang-8 notebook.
The bottom line: Lang-8 is a great, easy-to-use resource for homework help and writing practice.
All three of these platforms also support other languages such as Spanish, Japanese, and French.

This article first appeared on beijingkids.
Photo: Courtesy of alanaqkelly (Flickr)

Visit the original source and full text: the Beijinger Blog