If Nanluogu Xiang and Beiluogu Xiang were twins, the latter would be a shy girl averse to boasting her skills and assets. At the intersection between the two, the contrast is explicit. I glance across the road at the crowds before despondently heading in the opposite direction – a deserted street in comparison. However, a walk along Beiluogu Xiang's narrow lane reveals it carries its own charm.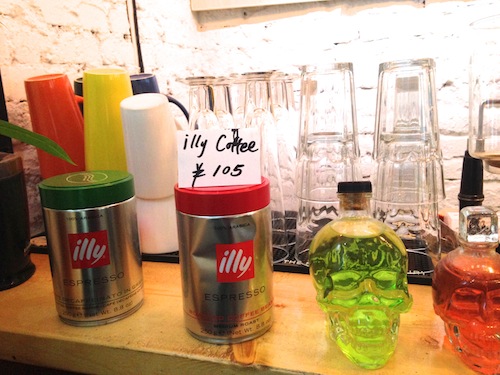 Near Beiluo Bread Bar, that conspicuous Illy sign is hard to miss. That, along with a furry koala bear, welcomes customers into the dimly-lit Lazy Café. Inside are plush couches and warm décor, a full rack of CDs and Chinese books, all of which are meant to remind one of the coziness of their own home. The usual limited serving of cakes (RMB 20-25) and drinks (RMB 15-30) are on offer, including cheesecake (RMB 22), brownies (RMB 27) and waffles (RMB 25).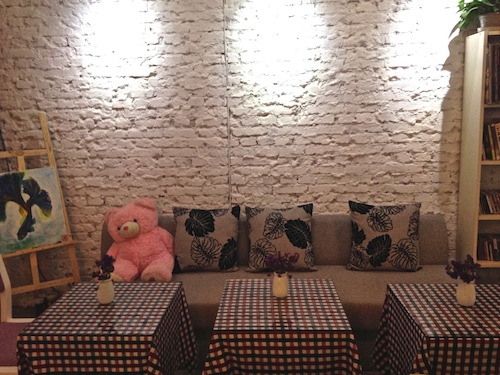 The owner is a former DJ and bartender, and it almost seems as if cafe-management gig came about as an afterthought. When asked about his reasons for opening the café he said, "I just want to do what I want to do. I don't compete with other cafes."
Mojitos, juice, and smoothies are available on top of the typical caffeinated offerings. If you happen to catch the owner during one of his creative periods, you might be able to order something that's not even on the menu, including a Brazilian cocktail where Brazilian ingredients are replaced with local Chinese ones in honor of the World Cup. If that's a drink you'd have a hankering for, ask for Gary.
Lazy Café
Daily 11am-9pm. 93 Beiluoguxiang, Dongcheng District.
东城区北锣鼓巷93号
Read more about the next big restaurants and cafes in the Beijinger's First Glance column here.
Photos: Cherry Chen

Visit the original source and full text: the Beijinger Blog