Although I've tagged this as a "new opening," the Sanlitun Soho branch of Shaanxi Noodle King has actually been operating for a few months now. Our bad. We must have been dazzled by the veritable avalanche of new openings popping up in the Topwin Center mere meters away. Still, you need to know about this place because I guarantee it will become one of your top 10, nay top five, Sanlitun lunch spots. 
It doesn't take a genius to work out what Shaanxi Noodle King specializes in: noodles of the saozi, youpo, and biangbiang variety. Ah biangbiang noodles, so good they named it twice. The version here comes topped with a mixture of braised pork, stir-fried tomatoes and eggs, and the traditional saozi noodles topping of potatoes, carrots, tofu, and wood ear mushrooms. The signature long noodles are thick and hearty (perhaps a touch thicker than we'd like) and the portion is take-a-nap-under-your-desk-in-the-afternoon huge. A bowl of these will set you back RMB 18, while most of the other noodles are around RMB 20-30. If you can't handle the spice of biangbiang noodles (although the version here isn't particularly fiery), we highly recommend the noodle slices stir-fried with pork (RMB 22, 臊子肉炒面片), which comes with a chili-free sauce of pork, peppers, and tomatoes.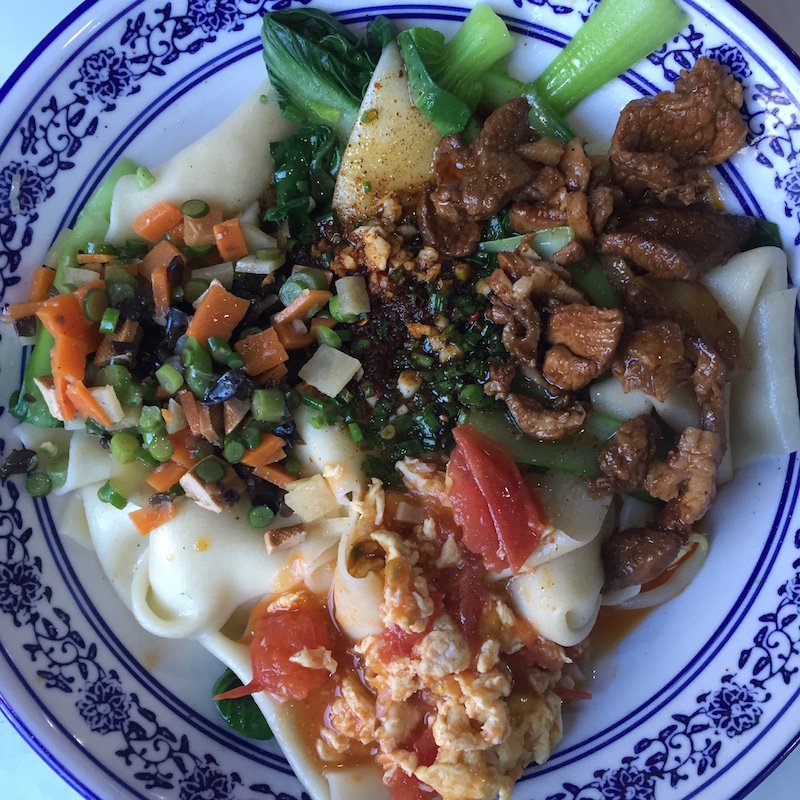 There is a wide selection of cold starters available, none of which particularly set our world alight, although let's be real, you're just here for the carbs anyway. If we had to recommend anything, go for the vinegared eggplant (RMB 18, 醋汁茄子) or the "tiger salad" (RMB 12, 老虎菜). 
We mentioned above that Shaanxi Noodle King was going to become your new go-to lunch spot, but it's also open 24-hours (praise), so it may well become your new favorite breakfast, afternoon tea, and 2am refuel spot.
Speaking of 2am refueling, Shaanxi Noodle King is not the only place we like to get our late-night noodle fix. Below are a couple of our other favorites:
Ling Er Jiu
I would go as far as to say that I actually prefer the biangbiang and youpo noodles at Ling Er Jiu. This burgeoning chain actually just opened a branch in the Topwin Center, but our favorite is still the original location on Xingfucun Zhonglu, which opens into the wee hours of morning and is perfect for a carb-fest after a heavy session at Great Leap #12. 
Pingwa Sanbao
We can't get enough of raucous, 24-hour eatery Pingwa Sanbao. Everyone knows oil, spice, and carbs make the best drunken eats, and Ping Wa San Bao's Shaanxi-style noodles, roujiamo, and chuan'r will happily oblige. Superstar Mark Ruffalo even gave it his seal of approval on a recent press trip to Beijing to promote Now You See Me 2. 
More stories by this author here.
Instagram: @gongbaobeijing
Twitter: @gongbaobeijing
Weibo: @宫保北京
Photos: Margaux Schreurs, Robynne Tindall

Visit the original source and full text: the Beijinger Blog