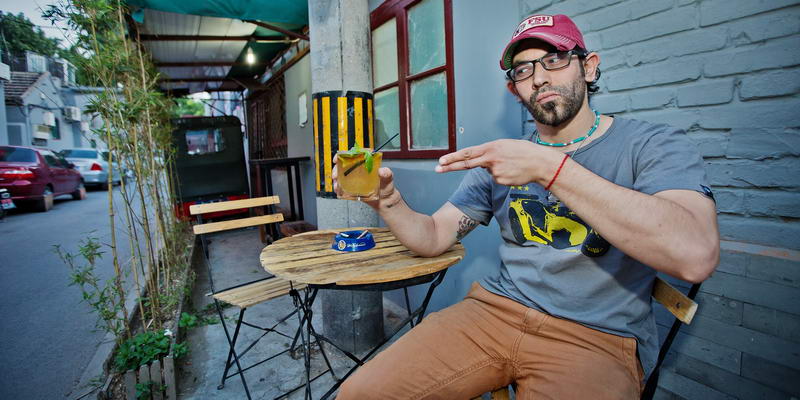 As reported by the Beijinger last month, Cuju will begin a transition to a new concept on Friday after four years as a rummery/bistro/sports bar, but owner Badr Benjelloun is adamant that his hutong adventures at Number 28 Xiguan Hutong are far from over.
"We're going to take the best of Cuju, the decorations, the televisions, and the vibe and move them across town to Caravan," said Benjelloun.
Benjolloun is planning a new project that will fill the space on Xiguan Hutong.
Despite an official message last month that Cuju would close on September 9, Benjelloun today told the Beijinger that the space will remain open on a limited basis throughout September during the transition period.
"We will be open regular hours," said Benjelloun, "but without a set menu."
The bar will close completely for a few days toward the end of the month while lighting and fixtures are upgraded.
As to why the award-winning bar owner felt the need to shake things up, Benjelloun cited the difficulty of running successful establishments in different parts of the city and the need to meet customer expectations.
"It's been hard to manage both places as well as I wanted over the past year," said the recently married bar owner. "People came to know us as a sports bar primarily. But organizing sports viewing is tough. You need to be there to set the feeds and be sure things go right."
Too many times, said Benjelloun, he found himself waking up early after a late night at Caravan to open the doors at Cuju for early morning sports fans. Often they came, sometimes they didn't.
The final straw was the Olympics opening ceremony.
"I wasn't planning on opening to show the ceremony but all week long I was getting texts and WeChat messages and email asking if I would be open. So after a long evening at Caravan with many bands playing – including my own, I headed across town to open Cuju. Nobody showed up."
RELATED: A Talk With Badr Benjelloun of Cuju, Caravan
"I want to get back to doing things I love in that space."
A special room at Caravan has been designated the "Cuju room." While the brand may no longer officially exist, the Cuju sign will still hang in Caravan for historical purposes. Sports fans will still be able to enjoy a wide selection of televised events.
"[Caravan] will be a great environment to watch games. We have the big screen. We'll have the TVs from Cuju. Our staff can come in a little early each day to accommodate the early games."
Former Cuju patrons used to treks down the alley for bladder relief, might also appreciate the indoor plumbing at Caravan.
As for the space at Number 28 Xiguan Hutong, Benjelloun remained coy. What we do know is that he remains in control of the lease and is plotting his next creation: "I'm going to put my white lab coat on and experiment."
Photo: Ken

Visit the original source and full text: the Beijinger Blog