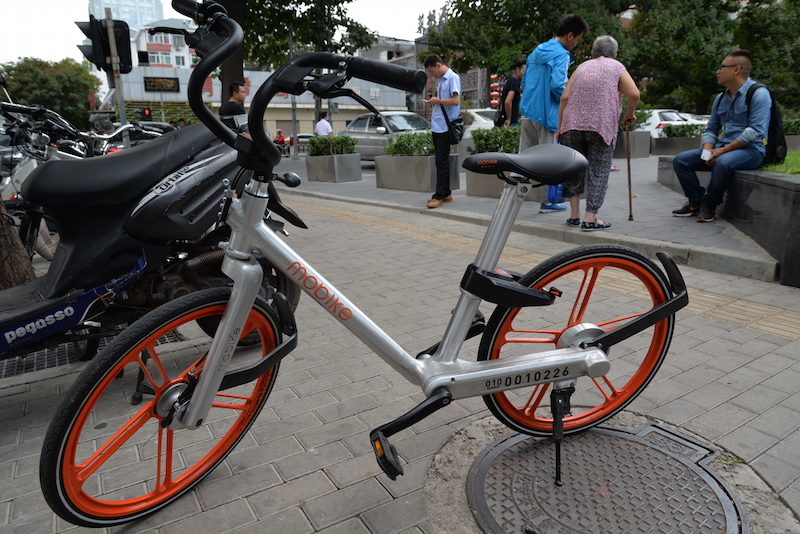 Tech Check is a new column that details the hottest technology news and trends. Have a tech related tip? Email or WeChat the author using the contact info below.
For a measly RMB 1, you can get mobile and avoid Beijing's unending traffic jams. At least that's one of the selling points that the makers of a new bilingual app called Mobike are peddling. A recent iNews article details how users to scan the QR code of any of its cycles littered across town, hop on and start pedaling toward their destination. When the rider reaches their destination, they only need to dismount, use the app to lock the bike, and then leave as it stands, supposedly making the Mobike option far more convenient than official Beijing public bicycles (also known as 北京公共自行车/gong gong zi xing chi, which can only be taken and left at specific stations, and require an exhaustive amount of legal certification to use) or Ofo Bikes (which are mostly situated around university campuses, and have a Mandarin-only app).
The only thing you need in order to use these tech-savvy cycles is a smartphone (to scan the aforementioned QR code) and a WeChat or Alibaba account to cover the fee (riders can "top up" the amount of money they want to keep on their Mobike for easy usage). More convenient still is the price: RMB 1 for 30 minutes of riding or twice that for an hour. The app gives users a GPS map that they can use to find available cycles nearby, and you can drag the cursor to see the availability of cycles across town (which could be convenient for someone taking the subway and hoping not to walk to a destination between stations. After dragging that cursor around, I was pleased to see that numerous bikes were available within the First Ring Road and the university district in Haidian (though the south of city seemed to have far fewer).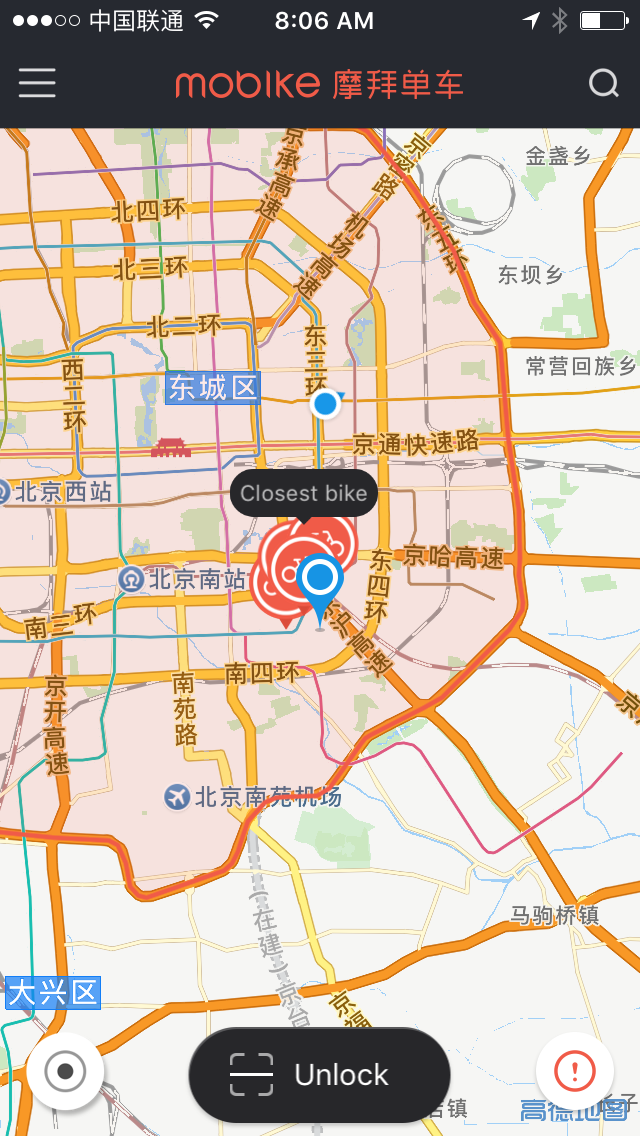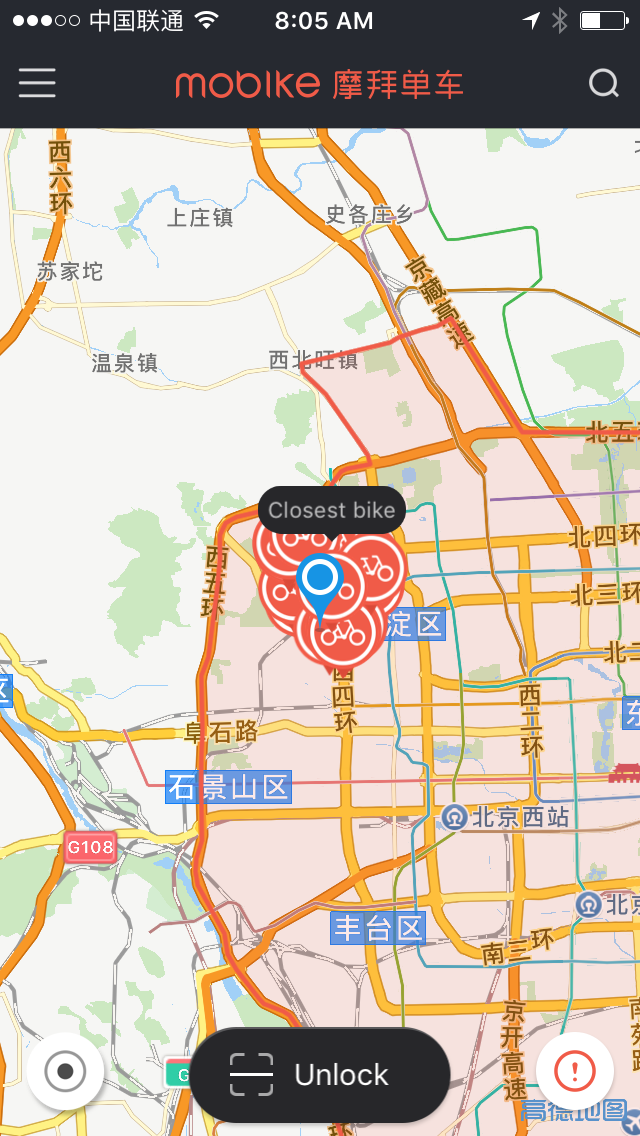 At that point, I was eager to take one for a spin. The Mobike app made the steps seem quite simple:
Enter your number and wait for the SMS pin. Then: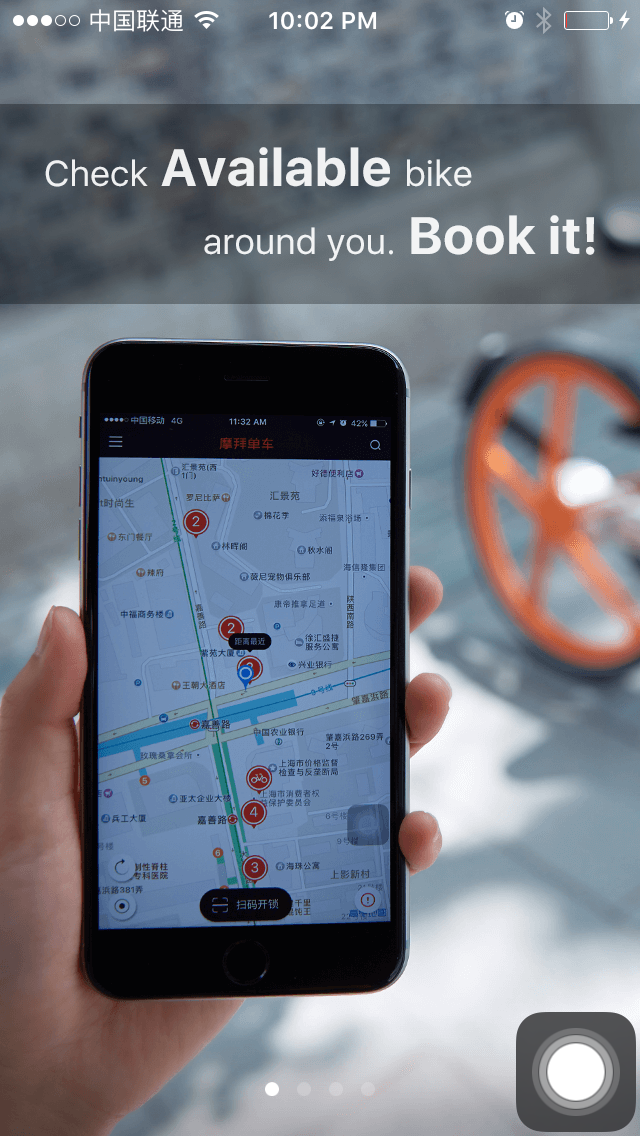 However, when we tried the to use the app, some of the first steps were more than a bit cumbersome. After topping up our account (the app says users must put RMB 299 into their Mobike account from either WeChat wallet or Alipay, though it promises any remaining balance will be refunded if the user wishes), Mobike asked for us to register with our Chinese ID number. For a foreigner like me, the alternative was to allow the app to access my smartphone's camera, then snap a shot of my face and my passport (the app says its facial recognition system would check for a match). It then brought me to a screen with an hour glass icon that said "we are processing your information." However, after more than 30 minutes, the hour glass remained unchanged and the setup still had not completed. So much for a quick, convenient bike ride.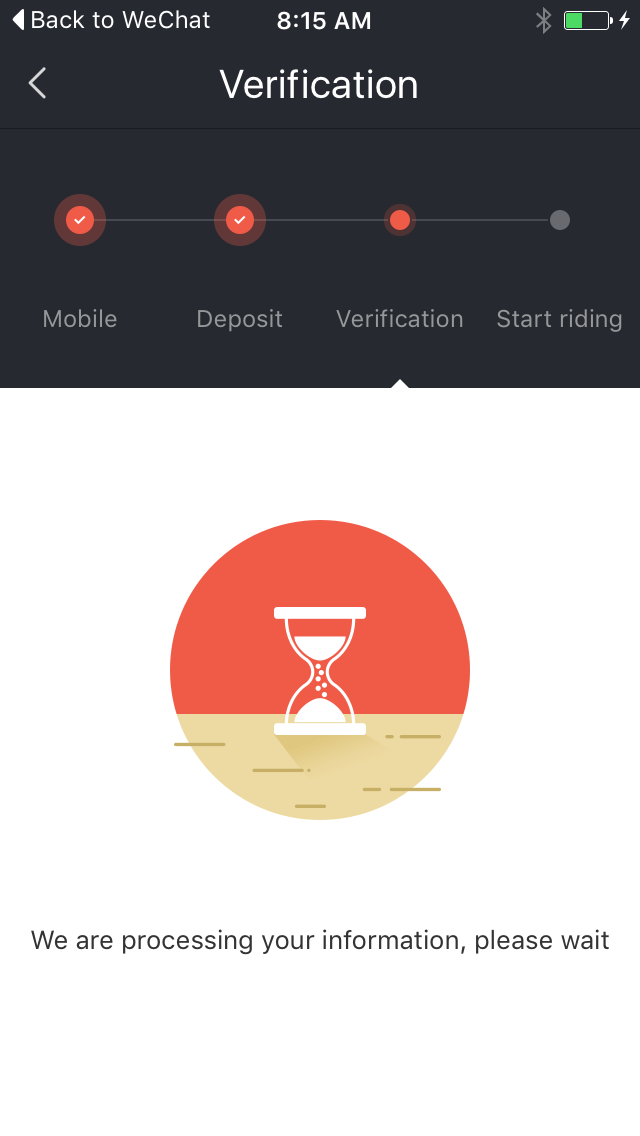 However, several hours later, I tried logging out and back into the app, after which it worked perfectly fine. The map told me there was a Mobike cycle sitting right around the corner from my office in Hujialou, so I eagerly rushed out to give it a try. I followed the steps as outlined above, and found the whole process – including the way to bike handles – to be quite smooth. It is a minimalistic cycle overall – the breaks and seat being quite hard, which could be an adjustment for riders more accustomed to easier suspension. There is a bell built into the handlebars, but it has no other little luxuries that I've become accustomed to as a longtime Beijing cyclist, such as a basket or a cushion on the back for a passenger to hop on or, worst of all, no way to adjust the height of the seat, making it slightly cramped for taller riders like me. However, these are minor gripes, especially considering how low the fee is.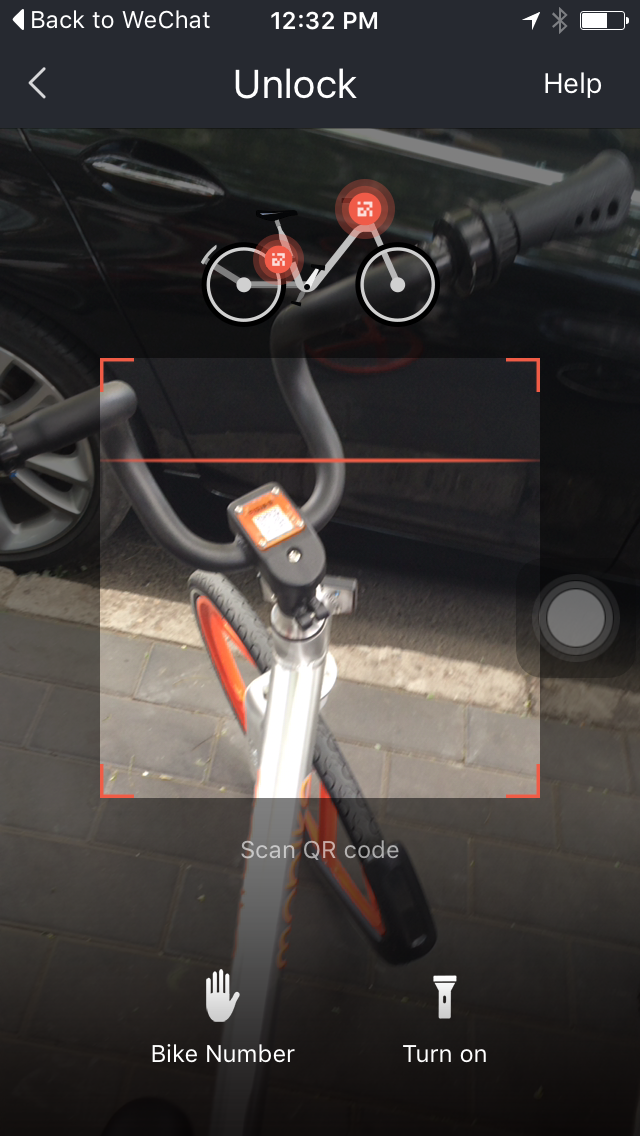 The app debuted in Shanghai this past May (an aritcle about it noted that the founder was, fittingly enough, a former Uber employee). Now that it has branched out to Beijing, it has plenty of potential to catch on in our traffic-clogged locale. If the Mobike team can smooth over some of the setup issues for first-time users, and make the seats adjustable, than Mobike should have a bump-free ride to success.
For more information, search "Mobike" on your app store or visit Mobike's website.
More stories by this author here.
Email: [email protected]
Twitter: @MulKyle
WeChat: 13263495040
Photos: Kyle Mullin, iNews, Mobike

Visit the original source and full text: the Beijinger Blog