He's the most handsome world leader you could ever imagine. And, thankfully, China no longer needs to admire him from afar. Yes that's right: the Canadian stud muffin Prime Minister himself, Justin Trudeau, is gracing us with his presence (and his magnificently flowing hair, and his astounding core strength, and on, and on, and on ...).
On Tuesday, August 30 the Canadian leader spoke at the Chinese Entrepreneur club in Beijing, sitting next to Alibaba founder Jack Ma while making a pitch that China further its ties with the Great White North. So it looks like Chinese netizens will have plenty of reasons to praise 小土豆/Little Potato (say it out loud) in the near future.  
So seeing as everything about good old Justin is oh so "ah-mazing!" (to quote an article that's even more sarcastic than this one), we thought it would be a perfect time to outline Beijing's best Canuck-inspired eats.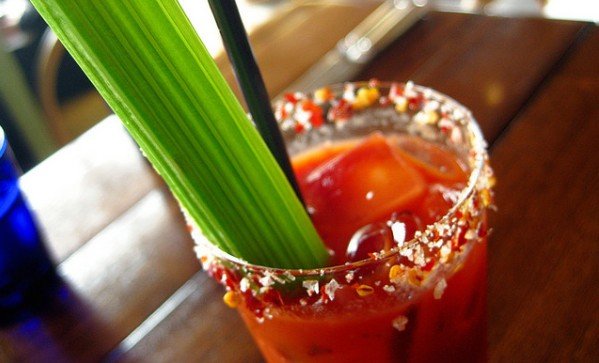 Plan B's Aug 31 Caesar Promotion
Ahh the Caesar, Canada's signature cocktail. Made with the lightly spicy Clamato tomato juice, this beverage will leave you feeling true, north, strong, and free. Popular Shuangjing bar Plan B will be serving up Caesars, made with real Clamato juice and spiked with 50ml vodka shots (strong enough to numb you during even the iciest of Canadian winters), priced at RMB 50 per glass (or order two pounds of Buffalo wings with the drink for RMB 100). If that's not enough True Patriot love for you, then try ordering the drink with a Plan B's own poutine (Canada's most famous fast food dish, made with fries or potatoes, gravy, and cheese). Plan B's rendition (priced at RMB 60) has home made beef bone gravy, real cheese curds (a rarity in Beijing, and crucial to any authentic poutine recipe), and hand-cut fries. Owner Trevor Metz says the Prime Minister would approve, saying: "The younger Trudeau will be giving the thumbs up, instead of the finger, to this authentic Canadian delicacy," before clarifying that "His former Prime Minister father Pierre Elliott Trudeau famously once gave the finger to a group of protestors in British Columbia." Or, to paraphrase Justin's Dad: "Just watch me ... drink this Caesar."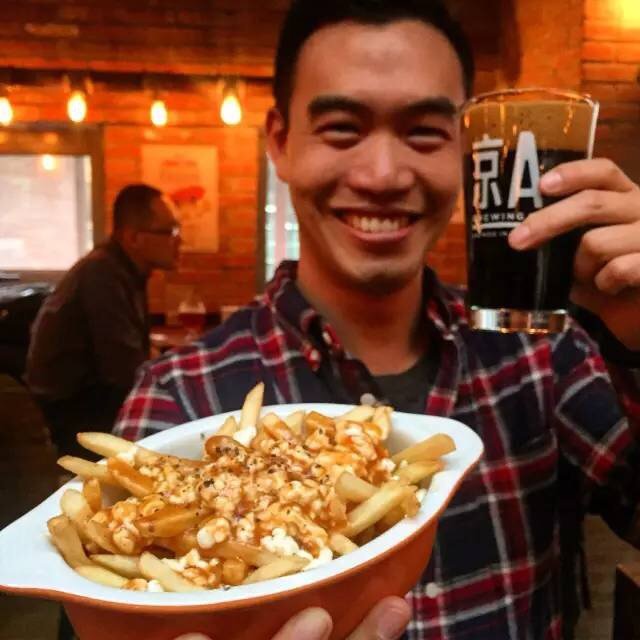 Even more poutine options
4Corners (home to chef and Toronto raised chef Jun Trinh), Jing A (home to co-founder and Torontonian Kris Li), and Ramo (owned by Paca Lee, who once ran the now defunct Andingmen Canadian-themed restaurant The Box) all serve this fries-n'-grave coated dish as well. Jing A's is RMB 40, and its menu describes it as "a Canadian legend! French fries smothered in 4Corners' homemade gravy and cheese curds." The brewery's marketing head, Rich Ammerman, tells us "The Canadian ambassador tried our poutine and he approves." Paca Lee, meanwhile, tells us she was happy to continue serving this Canadian classic at Ramo (where it's priced at RMB 35), even after closing The Box, adding "we still have it and it's still a very popular dish." Apparently Beijingers aren't afraid of poutine's artery clogging properties.
Cow's Creamery
Anyone who grew up on Canada's east coast in the 90s has seen the distinctive merchandise from this beloved ice cream chain. Indeed, Cow's is almost as well known for its pun-infused T-shirts (which poke fun at popular movie and video game titles, for example: "Cow of Duty" to "Dairy Potter" to "Fifty Shades of Hay") as it is for its ice cream. However, these scoops of dairy dessert are also hugely noteworthy, mainly because they're so sweet and because they have creative flavor varieties (like, as we mentioned in an earlier blog "Wowie Cowie, consisting of chocolate chunks swirled together with vanilla ice cream, and Gooey Mooey, which is similar to the aforementioned flavor, aside from its oodles of sticky caramel"). The Canadian chain opened a Beijing branch across the road from Heaven bar in Sanlitun in late 2014, and they have since move to the first floor of the Topwin mall.
Ernest's French Bistro
This recently opened Shunyi restaurant is run by a Chinese chef that spent years cooking in Montreal restaurants. He serves several French and Quebec style eats like pork coquette and authentic beef tartare.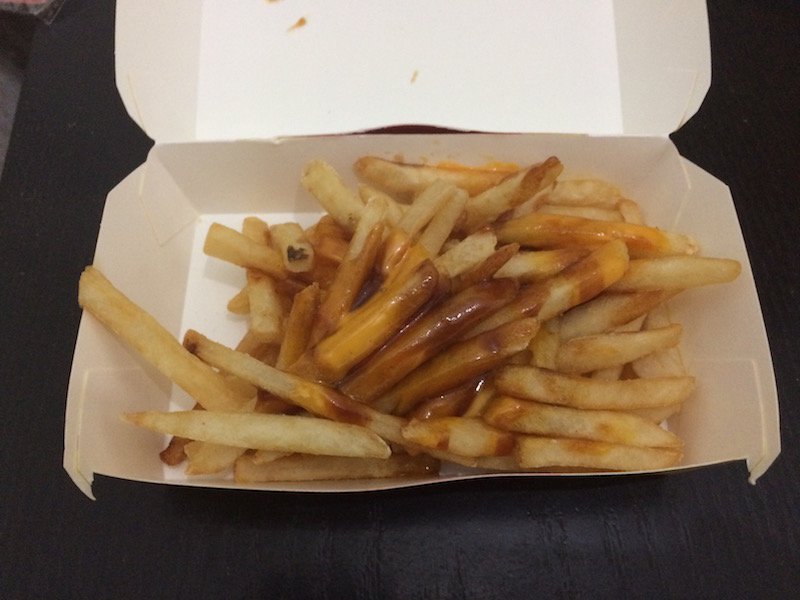 McDonald's new Cheese Fries Dish
As if to coincide with Trudeau's China trip, China's McDonald's franchise recently unveiled a new french fry menu item that slightly resembles poutine. However, the RMB 13 menu item falls far short of that order. There's no gravy, for instance, only slightly tangy barbecue sauce. Also the "cheese" is more like Cheez Whiz sauce. There's certainly no curds in sight. We highly suggest you skip this one, especially if you want to be like Trudeau and look ripped while "accidentally" photo bombing a young couple who are getting their wedding photos taken (sure, Justin, you didn't mean to stand there in the background and flex. We believe you).
Are you aware of any other Canuck-themed eats around town? Let us know in the Comments section below (who knows? If your suggestion is good enough Trudeau might hurry over and take a selfie with you).
Photos: dailyxy.com, CBC, Little Piggy, Jing A, Kyle Mullin

Visit the original source and full text: the Beijinger Blog