He's a comedian that not only likes to crack wise, but also dispense in wisdom. After British standup Stephen K. Amos hops off stage, leaving the crowd in stitches, he devotes much of his free time to socially conscious filmmaking. His 2007 documentary Batty Man, which delved into the homophobia that's rampant in much of the black British and Jamaican communities, was nominated for a BAFTA and received rave reviews. Ahead of his September 6 and 7 gigs in Beijing, the comedian tells us about how that filmmaking fulfills him, how he handles hecklers while onstage, and his (sarcastic) plans to become a Hollywood leading man.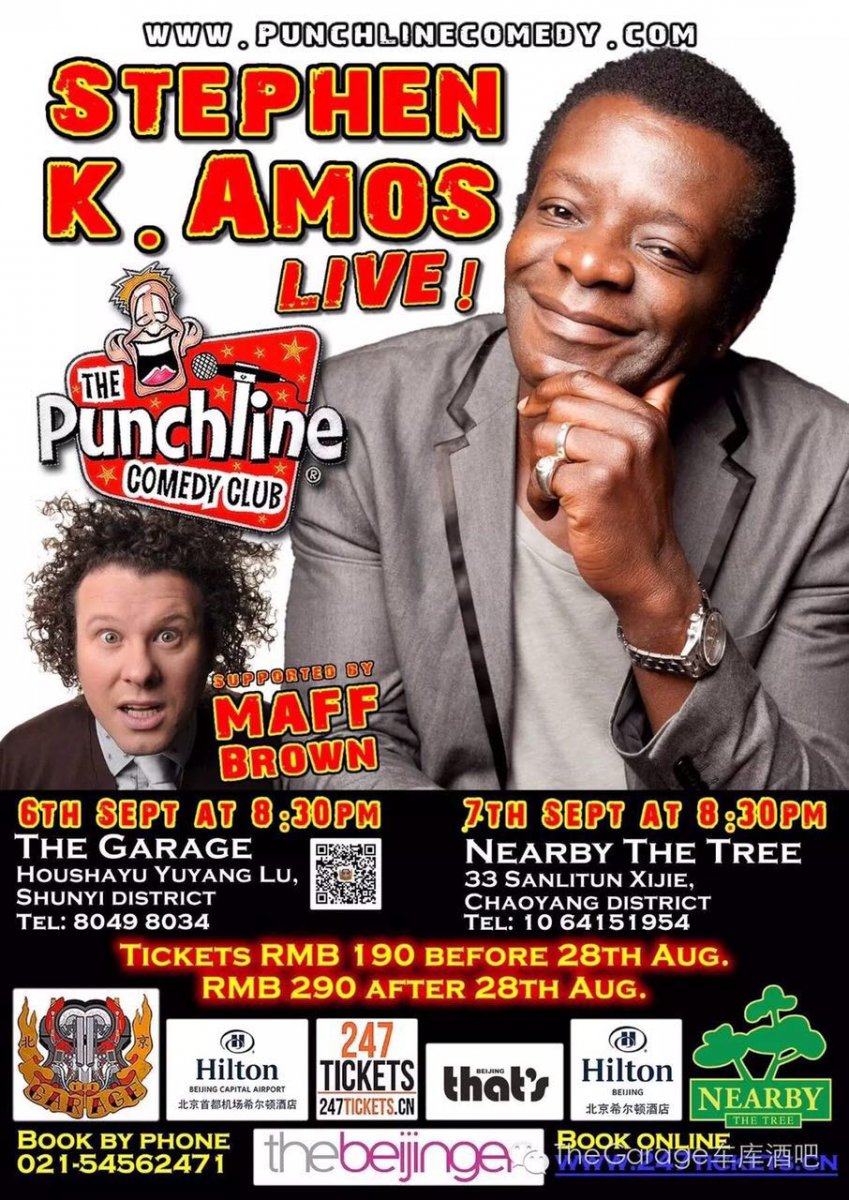 When you're touring a foreign country do you have to adjust your jokes, do more crowd work, or apply other strategies to make sure the audience is entertained?
Not really to be honest. I will most probably look at what the news headlines are so that I can weave in any topical jokes. The topics I will cover will be fairly universal and one in particular that I know a lot about: me. I have no idea what to expect as I've never performed in China before. I'm hoping to come away with some interesting stories and experiences. All I know is that generally people everywhere like to laugh.
In the comments for this recent article, a reader said: "I've seen Stephen K. Amos rip a new one for several hecklers. Glorious." Can you recall one of the best come backs or take downs you've used on a heckler, and what they did to provoke such a counterstrike from you?
I have never in any interviews been shown comments of articles on other people. In fact I actively avoid seeking out comments. I think every comedian has at some point been heckled, and their reaction really does depend on what was said and the context. You must remember if the heckler was not there, there would still be a show. I've heard some fantastic heckles in my time and I am not going to repeat what they are here to give other people ideas.
Your documentary about homophobia, Batty Man, received a lot of praise. Tell me about how such social activism inspires you in ways that standup does not.
I think you cannot compare the two; they're both very different disciplines. It's always a great position to be in if you can tackle some serious subjects through comedy and documentary-making. To be able to get an insight on issues that matter to me, and then reproduce them for a captive audience, is a privilege.
How does it feel to tour abroad and visit countries, like China for instance, that are not as progressive as many western nations in terms of LGBT rights? When you visit such places, do you have fans come up and tell you how appreciative they are of how much awareness you have raised?
To be honest I don't consider myself a spokesman for any particular cause. As long as people want to come out and see me, and are receptive to my thoughts and comedy style, then half the battle is won. Of course there are many places in the world with very different views and beliefs, so I don't expect to be changing any minds, but If we can laugh together and think along the way, that's all I ask for. Let's acknowledge our differences and embrace them.
What's next Stephen K. Amos? What upcoming projects do you have in the works?
I have a book out, and I'm hoping to have a meeting with Stephen Spielberg to discuss my big budget Hollywood movie. Having spent years turning down the role of James Bond, I thought I'd be more suited to Indiana Jones.
Stephen K. Amos will perform at The Garage on September 6 and Nearby the Tree on September 7. Both shows start at 8.30pm. Maff Brown will serve as the opening act. Tickets are RMB 290. Book by calling 5456 2471.
More stories by this author here.
Email: [email protected]
Twitter: @MulKyle
WeChat: 13263495040

Photos: The Guardian, The Punchline Comedy Club

Visit the original source and full text: the Beijinger Blog