Nangong Scenic Area is located 20 miles southwest of the center of Beijing, in Wangzuo town, Fengtai district. That's quite a trek if you live in Chaoyang or Shunyi, but the numerous attractions make it well worth a day trip.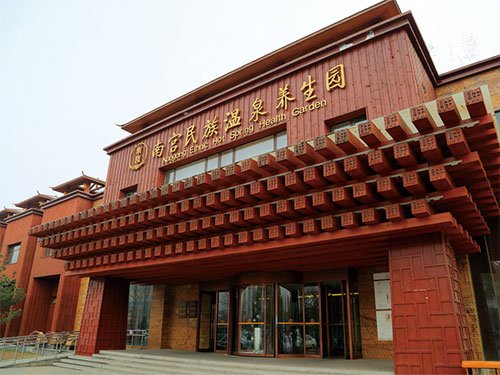 At the northwest corner of the resort is Thousand Spirit Mountain (千灵山). As the name suggests, it's a place of pilgrimage for Buddhists, with cave shrines dating from the Sui and Tang dynasties. At 699 meters above sea level, it's a challenging hike up to the obligatory plump, smiling golden Buddha at the top. Reward yourself afterwards by relaxing at the beach of picturesque Blue Dragon Lake Park (青龙湖公园) – or just go there in the first place!
Nangong is a spa resort, and you can take the waters at the Nangong National Hot Spring Health Park (南宫民族温泉养生园). As well as the spa and massage facilities, there are indoor and outdoor pools and water slides. Even more aquatic fun is to be had at Nangong Hot Spring Water World (南宫温泉水世界), where a wave pool, a pirate ship, river rafting, and a Hawaiian beach await you. Serious swimmers can take the plunge into the international standard pool, where you can try to beat your PB for the 50 meter freestyle!
There's also the World Botanical Amusement Park (五洲植物乐园), opened in October 2015. Their Parrot Garden features nearly a hundred different species of parrots, some of which will greet you with a cheery "你好 !" (nĭ hăo) or even "恭喜发财!"  (gōngxĭ fācái) "Happy New Year!" The greenhouse is divided into eight areas, including a butterfly spring and a flower garden. Kids can drive miniature cars around a model city, or run wild in the rainforest themed play area. Building with sand is always fun, but how much more so when you've got your own mechanical digger! And the whole family can go on a jungle ride along the kilometer-long track.
You can dine on locally grown vegetables, surrounded by exotic plants and soothed by the sound of the waterfall, at Quanyi Park Farm (泉怡园农庄). And if you want to make a weekend of it, there are numerous options for staying over, including the luxury of the five star Hot Spring Resort Hotel.
Resources:
Nangong Scenic Area 南宫景区北京市丰台区南宫南路
Getting there:From the West Third Ring Road, take the G4 Jinggang'ao Expressway (Beijing- Hong Kong- Macau). Leave the Expressway at the S315 Jingliang Road. Turn right onto Nangong Yingbin Road,  until you arrive at South Nangong Road.
Buses 321, 339, 662, 983, 971, 917, 458, 459 or 91. Taxi fare approximately RMB 100 from the city centre.
Nangong Hot Spring Water World 南宫温泉水世界
RMB 98 (children under 1.4m RMB 78). Mon-Fri 10am-9pm, Sat-Sun 9am-10pm. 8331 6030
World Botanical Garden 五洲植物乐园
RMB 30 (children under 1.2m, free). Rainforest Mischief: RMB 50/person. Mini driving: RMB 30/car. Jungle Coaster: RMB 30/ride. Sand Park: RMB 20/person. Mon-Fri 9am-5pm, holidays 8am-5pm. 8331 6030, www.nangonglvyou.com
This article originally appeared on our sister site beijingkids. 
Photos courtesy of Beijing Nangong Henye Company

Visit the original source and full text: the Beijinger Blog