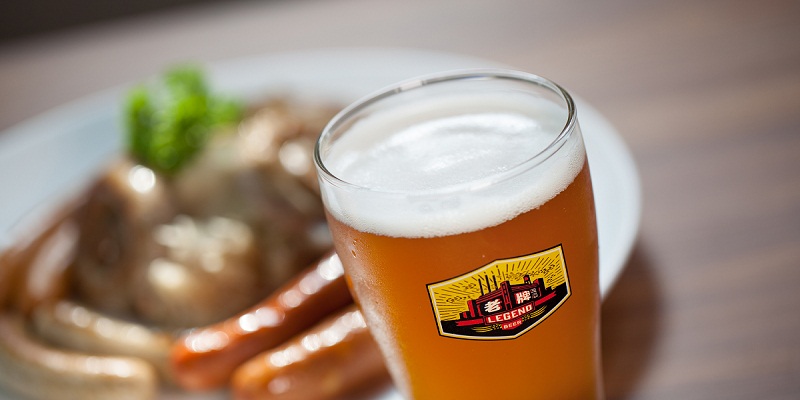 It's been a windy past couple of days, beer fellows! What does that mean? It means that the Beijing's loveliest season is coming, which in turn means you don't have to worry about the sweaty and muggy days, which means you can finally enjoy the outdoor activities, which means you can enjoy sitting outside and grab a beer without feeling suffocated! Onwards!
Legend Beer (pictured above) now has a series of promotions, such as buy one pint, get one free from 10pm to closing time, and get a snack for free, including a selected dish with 50 percent off: Mondays: fresh fruit salad; Tuesdays: fruit-tree baked pizza; Wednesdays: fruit-tree roast spring chicken; Thursday: roast spicy lamb; Fridays: Australian rib eye steak or roasted prawns with avocado; Saturdays: seafood paella or grilled Nuernberger sausage with Sauerkraut and mashed potatoes; and Sunday: roasted prawns with avocado.  
They also have a daily lunch set (RMB 48, 11am-5pm), which gets you either a fried chicken sandwich, Mexican prawn and sausage taco, spaghetti bolognese or grilled Nuernberger sausages, plus a 300ml craft beer or other beverage. And whenever you spend RMB 100 per table, you can claim a RMB 30 voucher, which you can use towards that very same meal (or save for a later date).
Drunk Begining have announced that they now have a bunch of imported cans on offer from Oskar Blue Brewery, Colorado, such as Old Chub Scotch Ale (8 percent ABV), G'Knight Double Red IPA (8.7 percent ABV), Pinner Throwback IPA (4.9 percent ABV), Oskar Blues IPA (6.43 percent ABV), and Mama's Little Yella Pils (5.3 percent ABV). They also have Yeti and Titan IPA from Great Divide, as well as several imports from Stone Brewery, Founders Brewery, and Sierra Nevada Brewery.
One of the most interesting beers in their new range is the Perpetual IPA from America's Tröegs Independent Brewery. It's a year-round Imperial Pale Ale with aromas of sticky citrus rind, pine balm, and tropical fruit, at an ABV of 7.5 percent.
Slow Boat Brewpub has set its soft opening date for it new Sanlitun location for September 1, 5pm (only upon reservation). Shortly after, they will host their third Annual Autumn Craft Beer Festival at the East Hotel, on September 23-25. So far 12 breweries have confirmed their attendance, such as Arrow Factory, Great Leap, Slow Boat, Jing-A, Nbeer, Panda, No. 18, Master Gao, Boxing Cat, Cider Republic, Harvest, and Bubble Lab.  
Finally, Paulaner Brauhaus' 24th Oktoberfest is on its way. The event will run from October 13-30, at the Kempinski Hotel Lufthansa Center's beer garden. Expect over two weeks of brews, live music, and performances.
More stories by this author here.
Email: [email protected]
Twitter: @flyingfigure
Instagram: @flyingfigure
Photos coutesy of the venues

Visit the original source and full text: the Beijinger Blog