Beijing cocktail devotees will have a chance to get tipsy in classy fashion on September 23, as renowned mixologist Luca Cinalli takes over the bar at Infusion Room.
Cinalli made a name for himself at Nightjar, one of London's top tier speakeasies. That venue bills itself as "a hidden slice of old school glamor," and the same could be said of its mixologist – a bearded, soft spoke, impeccably dressed chap who tussles with shakers in rugged fashion, before adding elegant details to each glass. You can see him work his magic in this video [VPN required], which was shot ahead of one of his earlier Asian residencies at Hong Kong's Island Shangrila hotel bar in 2014. In the clip Cinalli pours delicately mixed spirits into fine Chinese porcelain cups, and also uses a soft brush to outline an intricately flowery design in the sugary garnish of another cocktail before serving it to an eager patron.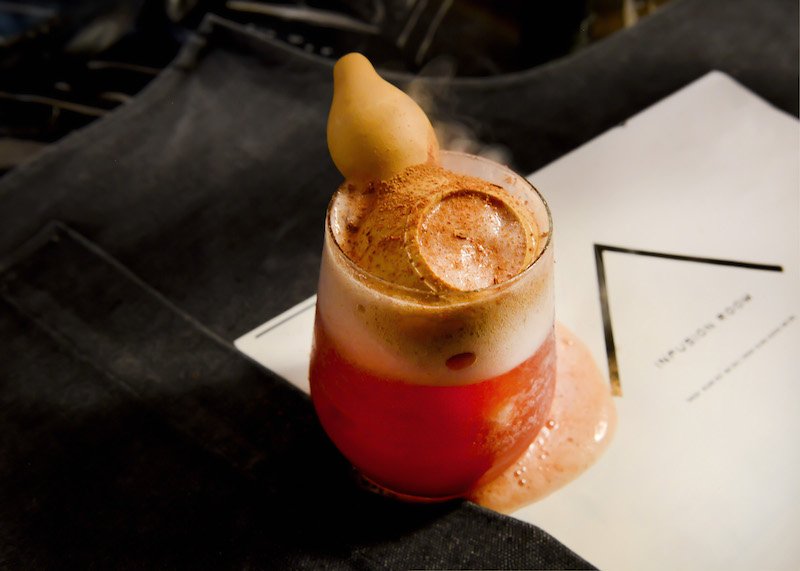 If you can't make it to Cinalli's September 23 stint, it's still a good idea to stop by Infusion Room sometime soon. The Sanlitun cocktail bar (located just around the corner from Q Mex in Courtyard 4) recently unveiled a new drinks menu rivaling that of any other venue in the city. Highlights include the Vampire's Soda (RMB 98), which arrives with smoke billowing from the brimand boasts a Bloody Mary-esque tomato flavor and a sharp hint of cinnamon, adding to the cocktail smoothness (no small feat, given its boozy Kentucky Bourbon Ale and Infused Negroni base). The new menu is rounded out with several other new cocktails, including the 07 (also priced at RMB 98, made with Gold Rum, salty lime, extra dry vermouth, King's Ginger, honey, and Sprite) and the Infusioned Manhattan, a pricier RMB 110 that's worth it thanks to flashier ingredients like Sous Vide Oolong with bourbon, Martini Rosso, and Antica Formula, the latter being a highly sought after Italian vermouth.
Equally – if not more – impressive is the "main course" section of Infusion Room's new menu, which features a range of creative booze based desserts. An absolute standout is the RMB 108 Hay Roast Sorbet, which boasts a mindblowing presentation thanks to the cold brew green tea that the server regularly pours on the icy dessert, making it melt in increments that you can slurp from oyster-shaped bowl it is served in. This item also delivers in terms of flavor and texture, thanks to its crystal-like housemade sorbet, dried fish and kombu infused bianco vermouth, and smoky plum bitters, the latter of which offers an intoxicatingly sweet aroma. Then there's the Miso Tsukemono mousse, which is also astoundingly delicious, due to a mix of cucumber juice and housemade apple vinegar and gin, all of which give it a freshly bitter flavor. A simpler, but no less tasty alternative is the Meltinging (sic) Popsicles, made with vodka, sloe gin, Cassis, Cream a la Fraise, fresh orange juice, fresh grapefruit juice all in a housemade popsicle.
The new menu will run throughout the summer and into the fall. But it's worth checking out sooner rather than later, mainly because of the icy quality of the cocktail desserts, which are a fitting way to toast the end of summer. For more information about the bar click here, and for more about Cinalli's visit see the poster above.
More stories by this author here.
Email: [email protected]
Twitter: @MulKyle
WeChat: 13263495040
Photos: Youtube, Thirst Mag, Infusion Room

Visit the original source and full text: the Beijinger Blog