We here at the Beijinger are pleased to present Live Beijing Music's weekend gig guide, written by head honcho Mr. Will Griffith. Will has been running around Beijing for over four years, documenting the city's shows and the requisite onlooking drunkards with various cameras/sound recorder setups, losing plenty of equipment along the away in his attempt to capture Beijing's aural spirit. You'll occasionally catch him pogoing like a madman when he's not got a camera in hand. Take it away, Will ...
So close yet so far. Summer keeps hinting that it's time to call it a day, and yet, here I am, sitting in my boxer briefs, sweating profusely, rounding up this weekend's gigs for you beautiful people out there. And do we have a crammed next few days, one that includes museums being converted into venues, basements venues being turned into galleries, and yet another festival on the outskirts of Beijing. All for the taking. So, who's game? Here's your weekend gig guide. And a little heads up – Live Beijing Music will be hosting two gigs next week at School Bar on September 2 and DDC on September 3 – hope to see you there!

Friday, August 26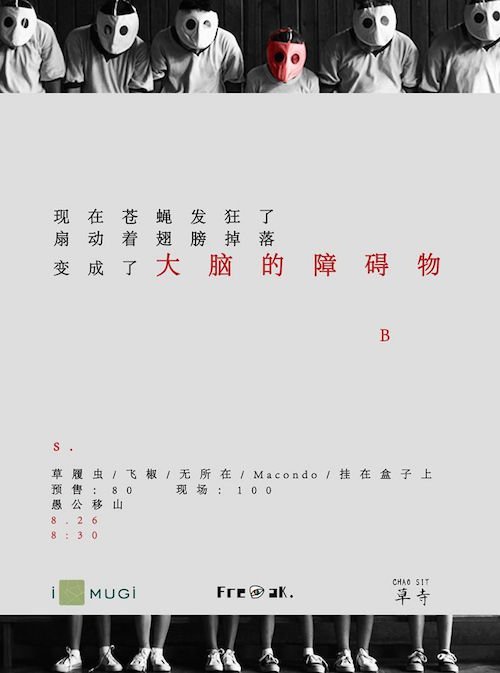 Hang on the Box, The Paramecia, Macondo, Wusuozai, The Peppercorns at Yugong Yishan
Emerging promoters ChaoSit puts together a sexy eclectic lineup featuring some of the scene's hottest commodities, including veteran art rock outfit Hang on the Box, as well as triphop alt rockers Wusuozai and more. RMB 100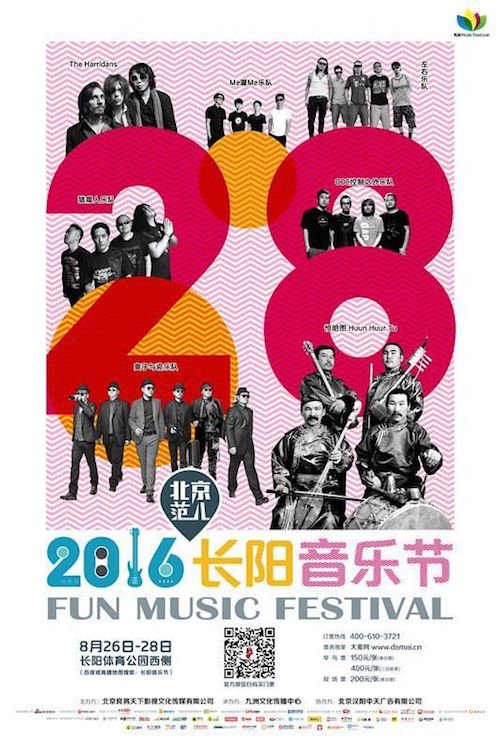 Nine Treasures, Buyi, Chiren, Parhat Haliq, Pu Shu, Rust at Fun Music Festival (Wanmu Binhe Park/Fangshan)
While Beijing hasn't had the best luck with festivals in the past couple years, they're still out there for those curious and ambitious. Take the Fun Music Festival – held by Wanmu Binhe Park near the Changyang stop on the Fangshan line (that's below Line 9). Three days of music on one stage in a park – modest but a surprisingly well curated lineup that caters to all types of music lovers. Day one keeps it ethnically diverse and rocking including Uyghur rock star Parhat Haliq, Ningxia folk rock faves Buyi, Inner Mongolian pagan metal trope Nine Treasures, and more. Full details here. RMB 200
Free Sex Shop, The Diders, Dress Code, Swinging Barbarellas at Temple 
Stage antics galore as mischievous gigger Marshall throws a birthday-palooza with some of the most righteous punks and rockers this side of town including all girl punk outfit Free Sex Shop, the deviously reckless The Diders, and more. Free
Secret Club, The Hotline, Duff Beer, Three Kings, Stay Gold at School
Local label and promotion motherboard D.O.G celebrates the beginning of a new school year with a righteous rocking lineup featuring some old School favorites like electro rockers The Hotline as well as new fresh-eyed wonders including ska punks Duff Beer and Three Kings, up from Taiyuan. RMB 80 (free with school uniform)
Twinkle Star, Mr. Honey, Next Door Band, Gentle Grape, Labor Glory, Broozers at Mao Livehouse
Indie pop galore at the resurrected Mao Livehouse (word is they ain't going nowhere for a bit) including emo punk legends Twinkle Star as well as big band rollers Mr. Honey and more. RMB 100
December3am, Moor Hick at Caravan
Moroccan food champs Caravan host another evening of music as 'post-post-prog-rock' duo december3am (formed from the ashes of Horse Radio) join house band Moor Hick, who fuse sounds of North Africa and the old south. Free
Ding Chenchen x Zhu Wenbo, Zhao Cong, Arco, Li Song, Lin Shibin at Fruityspace
An experimental feast for the ears as some of the scene's most prominent characters take stage, including Ding Chenchen and Zhu Wenbo's harsh iron/trumpet duet, some live coding courtesy of Li Song, Japanese sound artist Lin Shibin and more. RMB 40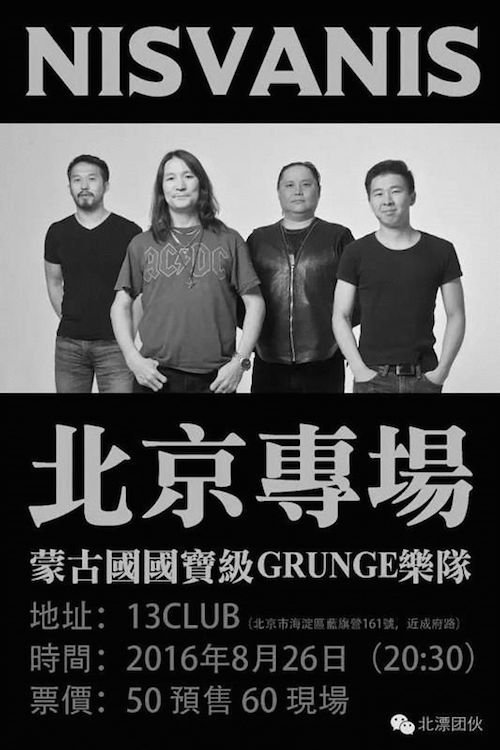 Nisvanis (Mongolia) at 13 Club
Mongolian rock scene national treasures Nisvanis bring their grizzled grunge rock and roll to the Wudaoku music hub. RMB 60
L.S.D, Los Crasher at DDC
Led Zeppelin covers and skin-tight jeans – all your classic rock staples on hand at DDC as LSD and Los Crasher bring the glam, the sleaze, and the downright fun tunes to your earlobes. RMB 50
The Nightcrawlers at Jianghu Bar
Feel the Chicago blues as The Nightcrawlers get down at the hutong hotspot to ease away those weekday blues. RMB 70
Liz at Mogu Space
Folk pop songstress brings her charm and musical talents to the newly opened Mogu Space in Xizhimen. RMB 60
Nicola Lancerotti Jazz Trio at Hot Cat Club
French jazz maestro Nicola Lancerotti and his trio are visiting Beijing and honoring Hot Cat with a jazz lovefest. Free

Saturday, August 27
Da Bang, Casino Demon, Supermarket, Hedgehog at Modernsky Lab
Modernsky Lab, who after one year have already gain quite the traction (it doesn't hurt it's run by the biggest indie music label out there) celebrate with a blow out anniversary party featuring the label's flagship bands including Hedgehog, Casino Demon, Supermarket, and Da Bang. And if that wasn't enough they've gathered some DJs to keep the party going until late. Oh and …Free
Chui Wan at Beijing Minsheng Art Museum
Maybe Mars darling psych rock outfit Chui Wan debut their latest piece – a continuous, one-hour piece described as an 'awakening' – at none other than an art museum in Wangjing. Expect an intimate, sensual, and of course, psychedelic performance, even more though due the organizers request to have all phones turned to airplane mode (the event will be recorded). Now that is something I can get behind. RMB 80 (8pm start)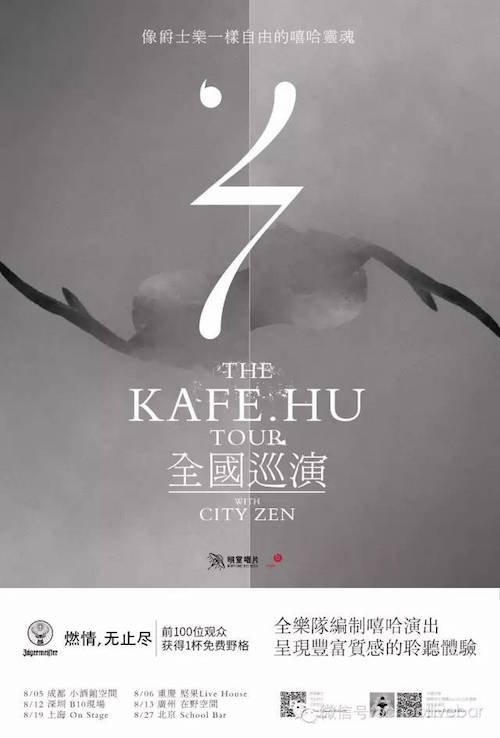 Kafe Hu, City Zen at School
Chengdu rapper Kafe Hu, whose widely acclaimed takeover of the underground rap scene has led to his debut release, 27: The Code of Lucifer, and it's a doozy. Jazz hip hop influences galore and a self-aware laid back attitude, expect a hot crowd at School tonight with support from fellow Chengdu outfit City Zen. RMB 80
Ouch, Dafay, Zhao Lei, Ziyue Qiuye, Xu Wei, Ye Bei, Li Zhi at Fun Music Festival (Wanmu Binhe Park/Fangshan)
The Fun Music Festival in Fangshan District continues with a day and evening of folk and renowned singer-songwriters including Zhao Lei, Ye Bei, Xu Wei, and much more. Full details here. RMB 200
TOW at Fruityspace
Producer, singer-songwriter, and artist Yang Fan (of Ourself Beside Me) presents her painting exhibition 'Trip-jinsaw' at Fruityspace before her new band TOW (psych folk duo with The Molds' Liu Ge) performs at half past eight. RMB 50 (4pm exhibition/8pm show)
Never Say Die at Temple
It's an 'old school metal party' at Temple and they've rounded up some of the usual suspects and hard rock and metal for and epic evening of head banging including guests from The Death Narcissists, Demerit, Scare The Children, Bad Mamasan, Macondo, Never Before, and more. Free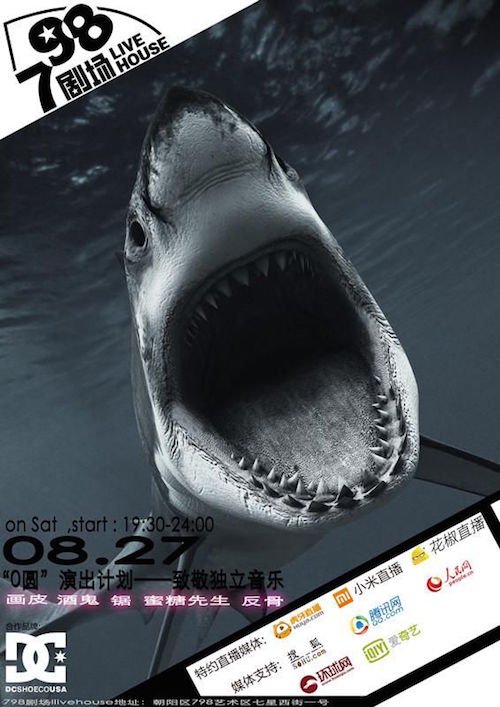 S.A.W., Fangu, Mr. Honey, Drunkard, Devil Mask at 798 Space
The art district music venue, which seems to be getting more and more play as of late, brings an evening of hard rock and moshing with veteran rockers Drunkard, S.A.W, and more. RMB 80
Scary Honey, New Cake, Bloody Daisy, Cat Nip and Bear at Mao Livehouse
J-pop stylings and girls decked out in school girl outfits – all belting out rock jams. Cute and fierce, and plenty of young freshmen away from home the first time. Oh, hormones. RMB 80
Jiaojin at Yugong Yishan
Rising rap trio Jiaojin, who dabble in everything from metal to pop, present their debut Beijing But Surprised tonight at Yugong Yishan with their poose in tow. RMB 120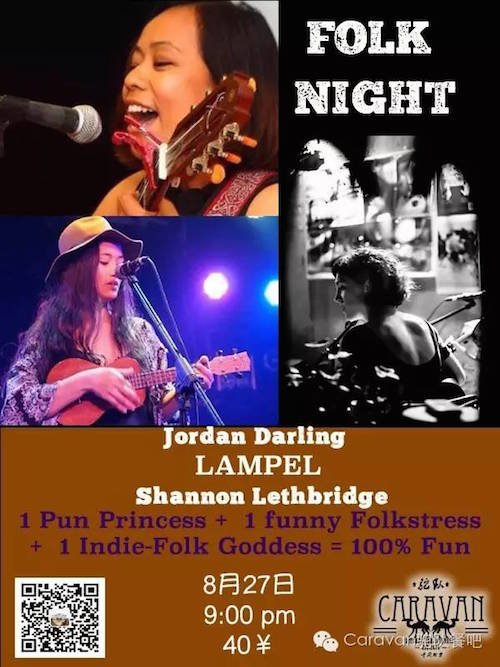 Jordan Darling, Lampel, Shannon Lethbridge at Caravan
'One Pun Princess + One Funny Folkstress + 1 Indie-folk Goddess = 100 percent Fun' – can't argue with the math there Badr! RMB 40
Soul Pollution at Hot Cat Club
'Delta blues in all its glory, with powerhouse singer Miranda at the control board' – it's Soul Pollution bringing the good vibes to Hot Cat. Free
The Hunters ft. Tash, Disaster Chat at DDC
Expat outfit who combine old school funk, soul, and rock classics with modern hits, join indie rock regular Disaster Chat for some fun at the friendly DDC. RMB 50
Ma Xiao, Zhou Ziyan, Suzi Xu at Jianghu Bar
Three on the rise folk-pop singer-songwriters belt out their latest gems at Jianghu Bar among their hardcore fans. RMB 100
Zhao Qi at 69 Café
Folk singer-songwriters get cozy at the couch-ridden 69 Café in the heart of NGLX. RMB 60
 
Sunday, August 28
Me Guan Me, The Harridans, OOC, Huun Huur Tu, Shuanggzi, Demon Hunters, Zuo You, at Fun Music Festival (Wanmu Binhe Park/Fangshan)
The Fun Music Festival in Fangshan District finishes off with diverse group of bands including folk rock regulars The Harridans, hard rock outfit OOC, britpoppers Me Guan Me, as well as rapcore outfit Zuo You, and more. Full details here. RMB 200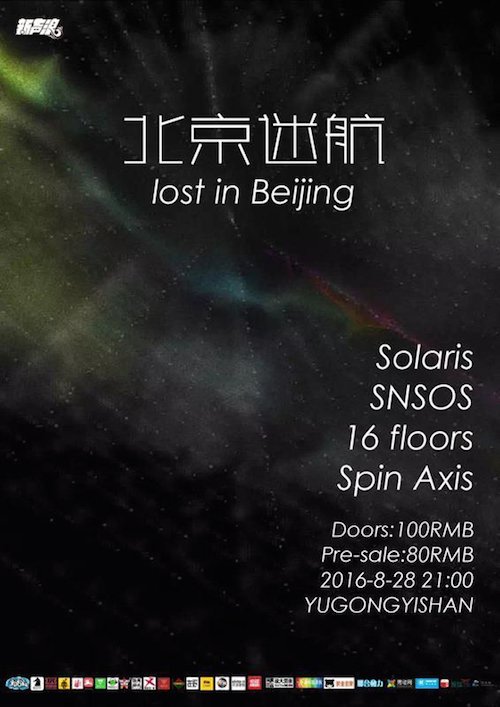 Solaris, 16th Floor, Spin Axis, SNSOS at Yugong Yishan
It's a post-rock bro fest as some of Beijing's (and one from Shijiazhuang) most vibrant and intriguing post rock outfits utilize Yugong's monster soundsystem to lay out some soundscapes. RMB 100
Chaliangfen at Modernsky Lab
Veteran indie pop outfit, was rewarded for their years of working the scene, with their debut Thanks for the Good Times, and it's fine LP of bumblegum pop and indie jazz riffs that sneaks up on you. Catch their release show tonight at Modernsky Lab. RMB 80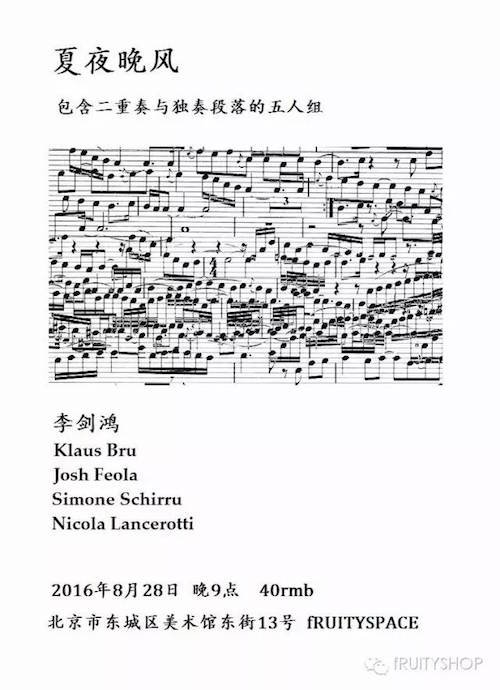 Simone Schirru, Nicola Lancerotti, Klaus Bru, Li Jinhong, Josh Feola at Fruityspace
Fruityspace gathers together a few local and global XP alumni for free-form solo, duo, and n-strong noise arrangements – a free jazz and free improv freakout of the highest order. RMB 40
Brickleberry, Three Kings at Temple
Dance punk and metal punks from Taiyuan bring you your B-movie soundtrack as Temple hosts a cult double screening of They Live (one of my favorite flicks as a kid) and The Night of the Creeps. Flicks start at 7pm followed by the bands. Free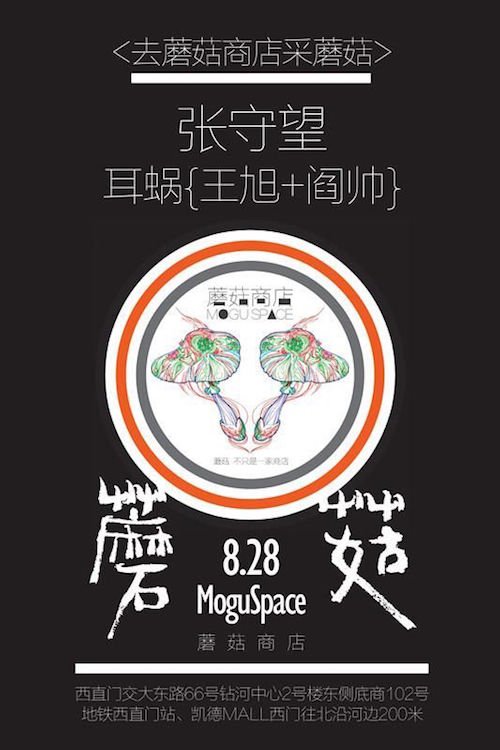 Earsnail, Zhang Shouwang at Mogu Space
Carsick Cars' frontman Zhang Shouwang gives a solo performance alongside Earsnail, made of white+ drummer Wang Xu and Da Bang guitarist Linan. RMB 70
The Jungle Fever, The Flyx, Duff Beer, Counter Force, Fangu at Mao Livehouse
Things get rowdy as a slew of ska and punk bands descend upon the Gulou music hub for some righteous, scrappy fun. RMB 80
PON, Ma, Hard Candy Revolution, DB-Dog, ZongheZeng at School Bar
It's an afternoon bash and no better way to cure that hangover than to get right back on the horse with a cheeky lineup featuring glam rock, nu metal, and good old fashion rap rock. RMB 40 (1pm start)
The Diagon Alley, Slef-Portrait, Funky Monkey, The Circus at School Bar
If you're still riding high after School's afternoon sess then head on back to catch their indie pop night featuring britpop swooners The Diagon Alley and Self-Portrait as well as alt funk and punk kids Funky Monkey and The Circus. RMB 40
A.F.T.X at Jianghu Bar
German jazz quartet brings their educated jazz props to the ever-cozy Jianghu Bar. RMB 60
Phew! Still hungry for more? For events, videos, and photos from Beijing's thriving music scene, head over to Live Beijing Music or check out all of our live music listings here.
Images: Live Beijing Music, courtesy of the organizers

Visit the original source and full text: the Beijinger Blog