We thought Croissant Village, yet another exciting Topwin Center addition, would be the place to go and live out your wildest Taiwanese carb dreams. Sadly, we were a little disappointed by this new bakery even if we were greeted by mountains of breads and cakes.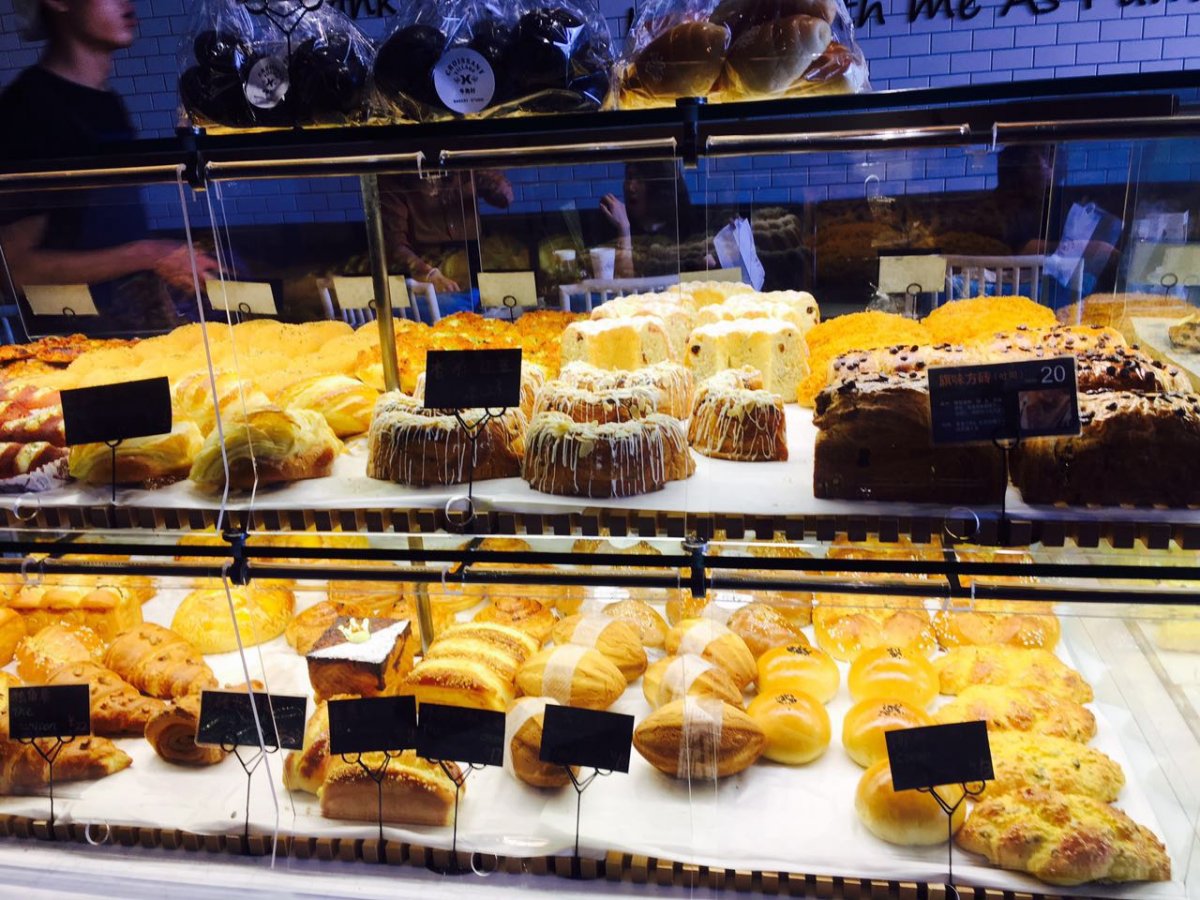 From their offerings, we ordered a signature croissant (RMB 18), maple black bread (RMB 18), and a "gold mountain" cheese bread (RMB 18). The croissant had a crispy crust, and tasted better for being oven-heated. The maple black bread had a sugary kick that went well with its topping of chopped almonds but were unpleasantly surprised by its creamy filling, which had a taste and consistency not unlike wax.
The gold mountain cheese – which may have a mystical name but is actually just bread filled with cream – was also pretty disappointing. Not satisfied with the results, we opted for an even more colorful menu item: the Noah hazelnut cake (RMB 24). The cake's crust did the trick but the butter in the middle was still hard. To make things worse, Croissant Village's signature egg tart (RMB 8), which we were particularly excited to try, was sold out. Sigh.
Compared to the simple and healthy European style breads at rival pastry shop Zeroll – which we love – Croissant Village's goodies certainly take on a more Taiwanese bent, whose chefs never tire of adding flashy decorations. 
After all this sampling, I did somewhat feel at risk of developing diabetes, but at least you now know where to go when you next find yourself craving sugar. 
The price of croissants and cakes here is reasonable and if you love your baked goods fresh, you'll be happy to know that the store had publicly announced their baking times: 8-10am, 2-4pm, and 6-8pm. They also provide five sandwiches at RMB 24-28, along with coffees, teas, and milk. That being said, they may still have some kinks to iron out – one Italian customer was upset that the staff poured cold milk into their coffee. However, if you're not too picky, Croissant Village could make for a suitable place for an easy breakfast or lunch but you may want to stick to the simpler breads.
Croissant Village
Daily 8am-10.30pm, 1/F, Topwin Center, 1 Sanlitun Nanlu, Chaoyang District (5780 9034)
三里屯南路1号通盈中心一层
More stories by this author here.
Email: [email protected]
Twitter: @flyingfigure
Instagram: @flyingfigure
Photos: Tracy Wang

Visit the original source and full text: the Beijinger Blog