Sometimes you may just find yourself stranded out at the Fourth Ring Road, perhaps having completed work at the China National Convention Center or Beijing International Convention Center, and if you've exhausted the wares of Intercontinental Beijing Beichen's buffet, you can breathe easy as we've found you another dining option nearby: Bo Jing Xuan. 
Opened in May, Bo Jing Xuan is located on the second floor of Tylfull Hotel near the Beijing Film Academy, and has already nabbed a fair amount of media attention having been recommended by several Chinese celebrities, including Mr. Duck himself, Da Dong's Dong Zhenxiang.
Walking into the brand new lobby of the hotel, we were dizzied by the crystal lights and shiny marble, and were somewhat relieved to see that the restaurant's decoration was fairly modest in comparison.
For starters, we had the jellyfish flavored with soy sauce and red peppers, the crunchiness finely balanced with the saltiness of the sauce and slight kick of the chilies. The preserved cherry tomatoes and turnips also went down well, providing a lighter alternative for those worried on filling up on sweetened rose cakes, stuffed with peanuts.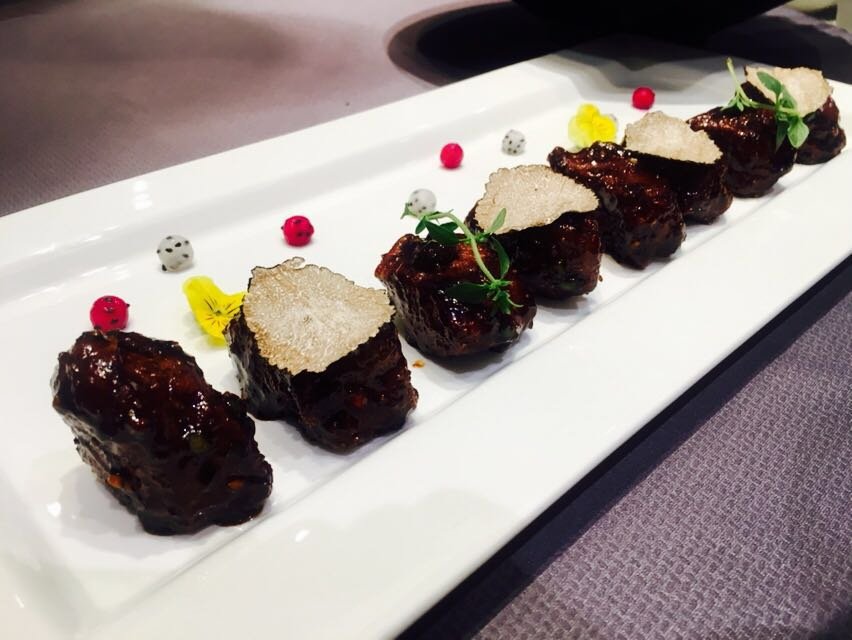 For meateaters, the wagyu ribs, seasoned with handmade glaze and black pepper, covered with slices of black truffle, is the absolute way to go. We also highly recommend the fried tofu, which was crispy on the outside, but soft in the middle. The clay pot rice was also one of the best I have ever tried in Beijing and is made all the more noteworthy by the fact that it's cooked right in front of you. The secret behind this rice is the beef broth, which is added to the rice and simmered for hours beforehand.
Given that Executive Chef Duan Yu used to be the Executive Chinese Chef at both New World Beijing and Rosewood Beijing, we knew we were in for a treat and were certainly not let down. If you want to go all out, try Duan's signature fish head, which although pushing the price of the meal to around RMB 200 per person, this is truly money well spent and pays off given the high standard of food in a fancy hotel atmosphere. For that reason, we would highly recommend adding this to your list of venues to impress, whether it be a business contact, or someone more special.
Bo Jing Xuan Chinese Restaurant
Building 1, 1 Yard Xitucheng Lu, Haidian District (5329 9999/5633)
柏景轩中餐厅: 海淀区西土城路一号院一号楼泰富酒店二层
More stories by this author here.
Email: [email protected]
Twitter: @flyingfigure
Instagram: @flyingfigure
Photos: Bo Jing Xuan, Tracy Wang

Visit the original source and full text: the Beijinger Blog