New World Beijing Hotel is currently holding their Malaysia Feast event until August 31 at Tian Tan Kitchen. The combination of tropical fruits, spicy dishes, and extremely sweet desserts makes for the perfect accompaniment to this toasty autumn weather.
To kick things off, we dove into the Malaysia platter, which includes, nyonya achar (spicy mixed vegetables), popiah (spring rolls), otak otak (grilled fish cake), and chicken and beef satay with peanut sauce. The nyonya achar combines both spicy and sour and is made using preserved sliced cucumber, apple, pineapple, and carrot. Interestingly, this dish has strong Chinese roots, as nyonya refers to the female descendants of Chinese immigrants who settled in Malaysia between the 15th and 17th centuries.
The popiah is also China-influenced – a Fujian/Chaozhou-style fresh spring roll, which can also be found in Taiwan (runbing), Thailand, Malaysia, and Singapore, and similarly to its northern counterpart, the beloved jianbing, it is wrapped with sliced egg, lettuce, and shrimp and finished with a sweet bean sauce. The otak otak fish cake is wrapped in a banana leaf and cooked with a healthy dose of lemon grass, giving the dish a spicy kick.
For the main course, we enjoyed nasi lemak, considered Malaysia's national dish, and made of rice cooked in coconut milk. This version was paired with sambal, anchovies, half a boiled egg, beef rendang, and prawn crackers. The sambal sauce was authentically hot and spicy thanks to a mix of chilies, garlic, shallots, scallions, and ginger, and the rice was garnished with small anchovies, fried peanuts, and a sprinkling of dried beef. As for the prawn crackers, there's not much else to say other than they were worryingly addictive.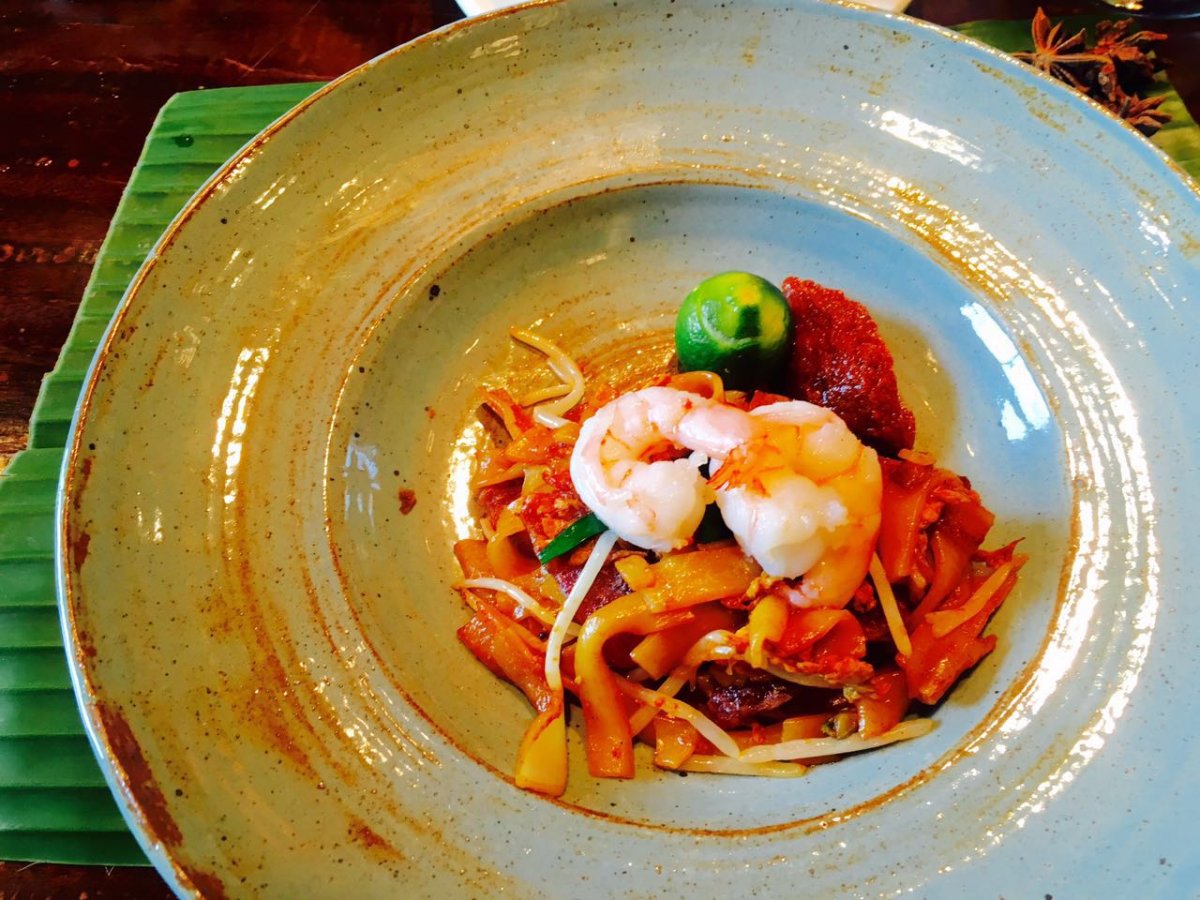 The kitchen also served two Penang specials: assam laksa and char koay teow. Assam laksa (pictured at top) is a traditional and unmistakable rice-noodle soup with a pungent-sour fish base, cooked with tamarind, onion, mint leaf, ginger flower, served with prawn paste. Coupled with an ice-cold and sweet teh tarik milk tea on the street in 38 degrees, this is the true taste of Malaysian cooking. However, this rendition was a little less flavorful than the most famous assam laksas in Penang's Air Itam (as deemed by a self-considered half-Penang local). The char koay teow, or fried flat noodles, are served with shrimps and a dollop of spicy sauce for seasoning.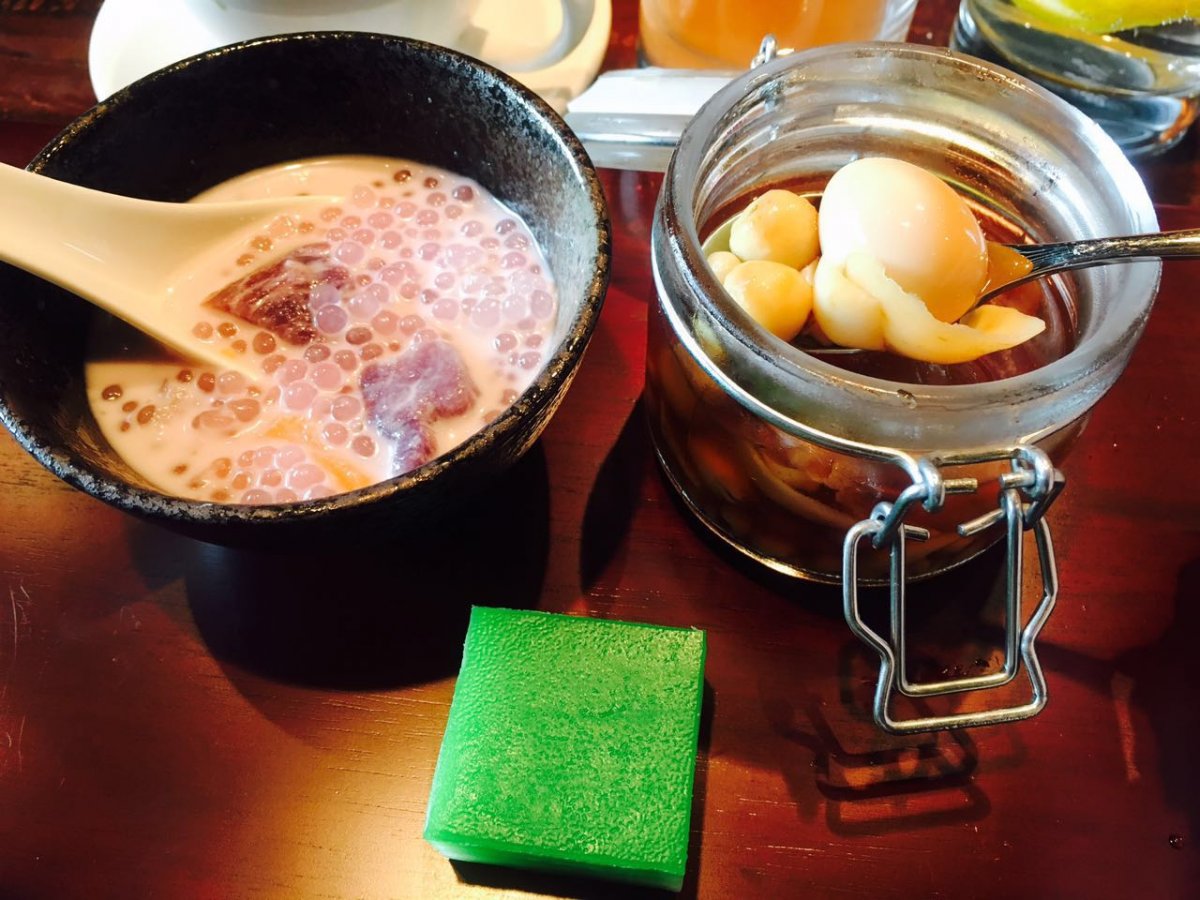 It wouldn't be right to finish the meal without trying any Malaysian dessert. Keen for sweets, we love bubur cha cha – a popular dessert with sweet potatoes, taro, tapioca flour jelly, and sago in sweet coconut milk – and New World's rendition did not disappoint. Ching bo leong is a cold sweet soup boiled with dried longan, lotus seeds, pearl barley, and quail eggs, a reinvigorating mix and perfect side to kuih kuih, a Malaysian dessert made of coconut milk and pandan leaves.
We also couldn't resist a glass of Milo, Malaysia's popular chocolate milk. If that wasn't refreshing enough then the syrup bandung (rose-flavored milk, with black herbal jelly) was sure to completely finish us off and sent us into a Malay stupor.
If you'd like to get your fill, the buffet runs until August 31, and costs RMB 118 for lunch or RMB 148 for dinner from Monday to Friday or RMB 158 on weekends at Tian Tan Kitchen on the first floor of New World Beijing.
More stories by this author here.
Email: [email protected]
Twitter: @flyingfigure
Instagram: @flyingfigure
Photos: New World Beijing Hotel, Tracy Wang

Visit the original source and full text: the Beijinger Blog