Eating your greens isn't a chore at Suren. On the contrary, this vegetarian restaurant makes healthy eating feel like an adventure.
That's due in part to the delicate flavors and textures of its fare, and to the undeniable freshness of the ingredients. But Suren's most memorable aspect, by far, is the presentation of its dishes. Even some of the simplest menu items at this restaurant, which opened a month ago in the off-the-beaten path Hegezhuang Village near Maquanying Station and Daystar and Harrow international school campuses, are eye-popping upon arrival. Prime example: a complimentary fruit plate served atop a steamer, which kept the melon slices moist and gave the table a cloudy, magical ambiance.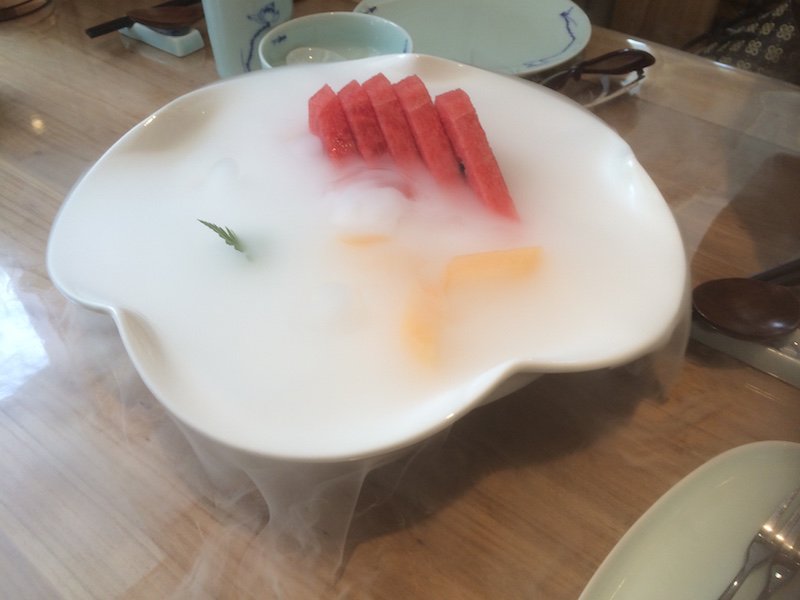 The braised tofu (RMB 68) is equally fetching, from the moment that the waiter sets it alight before your eyes, to last fleeting seconds when you find yourself quickly gobbling every cushion soft morsel, wishing that it would never end.
Some of the dishes on offer are less exceptional, albeit tasty enough: the bamboo shoot stir fry with tahini (RMB 28) and the mango salad (RMB 48 for three small bowls) both spring to mind. The vegan chestnut cake was a bit more memorable, proving to be a soft yet crunchy, subtley sweet dessert (albeit over priced, at RMB 68 for a lone slice).
Longtime local foodies, especially those who steer clear of meat, will note that Suren borrows owes a major debt to one of Beijing's biggest vegetarian institutions, King's Joy. While this new restaurant doesn't rip off that older Wudaoying establishment entirely, Suren has liberally adopted many of King's Joy's key features, from the vegetarian fare made palatable for even unabashed carnivores, to the elegantly traditional Chinese decor. This Maquanying venue even has a monument near the entryway made of hutong roof tiles, which is nearly identical to that of the Wudaoying restaurant.
That said, King's Joy is far more upscale and pricey, and Suren's kitchen staff are wise enough to not entirely copy the Wudaoying restaurant's faux-meat tofu dishes (which include bean curd kebabs made to resemble yangrou chuan'r in flavor and appearance). Instead, this new Maquanying restaurant puts a more casual, but visually appealing, spin on vegetarian fare that will nonetheless satisfy patrons of all stripes, especially in such a quiet, still developing suburban neighborhood.
Suren 
Daily 11.30am-9.30pm, East of Bainian Shijian School, 101 Hegezhuang Cun, Cuigezhuang Xiang, Chaoyang District (6436 7227, 6435 7667)
素仁餐饮: 朝阳区崔各庄乡何各庄村101号百年实验学校东侧
More stories by this author here.
Email: [email protected]
Twitter: @MulKyle
WeChat: 13263495040
Photos: Kyle Mullin

Visit the original source and full text: the Beijinger Blog