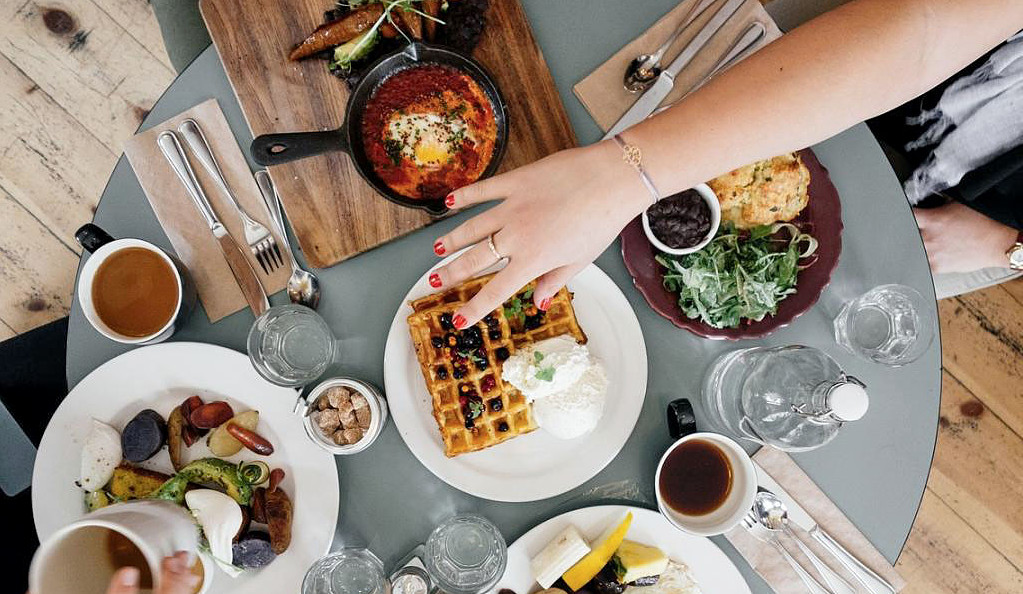 Maybe you're already familiar with Dominique Ansel's now famous cronuts from NYC, delicate macarons from France, or healthy smoothie bowls inspired by Brazil's açaí na tigela, adapted and popularized in the US. You can already find stores serving these in Beijing – but what about the equivalently delicious, less raved about, food trends?
Not to worry, we've uncovered the mystery locations for you.
Okay, they aren't really hidden, but one might call them underground restaurants if such places exist. Their names may not ring a bell, but trust us, they are worth a try. You can thank us later at our 2nd International Foodie Weekend (Aug 13-14) in Sanlitun. Purchase discounted tickets or enter our Instagram competition by hashtagging your best food photos with #TBJFoodie and @the_beijinger for a chance to win a ticket.
Ramen Burger
Still in college or missing your college days? It's time to up your instant noodle game with this ramen burger. Created by Keizo Shimamo in the US in 2013, the same year as the cronut, the ramen burger has been dubbed the "cronut's savory counterpart." Exactly what its name implies, the fast food trend takes the fillings of a burger and instead of ordinary buns, places it between compressed ramen noodle rounds. Although easy enough to recreate at home, relive those lazy college days by ordering take-out or dropping by Kung-fu Bear Noodles.
Kung-fu Bear Noodles 熊样功夫面 
201, Block 1, 2 China Red Street, Gongti East Road, Sanlitun (8587 1366)
三里屯工人体育馆东路丙2号中国红街1号楼201室
Sushi Burger / Rice Burger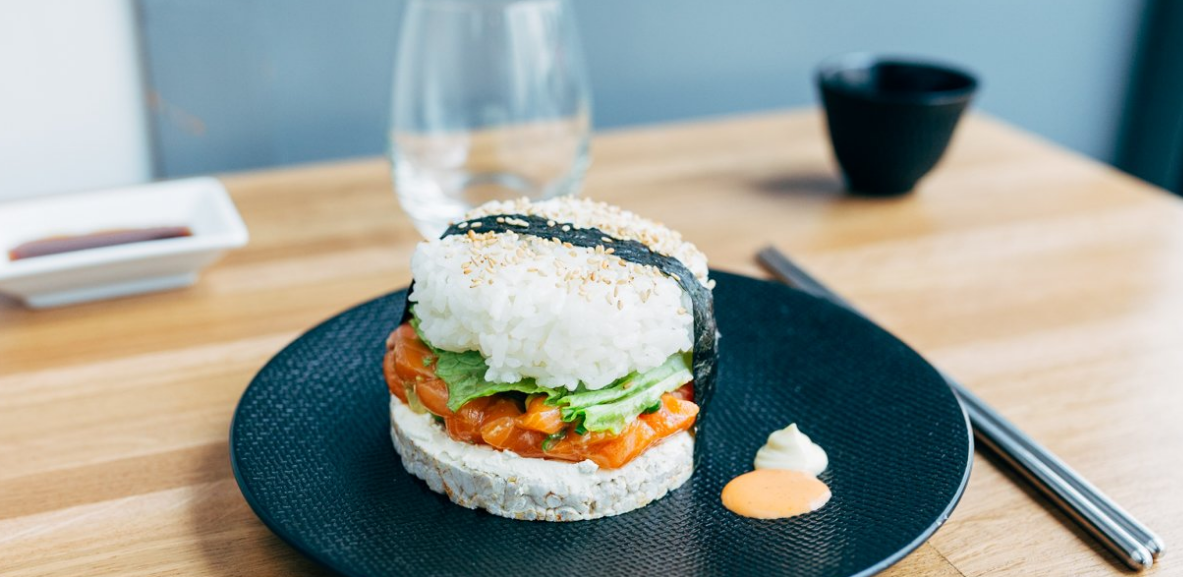 Keeping the same concept in mind, we delve into the more complicated sushi burger. It became an online sensation this year, but a UK Japanese sushi chain, known as YO! Sushi, launched their sushi burger in 2013. You may be noticing a trend as it seems like innovation in the food scene thrived that year for crazy food mash-ups The recipe takes rice as the component for buns, sandwiches it with fillings such as sashimi, tempura, crab meat, avocado, and wasabi – if you dare – top it off with a sprinkle of sesame seeds, garnish with seaweed and you've got yourself, possibly, the healthiest burger ever. However, we imagine it'd be hard to eat, attempting to keep the rice patty from falling apart. Do you use chopsticks? Do you use a knife and fork? Do you use your hands? Beats us. Try it and let us know. We wish we could have found a replica in Beijing, but the closest thing we found was a Korean rice burger place that fills their burgers with kimchi, corn, ham, pickles – basically what you would find in the Korean equivalent of sushi, known as kimbap. It's only appropriate that this restaurant is located inside a college campus. Maybe the kimbap burger will be the next big thing.
DDung's Bob Burger 咚咚米汉堡
Beijing International Studies University (previously known as Beijing Second Foreign Languages Institute) (186 1222 2175)
第二外国语学院内第一食堂
Bagel Sandwich 
The bagel is widely recognized as a breakfast staple for New Yorkers, but not many people know that the dense, chewy bread originated in the Jewish communities of Poland. While the bagel sandwich has been around since the 1990s in the US, it has been kept mainstream by the millions of tourists visiting New York City for a taste of the bagel. If you ever find yourself in the city, I recommend going to Barney Greengrass on the Upper West Side for the best lox bagel sandwich with cream cheese. The traditional bagel sandwich is a savory dish but variations from dessert bagels to rainbow bagels have emerged in recent years. Earlier this year, the Korean chain Mono Cheese opened their first store in Beijing. They offer bagel sandwiches with cream cheese fillings in 12 different flavors. We're overwhelmed by choice, which one will you try?
Mono Cheese 摩诺芝士 
Lower Ground Floor, 88 Beijing Wangfujing Yintai Mall
王府井银泰in88地下一层
0665G, First Floor, Building 6, Jianwai SOHO East
建外soho东区6号楼一层0665G
Liquid Nitrogen Ice Cream
This is figuratively and literally the coolest trend yet. Liquid nitrogen has long been used to freeze products and a British cookbook author, Agnes Marshall, even suggested using liquid nitrogen to make ice cream in the 19th century. The idea has recently caused a stir with ice cream parlors specializing in liquid nitrogen ice cream popping up all across the US. The science behind the process is rather complicated but to put it simply, liquid nitrogen at -190 C (-310 F) is able to freeze fresh cream in a matter of seconds. When it is poured in a mixer with cream, tiny ice crystals are created, resulting in an incredibly smooth and creamy texture. The taste isn't the only reason why liquid nitrogen ice cream has become popular. What has caught people's attention are videos showing a cloud of white fog emerging and engulfing the mixer as the cryogenic reaction occurs. With each order made before your eyes, get your camera ready because you wouldn't want to miss it. See it for yourself at Sweet Lab and judge if the ice cream is worth its hype.
Sweet Lab 喵不乖
Building B1, Chaoyang Joy City, 101 Chaoyang North Road (186 3242 9028)
朝阳北路101号朝阳大悦城B1楼
B/1, 2 Sanfeng Beili, Youtang Shenghuo Square, Chaoyang District (182 1105 2927)
朝阳区三丰北里2号悠唐生活广场B1层
Check out their other locations here 
Mille Crêpe
This decadent French cake combines crêpes with the famous millefeuille (pronounced meel-foy), which is made from thin layers of puff pastry and cream filling. "Mille" in French means thousand, but the actual cake is usually composed of 20 crêpes with cream between the layers. Making a mille crêpe is definitely time-consuming and although it doesn't require an oven, you can go wrong with something as  the temperature of the pan. If this all sounds too troublesome, fear not, simply order a cake online from Orange Girl Bakery or Qike Bakery where the professionals have executed the hard work for you. We're not sure exactly when the mille crêpe rose to fame but it appears to have surfaced online in 2012.
Cold-pressed Juice Cleanse
Unless you have been living under a rock for the past year, you must have heard of juice cleanses that claim to detox your body. These cleanses involve intaking nothing but juice for up to three days with a variety of juices that function to energize, destress, boost immunity, and more. We are still uncertain about the health effects of juice cleanses due to the lack of studies. Cold-pressed juices have existed for decades but they only became a trend after celebrities started partaking in cleanses. They've become so popular that stores have created their own unique sets of juice for personalized cleanses. However, these sets don't come cheap – a set of six bottles from Beijing's JuiceUp starts at RMB 350, a set of six bottles from Juice by Melissa is RMB 250, and a set of 18 bottles from Hey Juice is RMB 490. You might be thinking, what makes cold-pressed juice special and why is it so expensive? Firstly, it takes around 1-3kg of fruit for a 500ml bottle that can sometimes have up to eight different ingredients. Secondly, the manufacturing process uses a hydraulic press to extract juice and a method called high-pressure processing which pasteurizes the juice to preserve the nutrients. Thirdly, its rising demand and the ongoing trend has kept prices up. They sure do taste good but do you think they're worth it?
There are still major food trends that have yet to emerge in Beijing. What do you hope to see next? Get a taste of what might be on its way in my previous blogs 10 of the Best Food Bloggers From Around the World and 10 Instagram Foodies You Need To Follow.
Photos: Latergramme, The Moonberry Blog, Sushi Soba Lecourbe, Annie Lin, Gizmodo, Underground Culinary Lab, Eat Pray Workout 

Visit the original source and full text: the Beijinger Blog