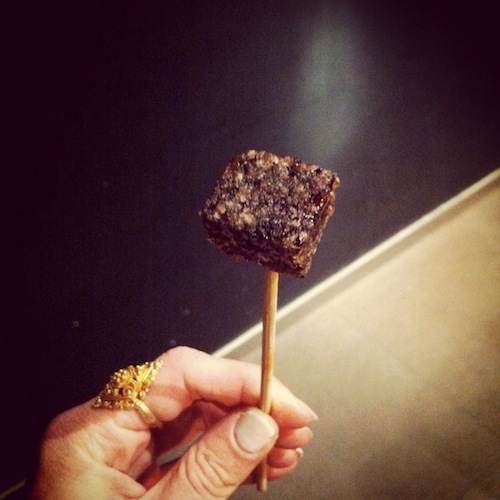 The Sanlitun power players of Mediterranean have joined together along with Chi Fan for Charity for a charity promotion that will run for two and a half months. The deal is this: buy a book of coupons for RMB 50 from any of the participating restaurants – Mosto, Migas, Agua and Sureno – with all proceeds from these sales going to the charity Morning Tears. The coupons are valid until March 15, including such deals as a free dessert tasting from Migas' Aula Lab for parties of two or more, Agua's classic roast suckling pig for RMB 498 (usually RMB 786), 20 percent off your total bill at Mosto, and a complimentary bottle of wine from Sureno with an order of five or more tapas at the bar or lounge. The book of coupons are only valid for a la carte orders.
Hip Taiwanese snack shop, Xiaowei Yansu Ji, has opened up another branch at Dawanglu in lower level of the Huamao Shopping Center. I first went there almost a year ago and was quite struck by the place. It's definitively snack food – drunk food if you are hitting up their Sanlitun Houjie branch – and a delightful variety at that – fried, but lightly enough that it's arguably healthy.
In Gulou, The Orchid hotel on Baochao has iontroduced a new breakfast menu which includes custom-made mini-sausages from Andy's Craft Sausages, so if you have visitors in town for the holidays, post them up there and you know they'll be well-fed.
Yunnan restaurant In and Out which serves up Lijiang fare has opened a branch in the new Tun San Li Mall across from Gongti. They're running an interesting promotion called 好好吃饭 (haohao chifan, or eat well/diligently) every Monday: if everyone at the table agrees to have their phone bagged for the entirely of the meal and to focus on the eating, then the restaurant will take 50 percent off the bill. For the full story on this promotion, click here. This seems in line with various trends in the West of restaurants banning cellphones and picture-taking during meals. I'd say cheers for that (and for the approach of positive reinforcement) – we could all do with a little more focus on the food and the present company.
Photos: Cat Nelson
Email: [email protected]
Twitter: @haimei_baole
Instagram: @haimei_baole
Weibo: @cat_nelson
More stories by this author here