Uber is set to merge its China operation with local ride-hailing giant Didi Chuxing in a USD 35 billion deal, Bloomberg and the Wall Street Journal are reporting.
According to Bloomberg, "people familiar with the matter" have indicated that Uber will continue to operate its own app in China for now.
The Bloomberg article quotes from a blog post by Uber CEO Travis Kalanick that you may have seen doing the rounds on WeChat this morning: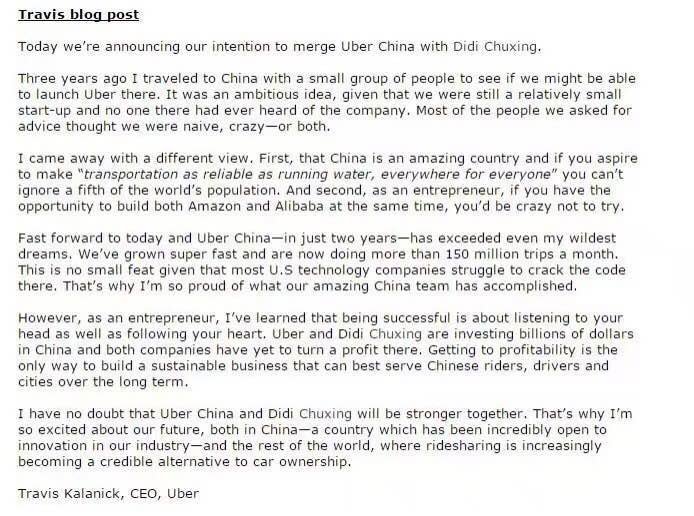 "As an entrepreneur, I've learned that being successful is about listening to your head as well as following your heart," Kalanick, writes in the blog.
"Uber and Didi Chuxing are investing billions of dollars in China and both companies have yet to turn a profit there. Getting to profitability is the only way to build a sustainable business that can best serve Chinese riders, drivers and cities over the long term."
The quotes from Bloomberg match the blog post that just started to go viral on the Chinese web, so apparently it's legit.
Unfortunately for consumers, this might end up being a bad thing. The intense competition between the car-hailing apps has meant they had to raise a hole bunch of VC funding to offer cut-rate fares. It's likely that will stop following this decision.
The announcement comes just days after the government announced that ride hailing apps like Uber and Didi Chuxing will officially be legal in China on November 1.
Images: Tech In Asia, Uber (WeChat)

Visit the original source and full text: the Beijinger Blog