The W06 Hyrbrid – one of the best signature cocktails on offer at Mercedes Me's Lighthaus bar – is the essence of luxury distilled in a glass. Of course that's what the venue needed to achieve, so as to meet the expectation's of patrons who have long come to associate the Mercedes brand with luxury. Any naysayers (myself among them) who once doubted the company could push that brand beyond its line of automobiles and into lifestyle concepts like bars and restaurants will find their doubts dashed, both at their Beijing complex's Sifang Sanchuan eatery and at the Lighthaus bar (though their first floor café still leaves much to be desired).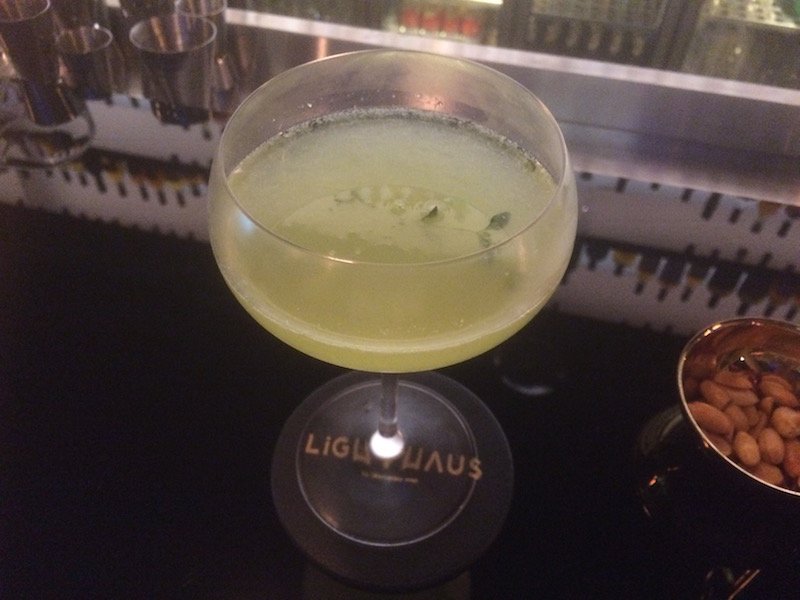 To reiterate: the W06 Hyrbrid (RMB 80, and named after Mercedes' Formula One racing car) is as smooth as a seasoned driver in a chicane, thanks to its soothingly zesty mix of tanqueray gin, thyme, celery, honey, and lemon. Together, those ingredients are sweet and citrusy enough to keep the taste of the booze in the back seat, just like a hybrid car's subtly designed, quietly purring engine.
More rugged road warriors should instead opt for the The Fred (RMB 90, pictured at top). Made with arabica bullet bourbon, dubonnet, campari, and chocolate mole bitters, this cocktail is well suited to its name, which evokes an aged fellow that would much rather zip around in a mammoth gas guzzler than be caught dead behind the wheel of a hybrid. The highly adept bartender tops the cocktail with an orange slice that he then sprinkles with a few coffee beans, before blazing them with a culinary torch. The resulting bitter, smokey aroma exudes old school elegance, like the kind of cocktail a Mad Men character would swill before firing up his sports car (hopefully after drinking just one glass, of course).
Other signature cocktails on offer include the G.L.A. (RMB 85, made with fernet branca, plantation dark rum, orgeat, lemon, and cinnamon bitters), the Heckflosse (RMB 75, comprised of monkey shoulder scotch, punt e mess, amaretto, blood orange, and beetroot), and the Silver Arrow (RMB 80, made with cachaca, vanilla, nashi pear, lime, hazelnut, and egg white). They of course skew on the pricey side, but that's to be expected, given the pedigree of both the brand and the ingredients. Discerning customers certainly won't mind spending a little more for these flavorful, quality cocktails.
Lighthaus
Mon-Thu 4pm-1am, Fri-Sun 11am-2am. 2/F, Sanlitun Soho, 1 Nansanlitun Lu (8588 7150)
南三里屯路一号
More stories by this author here.
Email: [email protected]
Twitter: @MulKyle
WeChat: 13263495040
Photos: Kyle Mullin, 网通社

Visit the original source and full text: the Beijinger Blog