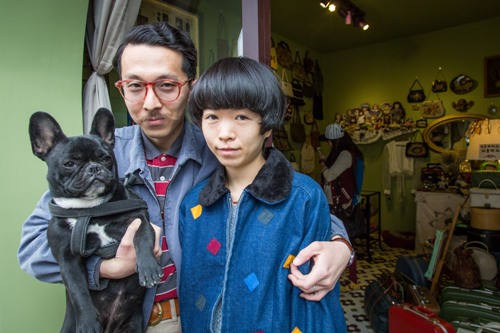 I first caught up with vintage trailblazer Li Hua and his pooch, Billy, in 2012 while I was on my way to Ikea. The duo were manning a shop behind the Central Academy of Fine Arts campus, next to an art supply store. Their space was stuffed with old clothes, shoes and jewelry, and I managed to snag an armful before I could make it to the meatballs.
Now, I've found Li again, and this time, it's in Wudaoying. He's grown a handlebar mustache, married his girlfriend, and acquired a second pooch – a black French bulldog named Honey. He has also opened his second vintage store, Chichi & Roro.
Li is always one step ahead of the trend. Nowhere in Beijing is there such a large collection of antique porcelain dolls – an arguably eerie, childish touch to an otherwise charming store – and darling designer bags sporting labels like Coach, Ralph Lauren, and Gucci. A small section of puffy sleeved dresses, loafers and pill boxes almost go unnoticed next to all that snake skin, macrame, and suede.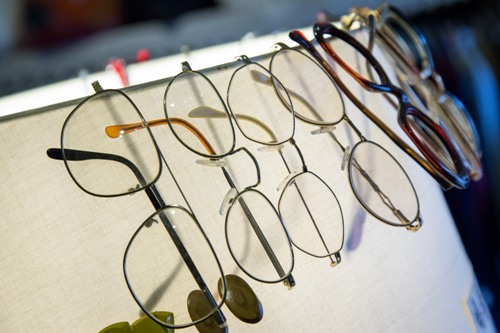 For the needle-fearing folk who have yet to pierce their lobes, candy-colored clip-on earrings are on offer at RMB 150 a piece. And what retro shop in Beijing these days would be complete without a selection of old fashioned eyewear? It's priced at RMB 200, a steal compared to most boutiques around town. If you're wondering how on earth to pull them off, turn to Li, naturally. Don't be surprised if you find him slurping down a bowl of noodles, sporting large specs, a pair of suspenders and a bolo tie. 
Chichi & Roro Vintage
Daily 1-10pm. 60 Wudaoying Hutong, Dongcheng District (158 1097 5451)
东城区五道营胡同甲60号
500m west of Yonghegong station (Lines 2 and 5)
Also try: Delia, Nostalgia Vintage
Photos by Mitchell Masilun

Visit the original source and full text: the Beijinger Blog