Until my recent trip to Swagat, it had been a while since I'd been out for an Indian curry. These days this kind of meal usually comes to me on the back of an electric bike, but my visit to this new restaurant reminded me of how nice it was to eat Indian from a plate, rather than a plastic container.
The downside of Swagat is that its location doesn't really elevate your expectations. It's set inside Guanghua Lu Soho, one of the less inspiring Soho complexes, which outside of the lunch hour can feel a little like a deserted bowling alley.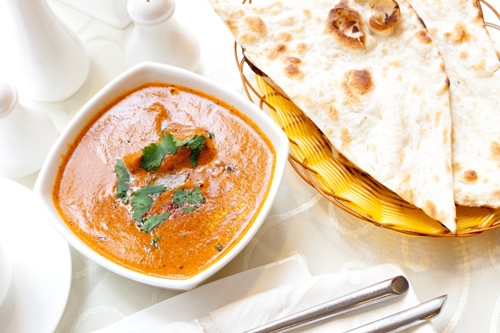 The experience, however, was decidedly better than what we had anticipated. The friendly manager, a longterm Beijing resident from Calcutta, warmly introduced the menu and keen to try his recommendations we had the tandoori fish (RMB 80), the palak paneer (RMB 55), some saffron rice (RMB 40), the garlicky lasooni naan (RMB 22), and finally the syrupy sweet gulab jamun (RMB 25).
Nothing we took had much of a heat kick to it, but everything was aromatic and delicious. If we wanted to be critical we could say that the palak paneer, though wonderfully creamy, could have had a higher ratio of cheese to spinach, and the salmon was a tad overcooked, but our attention was drawn away from this by its delicious fragrant marinade of Indian spices. Yet in the end, we were happy and left planning a return trip to explore the menu further.
Swagat
Daily 11am-10pm. Rm 127, Guanghua Lu Soho, 22 Guanghua Lu, Chaoyang District (6561 9349)
诗华印度餐:朝阳区光华路22 号光华路Soho127室
550m north of Yong'anli station (Line 1)
Also try: Moti Mahal, Three Colours Lotus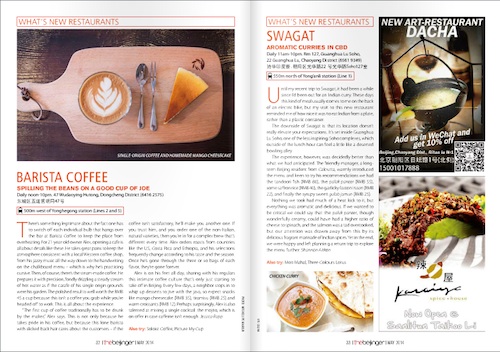 Photos: Sui

Visit the original source and full text: the Beijinger Blog