We here at the Beijinger are happy to present Live Beijing Music's weekend gig guide, written by head honcho Mr. Will Griffith. Will has been running around Beijing for over four years, documenting the city's shows and the requisite onlooking drunkards with various cameras/sound recorder setups, losing plenty of equipment along the away in his attempt to capture Beijing's aural spirit. You'll occasionally catch him pogoing like a madman when he's not got a camera in hand. Take it away, Will ...
Hope you folks were able to catch some waves these past couple days. Looks like we're in the clear now and that can only mean one thing – weekend shenanigans galore. From DDC's 2 Year Anniversary (which Live Beijing Music will be closing out this Sunday with a special showcase) to café album releases – there's plenty to bite into this weekend so let's get right into it. Here's your weekend update …
Friday, July 22
Never Before, Silent Elegy, Duskystar, Abnormal Infected, Xuji at Mao Livehouse
Yup, that Mao Livehouse – the one that closed two months back. It's still there – supposedly the landlord can't find someone to rent the space (surprise surprise) so they're allowing the old tenants to use it still. Meaning, more shows! It's business as usual with a heavy, leather black lineup of death metal, sludge metal, and well, metal including Never Before, Silent Elegy, and more. RMB 80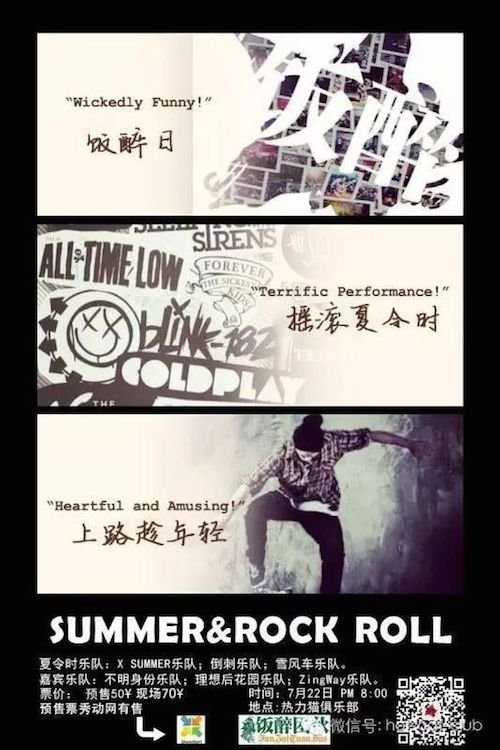 All Unknown, Zingway, Dream Garden, Daoci, Xuefengche at Hot Cat Club
Summertime rock and roll at the Fangjia Hutong staple Hot Cat Club as several eager to please and rock bands take stage including power rock outfit All Unknown and more. Free
SNSOS, Starcardigan (RU), Pork at Temple
Russian electronic pop, post rock grooves, and grunge attitude all rolled into one this evening at everyone's favorite dive Temple. Free
Wang Shengnan, Yang Yenliang, project:IMPAIR (KR) at Fruityspace
Indie pop vibes, electronic dabbling, and drums/guitar workouts courtesy of visiting Korean outfit project:IMPAIR (on a warpath this weekend) – it's an eclectic evening at underground hub Fruityspace. RMB 40
itneverhappened, From The Red, 3ASiC, The Freedom at Modernsky Lab
Indie pop, deep trap rap, straight edge hardcore – genres galore tonight at ModernSky Lab as they host some of the scene's most promising (i.e. profitable) acts across China including Nanjing-based Quadruple Happiness, a great new find. RMB 100
Lost in Space, Living in Lies, Electric Lady, Black Lotus, Logic Lab, Fangu at 13 Club
Wudaokou live music hub 13 Club brings this noise this Friday with an extensive lineup full of young and scrappy bands ready to lay down some riffs inclujding hardcore outfit Lost in Space, and sludge rockers Electric Lady. RMB 70
April Red (TW), Wang Yujun (TW), Mingxun (TW), Chen Min at School
Beijing based promotions group HER presents four uniquely talented female artists and producers for an evening of alt folk and indietronica including Taiwanese artists April Red, Wang Yujun, Ke Mingxun, as well as local Beijinger Chen Min. RMB 80
Jing Wong at DDC
Distinguished folk singer-songwriter swings through Beijing with his band as apart of his summer tour – melancholic mood-setting folk tunes to warm your heart. RMB 70
Violette & The Hunters, Disaster Chat, The Groove Collective, Bye Bye Kitty at Yugong Yishan
Give back and enjoy some tunes four of the scene's busiest bands take stage as a part of Benefit Bethel China – good tunes, raffle prizes, and knowing your red maos will be going toward a good cause. RMB 100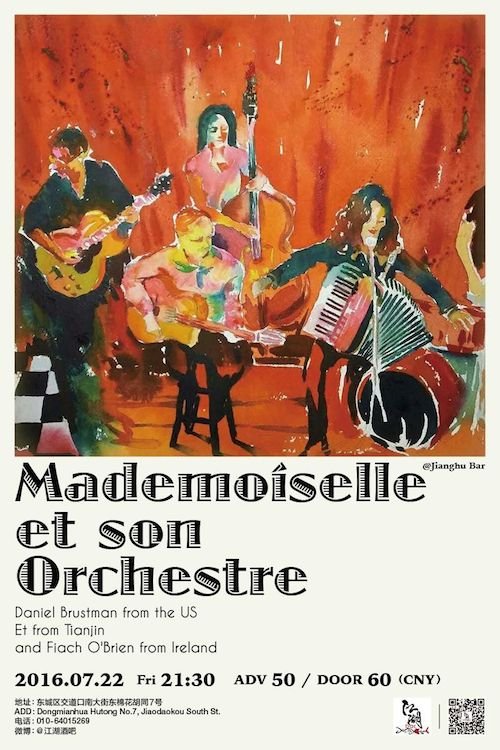 Mademoiselle et son Orchestre at Jianghu Bar
Six piece Beijing based gypsy jazz band, Mademoiselle et son Orchestre bring their festive live set to Jianghu Bar. RMB 60
One Drop Band at Modernista
Beijing reggae faves take over the stage at Modernista for good vibes. Free

Saturday, July 23
Twinkle Star, Larry's Pizza, 16 mins at ModernSky Lab
Emo punk faves Twinkle Star join veteran skateboard punk outfit Larry's Pizza and alt rock (and on the rise) quartet 16 mins for some emotional highs at Modern Sky's HQ. RMB 100
Soulspeak x TTechmark at Zarah Café
Ran Music presents the release of Love In The Land of Robots – a collaboration between Beijing electronic music veteran Soulspeak (aka Kai-Luen) and Shanghai based Australian trumpet player/producer TTechmak (aka Toby Mak). Hells to the yes that sounds like my jam. 3pm start.
december3am, The Freemasons, Solaris, MC Dawei, Macondo at DDC
DDC continues its 2 year celebration with an eclectic, rocking lineup featuring some of the scene's rookies of the years including psych folk rock duo december3am (formed from the ashes of Horse Radio) and power rock trope Macondo. Expect drink deals, VJ work courtesy of WuJing, and more fun. RMB 60
Differenter From You (Folk Rock Fest) at Hot Cat Club
Hot Cat Club goes all in with early evening into late night festival featuring an array of artists, bands, and trouble makers including, wait for it, Peter Stone, Nick Parson, Jordan Darling, Cristal C. Ft. Binders of Women, Xu Ming, Sha Fei, Rengran, Eric's sax Meditation, Djang San, Frucie Smoot, Kamau, Shout Words 'n' make a song, and The Puking Unicorns (hell of closer there). Swing by at any point and you're bound to stumble into some greatness. Free
H.O.G., Mr. Honey, Click #15 at School
Six piece super group, H.O.G. (the Honor Of the Ghetto), promise 'a wall of sound and rhymes that bounce back and forth between old school hip-hop, reggae, and rock n' roll'. Joining them are big band faves Mr. Honey, and the Ricky Sixx led trio Click#15 whose Prince-esque funk will surely entertain. Free
Glow Curve, By Dream, Paper Tigers at Temple
Temple kicks it back with post rock indie stars Glow Curve who'll join up and comers Dream By and Paper Tigers for some Saturday night serenading. Free
Alpine Decline, Xiao Hong & Xiao Xiao Hong at Fruityspace
Fuzz rock outfit, fresh off the release of their stellar LP Life's A Gasp, give a special acoustic performance tonight alongside Zoomin' Night faves XHXXH. RMB 50
Sam Ock & J. Han at Yugong Yishan
Jazz and hip-hop come together for a night with Sam Ock and J. Han, two American artists, bring their jazzy hip-hop tunes are embedded and inspired by their Christian beliefs and Korean heritage to Yugong Yishan. RMB 200
Lucie Chen Quartet at Jianghu Bar
Renowned jazz saxophonist and composer brings her quintet to Jianghu Bar – a jazz group blended with straight ahead as well as modern jazz, gospel, and african music elements. RMB 60
Longjin, Pisces, Informal Jobs at Mao Livehouse
Reggae pop, brit influences, and then some at Mao Livehouse as they host vets Longjing, Pisces, and more for some Saturday night fun. RMB 80
Wu Ning at Snail Club
Frontman for Ningxia folk rock legneds Buyi goes solo at the acoustic hideaway Snail Club. Expect warm banter and even warmer folk tunes. RMB 80
Zhang Shouwang, Earsnail at 69 Café
Carsick Cars frontman returns to the stage for a solo outing alongside Earsnail, the duo of Wang Xu (The Gar drummer) and Yan Shuai (of Da Bang). RMB 70
Starcardigan (RU) at Caravan
Chaoyang hub for soul food and cocktails invites Russian electronic pop outfit Starcardigan, from Vladivostok, for some good times. RMB 50
 
Sunday, July 24
16 mins, project:IMPAIR (KR), Starcardigan (RU), Noise Arcade, Punx at DDC
DDC puts an end to the celebrations with an epic Sunday bash hosted by local blog (and your editor here) Live Beijing Music featuring talent from aboard and local, as Korean drums/guitar duo project:IMPAIR join Russian electronic pop outfit Starcardigan as well local talent 16 mins, fresh off their latest and fabulous EP release, drone-heavy pedal master Noise Arcade, and live techno producer Punx. Going out with a bang. RMB 50
Baby Shakes (USA) at Yugong Yishan
All girl power punk outfit Baby Shakes, from New York City, hit Yugong Yishan with their brand of punk that they describe as "catchy melodic vocals over dirty guitars and a killer rhythm section." RMB 150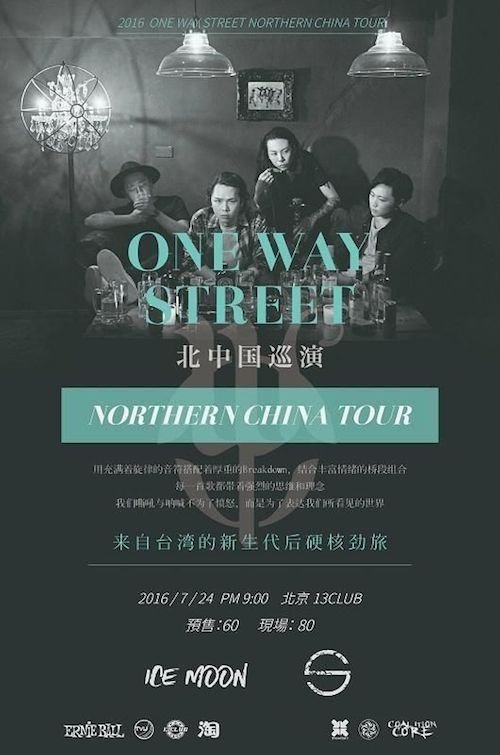 One Way Street (TW), Ice Moon, Goodbye Sunset at 13 Club
Taiwanese post hardcore outfit performs alongside Beijing's own hardcore scenesters, Ice Moon and Goodbye Sunset. RMB 80
Mamer, Hong Qile at Modernsky Lab
The prince of darkness – Kazakh singer/songwriter Mamer – returns with a collaborative showcase alongside glitch electronic producer Hong Qile at Modernsky. RMB 60
Suzi, Lo Bi at 69 Café
Suxi of Suxi and the Paramecia joins Lo Bi for an evening of acoustic guitar goodness at the cozy 69 Café. RMB 60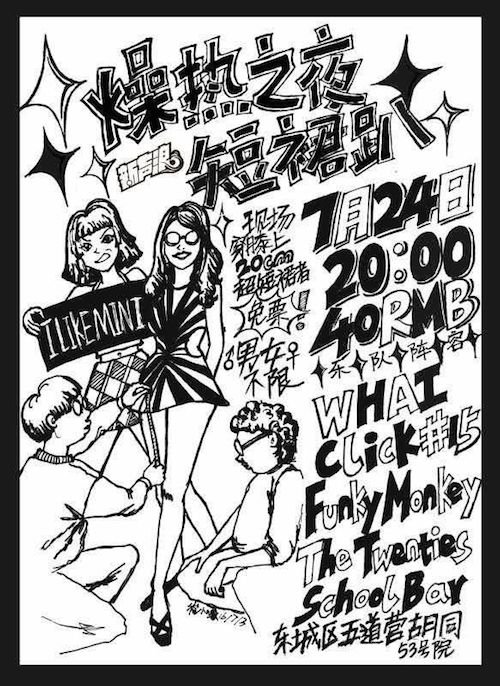 WHAI, Click#15, Funky Monkey, The Twenties at School
Trip-hop demigods WHAI return and they Ricky Sixx's funk/soul/r&b trio Click#15, alt-rock punks Funky Monkey and much admired indie rock foursome The Twenties. RMB 40
Phew! Still hungry for more? For events, videos, and photos from Beijing's thriving music scene, head over to Live Beijing Music or check out all of our live music listings here.
Images: Live Beijing Music, courtesy of the organizers

Visit the original source and full text: the Beijinger Blog