The Topwin Center at Sanlitun is gradually becoming a huge, upmarket canteen for us at tbj. After Coucou, Zheng, Beyong Yakitori, Shubo, Sifang Sanchuan, and me Café all opened in quick succession, we have been keeping a keen eye on the new complex, a move which has paid off given our recent discovery that longstanding Chinese baozi chain Goubuli has soft-opened a branch in the basement. 
Every Chinese person knows Goubuli (狗不理 Gǒubùlǐ) by the time they're able to eat solids. Its name literally means "the buns which dogs will ignore," a moniker that comes from the restaurant's founder, Gao Guiyou a.k.a. Gouzi, who started his first outlet in Tianjin back in 1858. Gouzi quickly attracted so many patrons that he was too busy making buns to chat, prompting people to call him Goubuli, or "Gouzi won't pay attention to you." In 2011, the now chain became part of China's National Non-Material Cultural Heritage.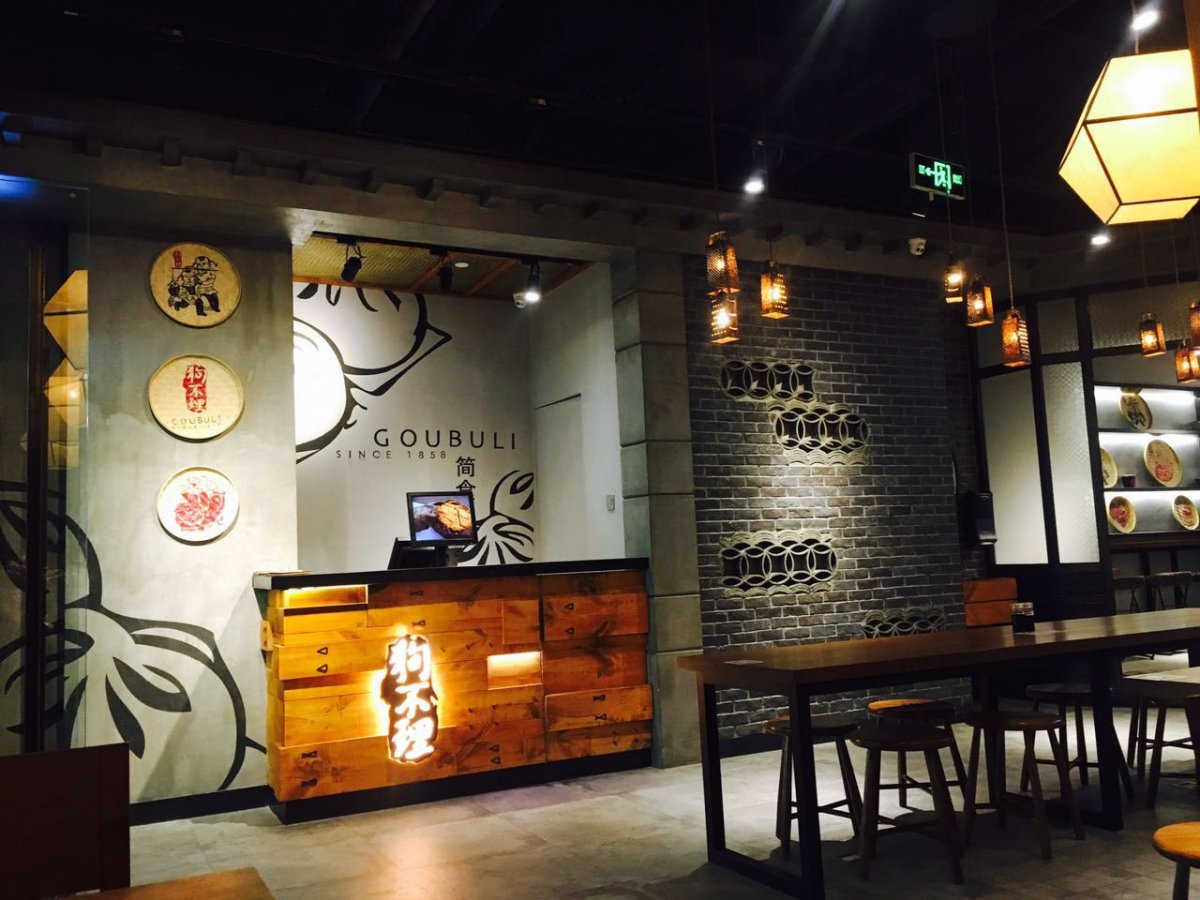 Upon entry, you can tell that they put a lot of effort into the decoration of this Sanlitun rendition, with wooden frames, grey bricks, and old-style lamps, all conveying a sense of the brand's long history. Those elements, together with the steam that dances around the open kitchen, deftly combine old China and the modern world.
Unlike the other four Goubuli outlets, this new branch is modern, chic and focuses on delicate fast-food. We ordered two lunch sets: baozi with porridge (RMB 19.9) and jianbing with doufu nao (豆腐脑, jellied tofu, RMB 24.9). Both were pretty tasty and combine four different baozi: traditional pork, pork with preserved vegetable, vegetable, and an odd-one-out: the green one, which is actually stuffed with bacon and pesto, an innovative and delicious take on the usual baozi stuffings.
We also love the jianbing here, the cooking style based on the traditional Tianjin take, including cucumber, sliced Peking duck, pickle, and sliced jelly. Don't say eww before you try it, as in fact it was incredibly moreish. They also have a more Beijing-style jianbing, and two other creative varieties: bacon and seafood (RMB 15-20). If that wasn't enough, there are also four Chinese burgers whereby the buns are substituted for mantou (RMB 18-38).
The doufu nao was particularly good and accompanied by squeezed mahua (麻花), furu (腐乳, fermented bean curd), and meat floss. Each spoonful was delightfully complex thanks to the salty flavor from soy bean paste, the crispiness from the mahua, and the softness of the tofu. We couldn't get enough.
Finally, three kinds of noodles are available: beef, chicken, and shrimp (RMB 20-28). The beef noodles were super spicy; even though we opted for mild, we found it to be hot enough to surely satisfy the most ardent of chili lovers. Apricot and plum wine (酸梅汤, RMB 15) did the trick to wash it all down. 
The high level of food at reasonable prices was only furthered by the service, which is friendly enough to make you feel comfortable even if you come to get your fill alone.
Goubuli
B1-5 Topwin Center, 1 Nan Sanlitun Lu, Chaoyang District (185 1560 7074)
狗不理简食: 朝阳区南三里屯路1号通盈中心B1-5
More stories by this author here.
Email: [email protected]
Twitter: @flyingfigure
Instagram: @flyingfigure
Photos: Goubuli, Tracy Wang

Visit the original source and full text: the Beijinger Blog