From fizzy soups, to pâté filled mini ice cream cones, there's no shortage of creative dishes being served at Albion Chef's Table. Opened last week by a young chef named Maxim Cheng – who trained and worked at kitchens in Western Canada until he was versed in the virtues of Alberta beef and molecular gastronomy – the restaurant brings affordable fine dining to the otherwise sleepy Zhangzizhong Lu adjacent Xiezuo Hutong.
It's a cozy yet airy eatery, with a counter by the open kitchen and about half a dozen small tables for pairs of customers, making it an ideal place for a dinner date. Those elements give Albion a vibe reminiscent to that of a small seaside restaurant opened by a seasoned chef who longed to escape the bustling city and experiment in breezier locale. The nooks and crannies of the hutong may very well be Beijing's best (if only) local answer to such a picturesque scene.

Albion's current current seven course set menu, priced at a reasonable RMB 190, begins with a bubble tomato broth that features two plump cherry tomatoes floating as its centerpiece. The ripe flavor, combined with its fizzy consistency, makes this cold soup a perfect summer appetizer and, according to Cheng, its elements help open one's appetite in preparation of the numerous forthcoming dishes.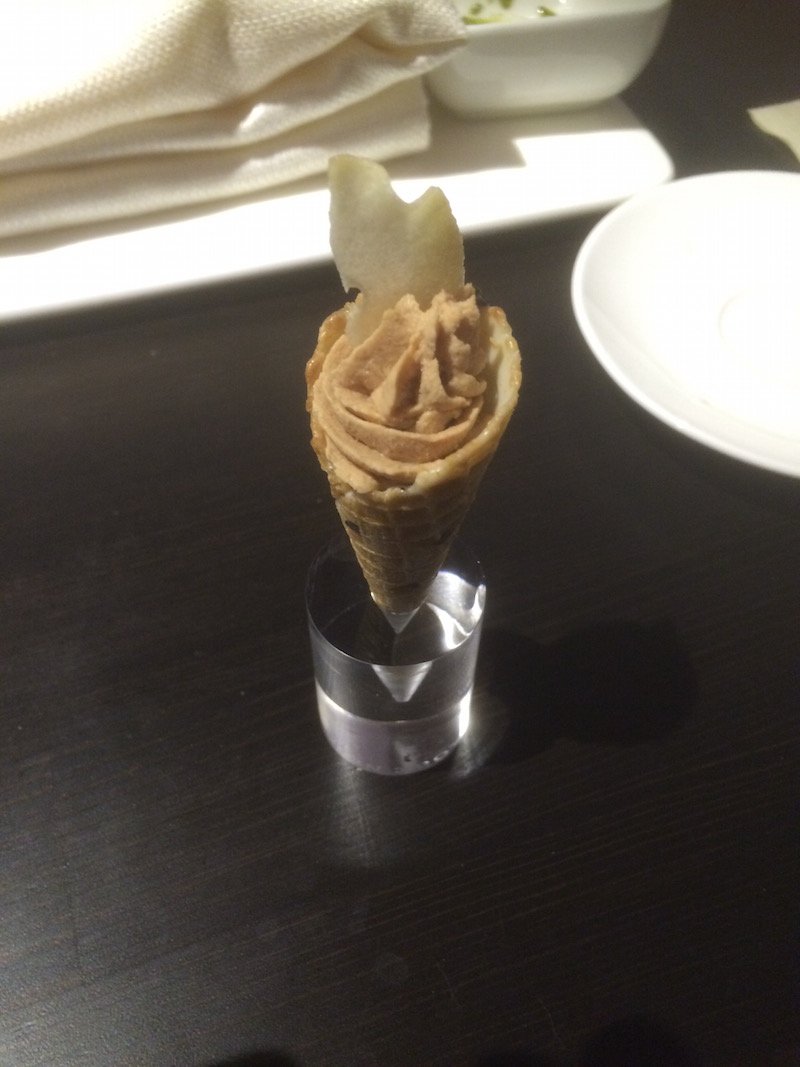 One of those subsequent items is the aforementioned nibble of goose liver, rendered soft serve creamy and served atop a thimble sized ice cream cone, making the patron feel like they're eating a bitterly flavored, elegant dessert. That's followed by a number of sous vide dishes: crab that has is edible from head to toe, cooked for an hour to tender perfection, and immersed in a saliva-enducing soup that's jelly thick; a de-boned pork knuckle risotto sous vide for two hours and braised a staggering six hours until it's impeccably crispy, with black truffles, trees and feather light coriander chips; and, best of all, a sirloin steak that is tender and juicy enough to set your tastebuds alight, served with a side of asparagus and beetroots, a flavorful rarity in Beijing.

Those courses would have been quite satisfying on their own, but Albion's current set menu is put over the top by its inventive desserts. Served after the risotto, those sweet eats include a tomato sorbet with a sprinkling of fruit orange caviar. Better still is the crème brûlée, which comes in a tiny espresso cup and features a hardened top layer that crunches better than your favorite candy, and is balanced by a lower smoothly creamy layer flavored with cinnamon and vanilla.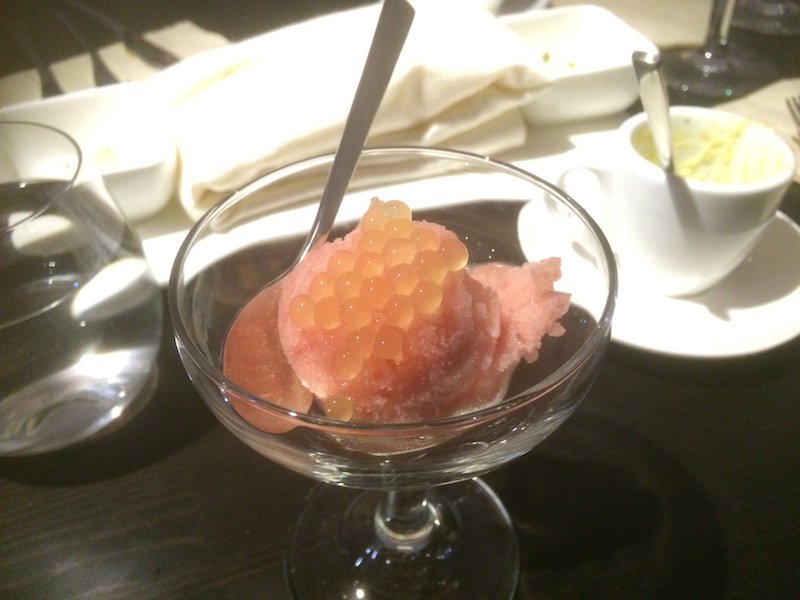 Together, these dishes mix and match from French, Italian, and Chinese cuisine, along with smatterings of elements from other locales. Such elegant, impeccably prepared fare, served in a rustic ambiance, makes many of Beijing's pricier fine dining haunts look pretentious in comparison (Albion's RMB 190 price tag for the set meal also makes those competitors appear overpriced). RMB 60 glasses of 2012 Chateau Marotte Bordeaux round out this impeccable set meal, a standout in not only the hutongs but also Beijing's entire fine dining scene.
Albion Chef's Table 白石
Daily 6-10pm. 44 Xiezuo Hutong, Dongcheng District
北京市东城区协作胡同44号
Photos: Kyle Mullin

Visit the original source and full text: the Beijinger Blog