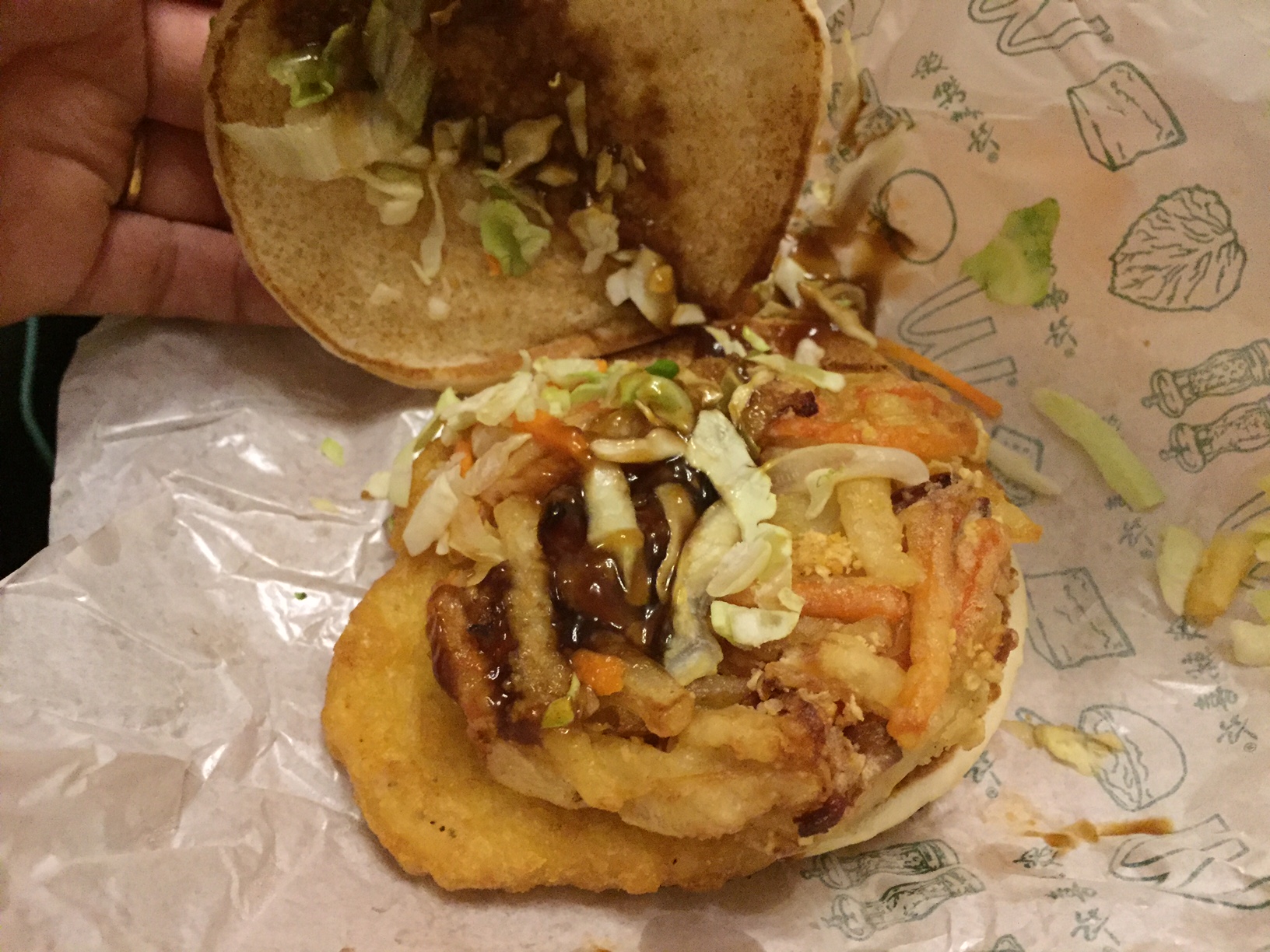 With the image of McDonald's last special promotion, the unnaturally green Angry Bird burgers, still freshly imprinted in my mind, I recently decided to jump in again and order the entire Hello Kitty McDonald's range. This includes the tempura chicken burger, the bubble tea, the terrifyingly fake-looking meatballs, and the matcha ice cream with red bean paste.
Let's start off with the main item: the tempura chicken burger (RMB 22 for just the burger, RMB 34 as a medium meal, and RMB 38 as a large meal). Unfortunately did not travel well.
This burger reminds me slightly of Slow Boat's fryburger, having a layer of fries above the meat patty. The chicken, deep fried, comes doused in a slightly sweet tempura-style sauce, and there's also a layer of coleslaw. Really, this wasn't too bad. In fact, we may even have it again, and we assume that it will look prettier when not ordered for delivery.
Then there were the meatballs. Now, meatballs, being made mostly of processed meats no matter where you go, are easy to get wrong. And boy did these go wrong.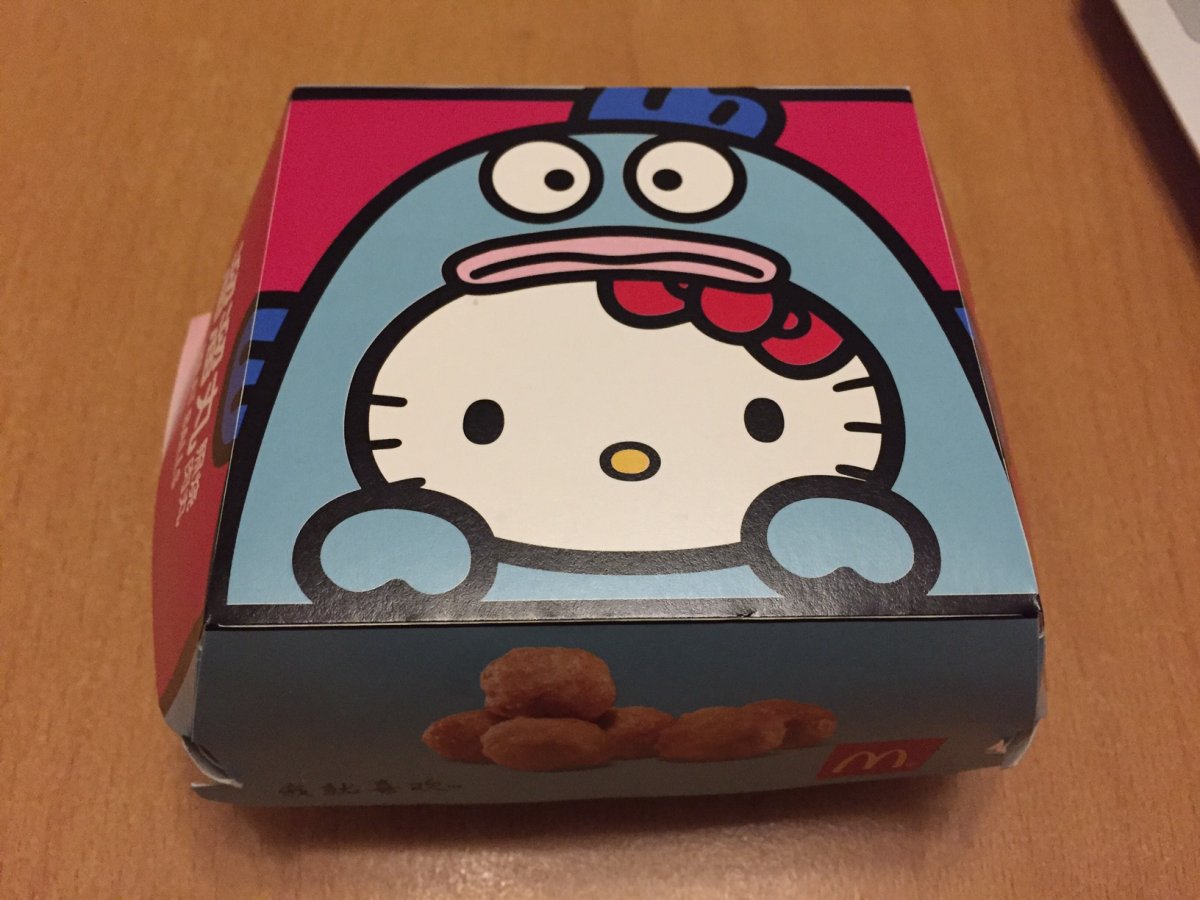 Apart from the fact that they came in a cute little Hello Kitty box with six meatballs (which we wish we had never opened, RMB 10 for six balls), they also had a small mystery item accompanying them. We considered removing the mystery item, but decided that Fast Food Watch is all about reporting cold, hard facts.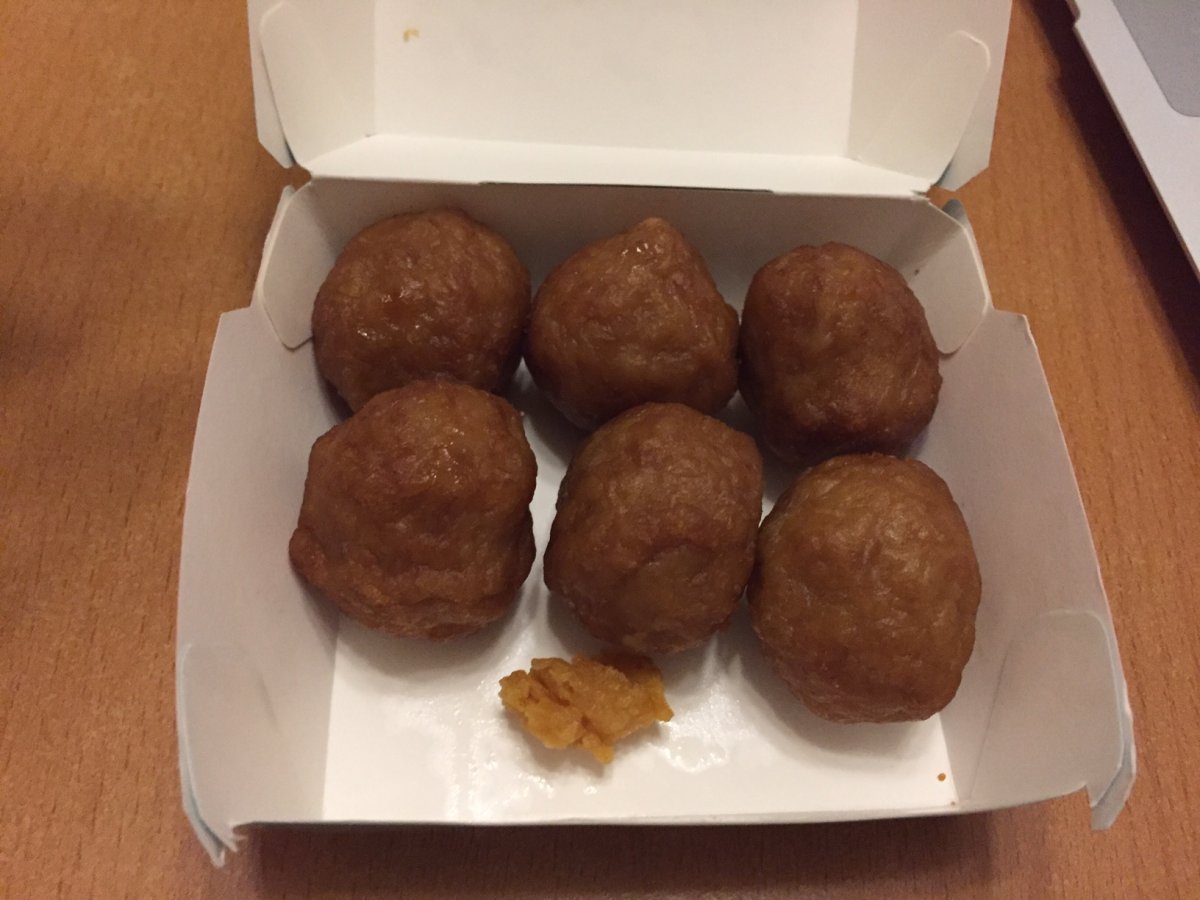 On the sweet side, we tried their original bubble tea (RMB 12). It was not as flavorful as bubble tea from Coco or any of the other popular chains that can be found in Beijing. In fact, the 'bubbles' weren't really ball-shaped and were too large for the straw, thus becomming a slight choking hazard. 
The special Hello Kitty ice cream (RMB 10.50) was also was an absolute abomonition, and had me crying tears of regret. Why oh why didn't we just order the plain sundae? Not only did the green and red coloring melt into a disgusting brown shade, but the flavors were just not something we could ever get used to. It was so horrific that we decided to cut our losses and turf it without delay. Yet it was so beany that we were afraid it would clog up our sink. This concern proved to be valid, as it wouldn't even flush down the toilet when we tried to pour it out there. We're not sure if that's a hutong plumbing issue, or if this ice cream was just pure evil.
More stories by this author here.
Email: [email protected]
Instagram: s.xuagram
Photos: Margaux Schreurs

Visit the original source and full text: the Beijinger Blog