Update July 14, 4pm: The event at Peiping Machine Brewing today (July 14) has been cancelled by the authorities.
Hey beerheads, after two weekends with beer festivals, in a row, are you still up for more? Well, you're going to get it anyway, because in beer veritas (don't quote me on that, though).
I believe a lot of you went to China International Craft Beer Festival between July 8-10, and some of you might have been annoyed at the unpleasant 30ml paper cup rules and the obligatory drinking breaks. That doesn't mean the fun has to stop though as tonight (July 14), they are holding an after party at Peiping Machine Brewing at 46 Fangjia Hutong. All-you-can-drink (leftover) draught beers for CCBF ticket or QR code holders, and Rmb 100 for walk-ins, the party is 7-11pm.
If you'd rather go elsewhere, Beer Library, a small and hidden gem in Yoolee Plaza, is celebrating their first anniversary tonight. They are going to have an oyster and beer pairing (RMB 188). That price gets you two Gillardau oysters with Sierra Nevada porter and Flyingdog Smoked Belgian Stout. If you are not interested in oysters, all the beers are 12 percent off tonight between 7pm-1am. And they will have a lucky draw, for which the prize is the highest ABV (70 percent) beer in the world.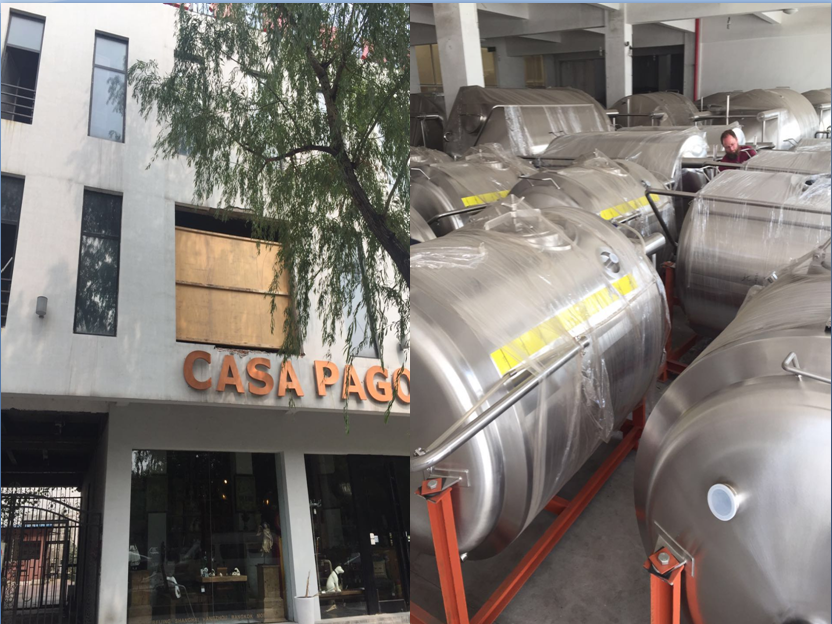 It's been three months since our first scoop on Slow Boat's new location at Sanlitun, a lot of people are snooping around and wondering, when will they finally open? Progress has seen them setting all the brewing tanks up upstairs, and it seems like the opening day is coming closer. Hurry up, sailors!
Jing-A just released the Buck Wild Summer Lager (4.5 percent ABV), which was a collaboration with Chengdu Harvest. This crispy beer featurs Chengdu's local buckwheat tea which is really refreshing. It it available only at the taproom.
Their Beijing Bikini Watermelon Wheat is making it out of the taproom, and will be put on tap at The Big Smoke, from this Friday (July 15). They also add two special watermelon dishes on the menu in honor of the beer, a grilled watermelon salad with arugula, feta cheese, and balsamic dressing (RMB40) and pickled watermelon rinds (RMB 25).
Jing-A will also hold a Hutong Beach BBQ party at Hot Cat Club from 4pm on this Saturday (July 16), make sure you are one of the first 50 to show up in a swimsuit or Beijing bikini, and you will get a free pint of the Watermelon Wheat.
In other news, Great Leap Brewing #45 (the pizza one) has started serving three wraps: a fish wrap, a chicken, bacon, avocado wrap, and a falafel wrap. To top it off, if you order either wrap, you can get a free pilsner or pale ale special during weekday lunchtimes. #12's menu will follow suit in mid August too. Who can say no to drinking during lunch?
Also on July 16, the Harridans will release their first album Fuzzing the Muse at Great Leap # 6 (the hutong one). The party starts at 2pm, make sure you get there on time.
More boozy stories by this author here.
Email: [email protected]
Twitter: @flyingfigure
Instagram: @flyingfigure
Photos: Courtesy of the organizers

Visit the original source and full text: the Beijinger Blog