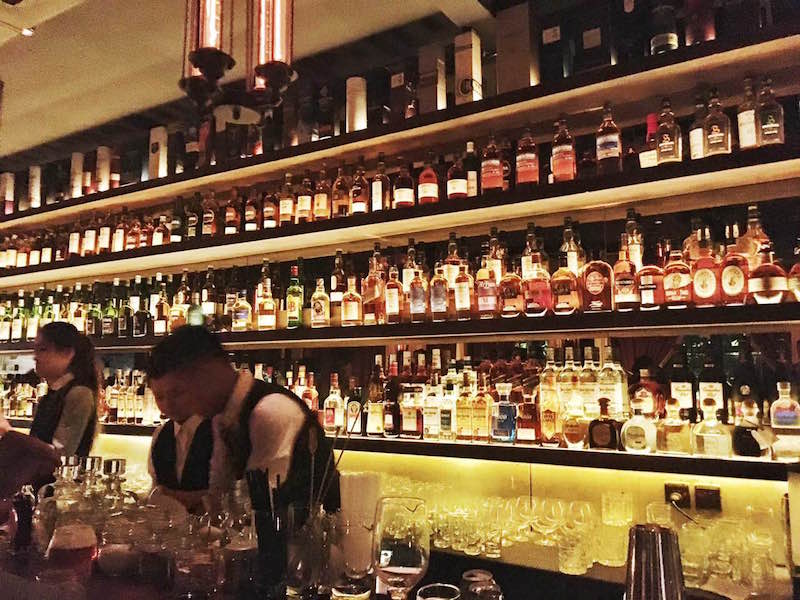 If going to Róng Bar is wrong, then we don't want to be right. The latest cocktail venue opened by local nightlife maestro Xiao Ming (of Revolution, Miles, and Ming Fame) boasts a gorgeous panoramic terrace laced with lush vines, an equally horizon wide bar with more than 60 bottles lining each of its four shelves and, best of all, an impassioned bar tender. That adept manager and mixologist is none other than Mu Li, who made a name for himself as head bartender at East Hotel's Xian Bar and is now slinging bottles at Róng to give the new venue an equally esteemed reputation.
He's off to a strong start. During a recent visit, Mu quickly prepared three delicious cocktails, each with flavors that varied as vastly as the expansive venue's floor space. First up: the thoroughly strong RMB 65 Za Fernet. This Jameson and Fernet laden cocktail is balanced with a home made vanilla base and an aromatic torched orange peel slice. The fiercely bitter whiskey and amaro spirit combine with those other, sweeter ingredients so that the cocktail is richly indulgent, like a booze doused dessert.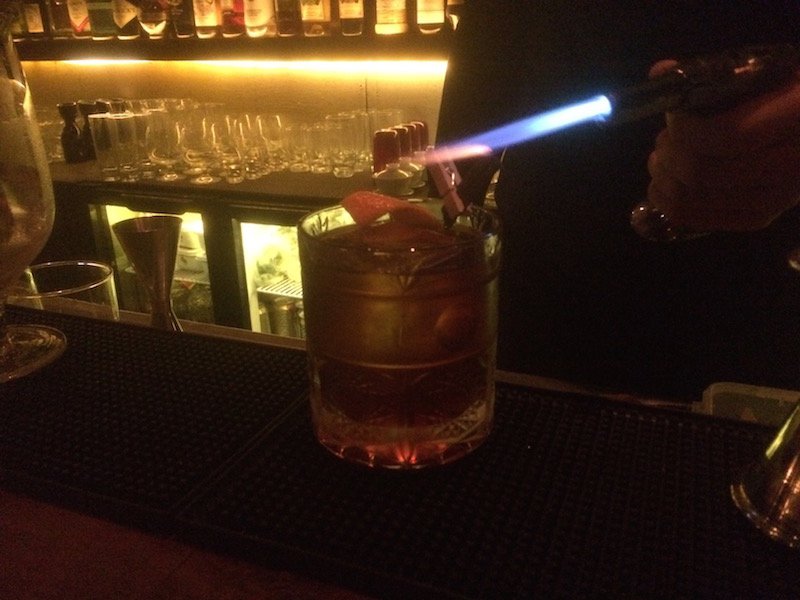 Way over at the sweet end of the flavor spectrum rests Mu's next cocktail: the RMB 75 Mr. Jameson. While this beverage shares the same whiskey and Fernet amaro as the preceding cocktail, that's about the only thing the two have in common. That's because this drink features a freshly cracked egg, some passion fruit puree, and a generous dusting of cinnamon, all of which make it light, fluffy and sweet as a souffle.
Mu's preparation of the Mr. Jameson was an un-showy, yet impressive, performance. After placing the top half of his shaker on the bottom half he gave it a thunderous thwack so that the two will better stick together without spilling a drop. He then began the most vigorous shaking I've witnessed in Beijing's bar scene, as if he were trying wrestle a beast to the ground. His tenacious efforts paid off, considering how foamy the Mr. Jameson was after all that prep.
Resting somewhere in the middle of the Mr. Jameson and Za Fernet's extremes was the RMB 75 Qing Mei Zhu Jiu. For this he combined Korean Makgeolli rice wine with Japanese sake, before serving it in a jar alongside a shot-glass sized cup, in the same way that standard sake is served at your favorite teppanyaki spot. The rice wine gave it a creamy, wholesome consistency that was nonetheless light and refreshing (no doubt thanks to the sake). Mu suggested drinking this cocktail as an aperitif after a big dinner, in order to settle one's stomach in delicious fashion.
Mina Yan, communications manager at East Hotel, was there on Róng's July 8 opening night to wish her former colleague and friend well. She had nothing but praise for Mu during a recent chat with the Beijinger, saying: "Aside from his obvious good looks, he's one of the nicest and most genuine guys I've ever had the privilege of working with." She went on to laud the bartender and manager's creative work ethic, saying: "He takes into account what's in season, trending, and most importantly what his customers like when he creates new drinks, which is why his drinks are always very well received... I'm very happy and proud of all that he's accomplished."
Róng Bar
Mon-Thu 17:30pm-2:00am, Fri-Sat 17:30pm-3:00am, Sun 17:30pm-1:00am. No. 4-5 East 3 Road, Sanlitun Choayang District (8532 3665)
朝阳区三里屯东三街4-5号
More stories by this author here.
Email: [email protected]
Twitter: @MulKyle
WeChat: 13263495040
Photos: Mina Yan, Kyle Mullin, Mu Li

Visit the original source and full text: the Beijinger Blog