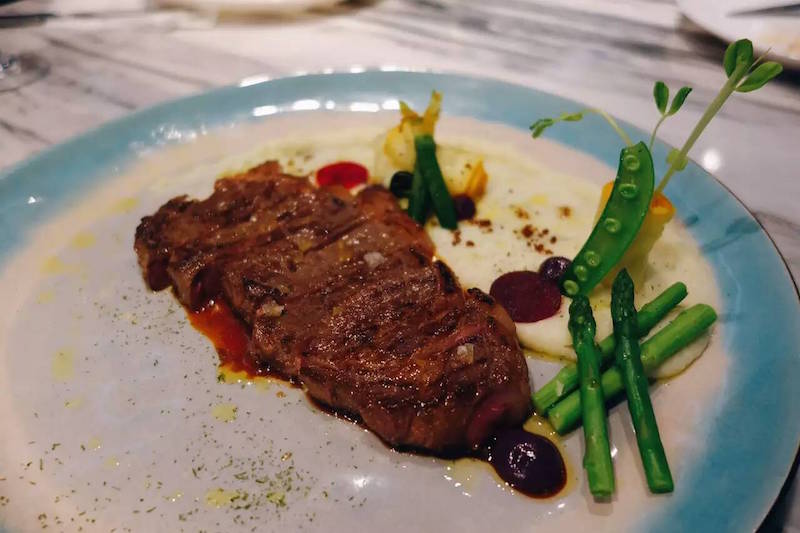 When you think of hutong restaurants, what springs to mind? Dingy digs? Sub par booze? Cheap, no frills food? While such stereotypes are being disproven again and again by numerous innovative alleyway venues, there's few spots that defy those expectations more than Obsession. The recently opened Jiaodaokou restaurant boasts gourmet eats, a molecular gastronomy trained chef, and a slick palely lit interior suited more for a Star Trek set piece than a hutong venue.
Those upscale tendencies come courtesy of the aforementioned chef, Kelvin Kam, who hails from Hong Kong and worked at that city's famed Spoon by Alain Ducasse at the InterContinental hotel.
His top tier techniques include vacuum sealing his Australian imported beef; generously applying high quality herbs like rosemary on the beef and mutton or thyme on the chicken; marinating his steaks for 24 hours; buttering burger buns with a brush before gently toasting them; and more. The result: gourmet food made accessible for the hutong set.
Some of the best menu items include RMB 138 "sous vide" lamb loin mint jelly and home made mint lamb sauce; RMB 108 seared salmon with lemon cream sauce; and RMB 208 100 day grain fed Australian Angus rib-eye with coffee butter and home-made beef sauce.
While those items are more affordable than their Chaoyang District counterparts, they'd be an occasional indulgence for much of Beijing's lower maintenance hutong dwellers (to say the least). That crowd will likely instead pop in (no doubt after a few deliciously potent cocktails at the neighboring Bungalow Tiki Bar and Cocktail Bar) to quell their late night hankering for RMB 58 seafood risotto with seared scallop, RMB 48 spaghetti carbonara, RMB 50 chicken drumstick and chips or fish and chips, a pair of RMB 50 mini beef burgers or an RMB 38 chestnut puree with whipped cream crepe. The burger is especially delicious, thanks to the carefully readied Australian beef that was all but melt-in-your-mouth tender (with a sizable, flavorful pink in the patty's center). Its side of chips were also a delight, seeing as they were triple cooked to crispy perfection.
A few more mid-range menu items along those lines would make Obsession an even bigger hit with locals (hopefully Kam will make such additions before long), but even the pricier choices will tempt all but the stingiest of hutong dwellers, thanks to the creativity and high quality of their recipes. Let's hope enough sophisticated alleyway types are willing to splurge on this ambitiously offbeat Jiaodaokou newbie. After all, it's a welcome addition to the ever evolving, and ever unpredictable, hutong scene.
Obsession
Daily 6.30pm-2am. 34 Jiaodaokou Beisantiao, Dongcheng District (18514581518)
东城区交道口三条34号
More stories by this author here.
Email: [email protected]
Twitter: @MulKyle
WeChat: 13263495040
Photos: Kelvin Kam, Kyle Mullin

Visit the original source and full text: the Beijinger Blog