An all-gold everything encourages a certain level of expectation and when it comes under the storied brand of Waldorf Astoria, anticipation is heightened.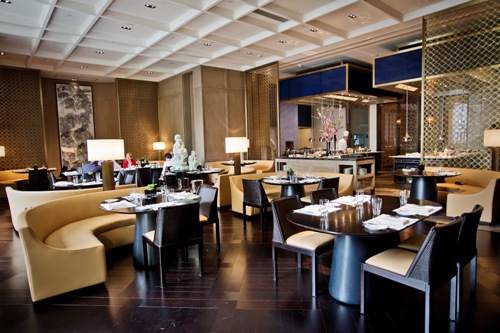 The brasserie in the newly opened hotel with the gold façade has splashed onto the scene with aplomb. The menu (add 15 percent to all prices) is largely continental with starters of pan-fried scallops with broccoli puree, cubes of beetroot and Pommery mustard foam (RMB 228) and a marbled foie gras terrine with Parma ham, fig chutney and toasted brioche (RMB 258). In the salmon degustation (RMB 228), the kitchen illustrates how versatile the fish can be – an opulent opal ingot of it smoked, half a dozen spheres of caviar served on a dollop of cream, the loin poached and rolled in herbs, and a sheer sheet of the fish replacing the skin of a ravioli.
Executive Chef Reiner Lupfer has remixed their signature salad for the Middle Kingdom's capital. The Waldorf salad (RMB 128) is served "Beijing-style," with three ample squares of duck leg confit alongside a light mix of julienned apples, caramelized walnuts and celeriac puree.
In keeping with the starters, mains arrive as works of art – beautiful, challenging and sublime. The long bones of two cutlets crossing elegantly above delicate tortellini stuffed with lamb in the Australian Organic Lamb Two Ways (RMB 318). A heaving hunk of Atlantic cod (RMB 298) is particularly outstanding, perched on its island of sautéed spinach and a spicy sweet corn étuvée, above the fray of a dill beurre blanc and lone soldiers of carrot, pea and a broccoli tip.
Brasserie 1893
Daily 6.30am-10.30pm. 1/F, Waldorf Astoria, 5-15 Jinyu Hutong, Dongcheng District (8520 8989)
荣尊1893: 东城区金鱼胡同5-15号
350m southwest of Dengshikou station (Line 5)
Also try: Chapter, Feast (Food by EAST)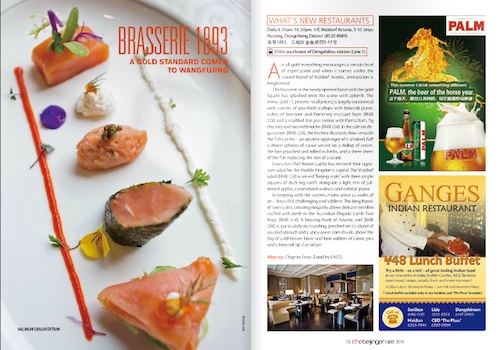 Photos: Ken

Visit the original source and full text: the Beijinger Blog