As the capital's foodie trade winds gust ever onwards, now's the perfect time to peer back at an epic Burger season that was much more than just Slow Boat sailing to victory. Our month-long Burger Cup was indeed a triple-masted, burgerlicious season that galvanized the entire city.
We started off by delighting our readers with a bevy of Burger Day Deals: Drop-dead discounts on some of the city's finest buns-and-patties.
Our next high-profiled event was our day-long Burger Festival, held on May 28th at Universal Creative Park, just opposite the north gate of 798. Plainly put, the party was an absolute burger-binge (so much so that the police had to come and put an end to our event early). Luckily, the Beijinger teamed up with an awesome video production team to bring you this never before seen footage from that event:
Lastly, what's a Burger Cup without a gladiatorial-style showdown? The competition was beyond fierce; having scoured literally every single burger-serving establishment in Beijing – from rinky-dink Fifth Ring Road hole-in-the-wall eateries to glamorous five-star hotels – far less than half of Beijing's burger slingers even made it into our bracket of 64. So, with that said, we are proud to formally introduce the city's 12 best burgers:
No. 12: Let's Burger
Their must-try burger: Cheese King Burger, RMB 129, no sides


Why it's one of Beijing's Best: Consider it a volcano of deliciousness ready to erupt on your taste buds. This burger is chock full of mozzarella, Danish brie cheese and cream cheese on a red pepper wedge, filling your dairy quota for days to come.
 
No. 11: Katchup
Their must-try burger: Manhattan Monster, RMB 68, served with thickly-cut fries


Why it's one of Beijing's Best: Katchup's signature burger magnificently mounts copious portions of fried onion rings onto a chili beef patty, turning an already toppings (fried egg, bacon, cheddar cheese) clustered burger into something monstrously delicious. Furthermore, Katchup's massively-cut fries (think potatoes cut in quarter slices) only add to the monster mystique put on by this Gulou eatery.
 
No. 10: The Local
Their must-try burger: The Dry Rub Avocado Burger, RMB 75, served with a small salad and a choice of fries, onion rings or sweet potato fries


Why it's one of Beijing's Best: Combining a unique blend of house salsa, slightly spicy dry rub, and of course the perfectly ripe avocado, The Local's signature burger demonstrates just how delectable burgers can be when the perfect pairing between condiments and toppings complements a beef patty. Owner/Manager Kenn Bermel attributes its popularity to the quality of its eponymous ingredients, noting that only 100 percent Australian beef is used and avocados are sourced daily to ensure freshness. 
 
No. 9: Home Plate BBQ
Their must-try burger: The Itis, RMB 98, no sides


Why it's one of Beijing's Best: This southern style barbecue stalwart is a three-time holder of the Burger Cup top slot, and although they might have slid a few spaces in the 2016 ranking, their buns-and-patties are still widely regarded as the gold-standard by which other, lesser burger joints aspire to. In addition to their award-winning classic cheeseburger, Home Plate's arsenal of burgers includes the hulking Itis burger. The Itis doubles its predecessor's patties and cheese slices and features the smokehouse's house-cured maple bacon and its famous fried pickles, making it an imposing and appropriate signature burger for such a venerable establishment.


No. 8: Plan B
Their must-try burger: The Bronco Burger, RMB 70, served with choice of hand cut fries or fresh veggie sticks with honey mustard dipping sauce


Why it's one of Beijing's Best: Forget gourmet. Trevor Metz, the owner of this Shuangjing-area sports bar, knows all the home-style secrets needed to grill a truly mouthwatering burger. The buns are made fresh on site every day, and so is the Jack Daniels-infused barbecue sauce that laces the Bronco Burger, which also features crispy bacon, cheese, fried onions and jalapenos. If you're hankering for a satisfying burger and have lost your appetite for pretentious sandwiches, then look no further than Plan B's Bronco.


No. 7: Fatboy's The Burger Bar
Their must-try burger: The Wimpy, RMB 88


Why it's one of Beijing's Best: Topped with a fried egg, smoked bacon, cheddar cheese, and their homemade barbecue sauce, the Wimpy is more than just an eyeful, it's a mouthful. The Wimpy's sauce has a special twist - rather than the smoked hickory taste of typical barbecue sauce, theirs appeals to the Asian plate with a tinge of chili. The Singapore-based chain boasts a fine array of enticing burgers (many cheekily-named), several of which were crowd favorites at this year's Burger Fest; but with the Wimpy leading the way, expect this burger chain to be a mainstay on our list for years to come.

No. 6: Union Bar & Grille
Their must-try burger: Double Cheese Burger, RMB 88 (single), RMB 155 (double), served with thin-cut fries and fresh coleslaw


Why it's one of Beijing's Best: Many Beijing restaurants import Australian beef for their burgers, but Union has taken that practice several steps further by only using grain-fed Aussie beef aged for 21 days. Aside from the high quality of their meat, Union gives diners lots of options, always asking patrons how well they want their burger cooked and offering a selection of cheeses (cheddar, Swiss or blue). Unfortunately, Union's tenure as a perennial top-eight finisher is about to come to end, as the establishment plans on shuttering its business after more than eight years in the capital. Therefore, if you plan on sinking your teeth into this fantastically sublime burger, you best make haste.

No. 5: blue frog
Their must-try burger: The Montana, RMB 98, served with French fries or sweet potato fries


Why it's one of Beijing's Best: Its heftiness is not only due to its huge all-beef Aussie patty, but also the toppings, especially the thick onion ring served on top. The Montana takes its moniker from the homeland of Blue Frog's founder. 

No. 4: Feast (Food by EAST)
Their must-try burger:The EAST Burger, RMB 118, served with thickly-cut fries


Why it's one of Beijing's Best: The dark horse of the 2016 Burger Cup, Feast sets itself apart, not only because it's the only hotel-backed establishment, but also because of the bit of down-under flair they add to their burgers. Executive Chef Rob Cunningham artfully infuses a layer of beetroot chutney, giving the EAST burger a special Australian kick.

No. 3 Great Leap Brewing #12 Brewpub
Their must-try burger: The Cheeseburger, RMB 60, served with French fries or onion rings


Why it's one of Beijing's Best: Stop by this brewpub restaurant at nearly any point during its opening hours – be it a weekend evening or a weekday afternoon – and you'll find it jam-packed. That popularity can be attributed to its excellent range of craft beers and also to its sizzling, savory cheeseburger. With a recipe written by top-notch chef Kin Hong (of Taco Bar fame), there's little wonder why this burger has been such a hit with pub-grub lovers, or why it has cracked the Top Five in our Burger Cup year after year.  

No. 2 Q Mex
Their must-try burger: Double Burger, 65RMB, served with potato wedges and coleslaw.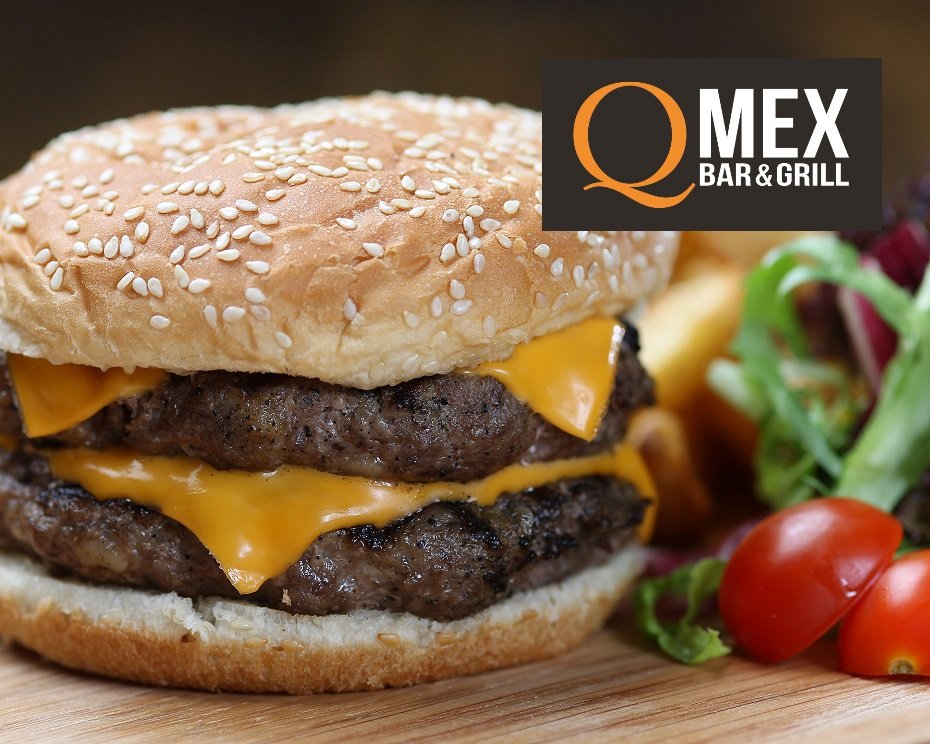 Why it's one of Beijing's Best: Q Mex's Double Burger stacks up the beef patties with double cheese, mayonnaise and special dressing. The inspiration and subsequent juiciness for the burger, can be attributed Shake Shake's Danny Meyer personally telling Q Mex's Marcus Medina, what should considered a culinary adage: "The secret to a good burger is simple: it's all about the meat." Henceforth, Q Mex's double patty burger pulls no punches when it comes to the most important element of a burger. The Double Burger puts together the right cuts, the right blend of fat to lean beef, so that it's still juicy while not being too messy.

No. 1: Slow Boat Brewery and Taproom
Their must-try burger: The Fryburger, RMB 50, served with a pickle


Why it's the best burger in Beijing: The 2016 Burger Cup saw defending champion Slow Boat sail past the competition to drop anchor at their rightful port of call: the much coveted position as Beijing's best burger. The Fryburger's unique placement of a french-fry patty between the buns have kept legions of foodies in utter adulation. Dressed with homemade aioli, in what Slow Boat Owner Chandler Jurinka has described as "a nutty and fragrant East-meets-West family recipe," and buns, which are light, sprinkled with sesame seeds, and delivered fresh daily, the Fryburger has undoubtedly buoyed this brewery's credence as Beijing's best.

Photos: Courtesy of respective establishments
Video: Courtesy of Steven, Michael, and Paul from Veidt House Productions

Visit the original source and full text: the Beijinger Blog