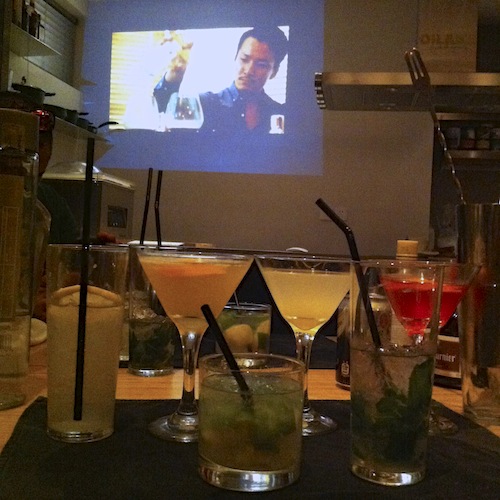 Earlier in the month, I wrote about Migas' new class on pastry-making, which is great for sweet-tooths or those trying to impress sweet-tooths. For the boozier lot of you, they've also launched another course on mixology. The two-and-a-half-hour Mixology Masterclass runs every Tuesday from 5pm (though our class started a bit later, so those of you working the 9-5 grind still have a chance) and guides you through the process of making six classic cocktails.
Leading the class is Migas' head mixologist, Francesco Angotti, the man behind the creative assortment of cocktails that get you sloshed on the dancefloor every weekend. In the course of a couple short hours, we learned the proper technique for shaking a shaker (don't break the ice), stirring a drink, muddling in mint and all the basics you could want to know. In these same short hours, we blazed through a mojito, a daiquiri, a caipirinha, a cosmopolitan, a gin fizz and a whiskey sour.
Mid-way through the class, Migas' kitchen thankfully turns out a selection (predominately fried) snacks to fortify you. There's a bit of a break to get your bearings again, three cocktails in.
The class is priced at RMB 500 per person which, considering that you are pretty sauced by the end plus you get a tote bag full of all the necessary tools and a recipe book, is great value. Reservations can be made at 5208 6061.
Photos: Cat Nelson
More stories by this author here.
Email: [email protected]
Twitter: @haimei_baole
Instagram: @haimei_baole
Weibo: @cat_nelson

Visit the original source and full text: the Beijinger Blog