China's biggest hope, "The Big Devil", Zhou Qi was chosen by the Houston Rockets with the 43rd overall pick in the 2016 NBA draft that just place in New York Thursday. 
Zhou is now in line to be the first active Chinese player in the NBA since Yi Jianlian came home to the CBA in 2012, and the sixth Chinese player overall to play in the NBA (the others being Yao Ming, Wang Zhizhi, Menke Bateer, Sun Yue and Yi).
Zhou was not the only Chinese player to be drafted; the Memphis Grizzlies picked Fujian's Wang Zhelin with the 57th overall pick, which we predicted months ago.
It is still early to say whether Zhou will show up next year in the NBA or not. An NBA pick only means that the Rockets are protected from other teams' competition to offer Zhou a contract; whether one will be agreed upon is yet to be determined. The Rockets will also need the approval of both Xinjiang, Zhou's current club, and the Chinese Basketball Association, in order for the deal to go through.
Even if an agreement is reached, it doesn't necessarily mean Zhou will go straight to the pros. He may be assigned to play in the NBA development league (NBA D-League), where he could remain for years.
Zhou was one of the biggest intrigues in this year's draft. Zhou was once estimated by pundits NBADraft.net to be chosen in the top 10 after he played a key role in the Chinese national team in last year's Asian Basketball Championships. However the hype then cooled off after the 2015-2016 CBA playoffs, where Zhou was matched up against Sichuan's NBA veteran Hamed Haddadi, who had a plain disappointing NBA career, and did not fare well. 
Many pundits believe that if Zhou couldn't outperform Haddadi, it will be hard for him to trade elbows against the like of Andrew Bogut or Anthony Davis.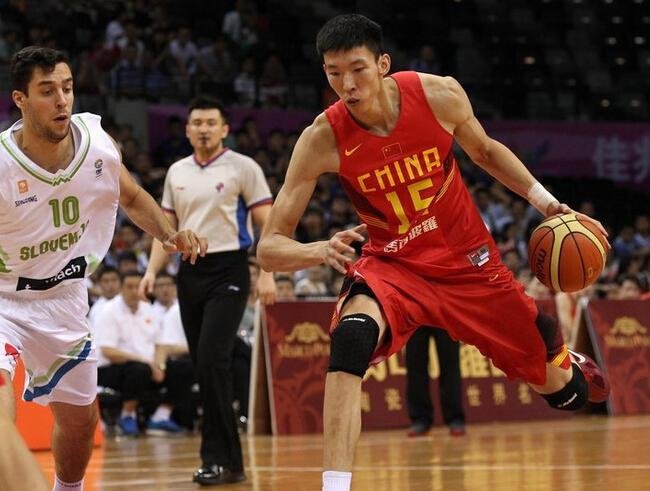 The other factor adds to his intrigue is his real age. "The stuff [Zhou] can do at his size, If he is really 20, is crazy," said former NBA guard and CBA veteran Bobby Brown. Howerver, according to the Bleacher Report, some trusted sources believe that Zhou's real age is 24, and if that's the case, his prostpect needs to be reevaluated.
Zhou's biggest strengths are his size -- 7"2' standing with a 7"7' wingspan -- as well as his defensive skills and quickness. His most pronounced weakness is his spaghetti-like skinny frame.
In an exclusive interview with Sina.com, Rockets manager Daryl Morey gave positive feedback to his new pick. "I think Zhou Qi has the potential to be part of the Rockets' starting lineup, and we will provide him the best enovironment that he needs to adapt to the NBA. No other team knows how to nurture an international Chinese player better than the Houston Rockets, and I don't want him to stay on the bench and wait for his opportunity forever. We hope he will be helping us on the court," said Morey. 
Morey also revealed that Yao Ming played a crucial role in the process, "Yao Ming strongly recommended Zhou Qi to us and he gave very high comments on Zhou Qi's ability." 
The Rockets have yet to start negotiation with Zhou's current team Xinjiang, but they hope to bring Zhou to the league as soon as possible. The earliest possible time for Zhou to play for the Rockets will be October 9 when the Rockets will play against the New Orleans Pelicans in NBA China Games at the Mercedes-Benz Arena in Shanghai. 

Visit the original source and full text: the Beijinger Blog