This Friday (May 31), the illustrious Japanese dubstep producer and all around Ableton DAW guru Goth-Trad will have an early evening tutorial explaining the ins and outs of music production using this versatile tool at Dada.
The event is hosted by the art party organization Shadowplay and will also feature support from DJs Zhiqi and Shen Yue. It runs from 6-9pm and there is no entry fee, but space is limited so get there a little early.
Check out the new exhibit Hyper Seeing, curated by Keyi Messi Luo. The opening is at the Central Academy of Fine Arts on May 31 at 3.30pm. This group show, from artists James Holland, Alexander Hahn, Benjamin Bacon, and Vivian Xu, will present unique works exploring the different methods of using technology to create narratives and interactivity with conceptual art. There will also be a panel discussion with the artists at 2pm, in the VIP room of the CAFA Art Museum.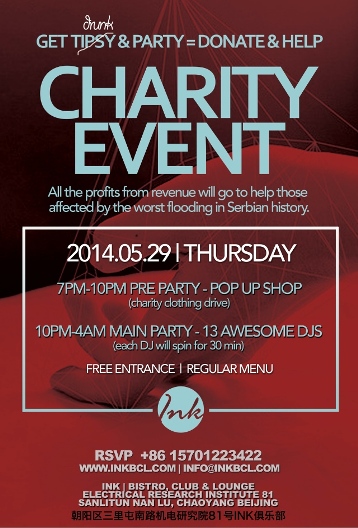 This Thursday make sure to shake your groove thing over at Ink as they host their Serbia Charity Event, to help raise money for the victims of the recent floods in the region. There will be some pregaming action and a pop-up thrift shop running from 7pm-10pm before 13 DJs from 10 countries spin their best till 4am.
Head on down to buy some unique duds or just buy a drink and dance – all proceeds from the evening will go to help those affected by the flooding.
More community events: 
Photos: amazonaws.com, posters from organizers 

Visit the original source and full text: the Beijinger Blog