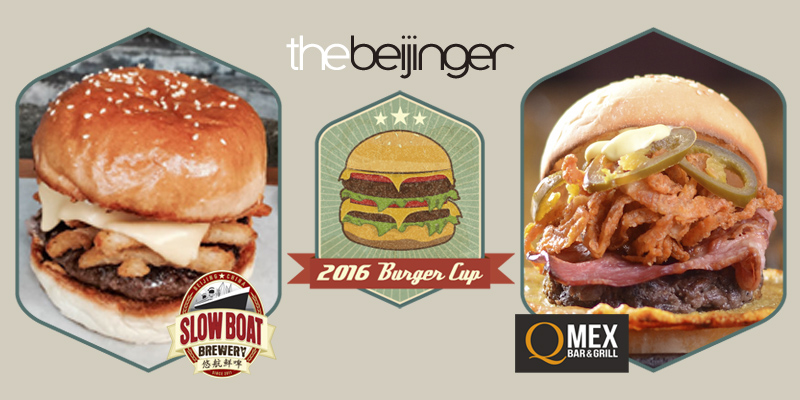 As a testament to their tastiness, two prominent Beijing establishments, Slow Boat and Q Mex have gone the ultimate foodie distance – surviving round after round of appetizing attrition to make it to the finals of the 2016 Burger Cup.
Defending Burger Cup champions Slow Boat is back in the final match after a fierce round of Final Four voting gave them the edge over fellow brewmeisters Great Leap. Awaiting them on the other side of the bracket is a resurgent Q Mex, whom handily put down a challenge from Feast. Both burgers are divinely delicious, but only one will reign supreme.
Not to be overshadowed, is a compelling matchup for third place between Great Leap Brewing #12 and Feast (Food by EAST).
Vote now to decide this year's champion; you'll find the link to vote on our Burger Cup page here.
You have the weekend to consider it; the round does not close until Monday at noon. That's enough time for all but the die-hard vegans among you to sample all four of these prime examples of Beijing burger mastery. Do not let your memory be the judge, as all four deserve a head-to-head try before you decide who deserves to wear the crown of the city's best burger for 2016.
Slow Boat's voyage to the finals, included victories over Helen's Cafe, Loft Eatalicious, Cafe Flatwhite, Union Bar & Grille, and Great Leap.
Q Mex clawed their way to the top via victories over Yuppie Yummy, Jamaica Blue, Katchup, Fatboy's, and Feast.
In the meantime, to whet your appetite, have a gander at all of the action that has led to this climactic moment:
And as a little tidbit about your burger preferences, in the last round we also asked you cheese-lovin' burger fans which cheese variety you like best on your burger, and the runaway winner was cheddar, followed closely by blue. All others were distant runners-up when it came to your choice of cheese:
1. Cheddar Cheese
2. Blue Cheese
3. American Cheese
4. Mozzarella Cheese
5. Swiss Cheese
6. Monterey Jack Cheese
7. Goat Cheese
8. Provolone Cheese
9. Feta Cheese
Below is a full recap of Final Four voting:
Bracket A/B
Slow Boat (1) battened down and sailed through Great Leap Brewing #12 Brewpub (1)

Bracket C/D
Q Mex (2) spoiled a surprisingly sumptuous Feast (Food By EAST) (6)
Finally, as is our custom, last round we asked you to rank the burgers that did not make it on to the Final Four. This ranking now serves as their final standings in the 2016 Burger Cup:
5. Blue Frog
6. Union Bar & Grille
7. Fatboy's The Burger Bar
8. Plan B
They join the previously announced rankings, 9-97:
9. Home Plate
10. The Local
11. Katchup
12. Let's Burger
13. Jing-A
14. Cafe Flatwhite
15. Luga's Villa
16. Ahava
17. Big Smoke
18. 4corners
19. Lush
20. Stuff'd
21. Tim's Texas Bar-B-Q
22. Lily's American Diner
23. Frost Coffee
24. Billy's Fish & Chips
25. Biteapitta
26. BurgerMe
27. Morton's of Chicago
28. Jamaica Blue
29. Drunk Craft Beer & Restaurant
30. Chat Room
31. Kenny's Burgers
32. Loft Eatalicious
33. Paddy O'Shea's
34. Bistrot B, Rosewood Beijing
35. Ramo
36. Blue Marlin
37. 8-Bit
38. Nola
39. 1F
40. Nasca Café
41. The Smokeyard
42. Pinotage
43. Bunny Drop
44. Beer Mania
45. Temple Bar
46. Village Cafe, Opposite House
47. He Kitchen
48. Grandma's Kitchen
49. The Garage
50. Peter's Tex-Mex
51. Laker's
52. Burger Break
53. The Cut, Fairmont Beijing
54. Helen's Café
55. Grinders
56. Burger Counter
57. Eudora Station
58. VSports Bar and Restaurant
59. Park Side Bar & Grill
60. Dongli Brewery
61. Yuppie Yummy
62. Koli's Camp
63. The Filling Station
64. Paulaner Maximilian
65. The Bookworm
66. Irish Volunteer
67. XL Bar
68. Veggie Table
69. Caravan
70. Angel Burger
71. Park Square
72. Serbia Burger
73. Hungry Horse
74. Cannon's Eatery
75. Dr. Cactus
76. Windy City
77. Uncle Sam's
78. Food Studio, Renaissance Beijing Wangfujing Hotel
79. Corner
80. Waspark
81. Pebbles Courtyard
82. Craft, Crowne Plaza Lido
83. One East
84. Rolling Rolling
85. North Capital
86. Kitchen Table, W Beijing Chang'an
87. Must Guette
88. Steak Exchange, InterContinental Hotel
89. MRL
90. Golden Era 50's Diner
91. Hub Kitchen
92. Little Britain
93. Landmark Café
94. Old Bike Café
95. Pentalounge, Penta Hotel
96. Fuel, Langham Place
97. Nanluo Big Burger
Images: the Beijinger

Visit the original source and full text: the Beijinger Blog